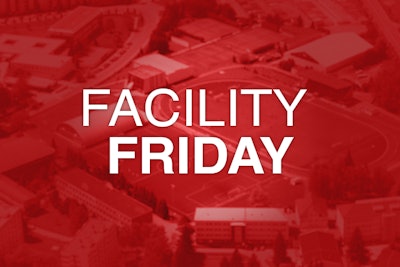 The University of Oregon has shared its plans for a 170,000-square-foot indoor practice facility to be built just west of Autzen Stadium, between Leo Harris Parkway and Martin Luther King Jr. Boulevard.
The project features a 130,000 square-foot practice field and a 40,000-square-foot connector between the field and the Hatfield Dowlin Complex, home to football operations.
The connector features an expanded weight room and players' lounge to provide dedicated spaces for student-athletes to prepare for games. Large windows would open from the players' lounge to the practice field. Additional doors would open from the lounge to an exterior terrace, creating a flexible multipurpose space where the team could study and gather or host special events.
The facility — slated for completion in 2024 — is intended primarily for football, but it will benefit student athletes in almost all sports by providing additional access to the Moshofsky Center, the current indoor practice facility, said Rob Mullens, director of intercollegiate athletics.
Additional landscape and pedestrian improvements are planned.
Current plans call for an exterior shell made from Northwest timber, in a curved form inspired by the Oregon "O." The center of the roof would be paneled with tinted polymer panels supported by a steel cable system, which allows natural light to reach the field without glare while insulating against heat.
When needed, a ventilation system would help mitigate air quality from wildfires. Much of the year, however, the building would use natural ventilation and daylight, minimizing energy use.
The project will be funded entirely with private philanthropy and will be managed through the UO Foundation. — University of Oregon
The brand new $170 million campus complex at High Point University in North Carolina is a multipurpose arena that's connected to a hotel and a conference center.
The 300,000-square-foot Nido and Mariana Qubein Arena and Conference Center/Jana and Ken Kahn Hotel.
The complex will be a teaching facility. Students in the university's hospitality program will essentially run the hotel and restaurant. The 30-room boutique hotel and its restaurant (It's called Alo, and it's Mediterranean-inspired.) will be open only to those who have planned visits to campus. Neither will be open to the general public. Event planning majors will help run the 2,500-seat conference center. It will provide meeting space for the university, student organizations and other community partners.
The 4,500-seat arena will host basketball games, concerts, major community events and lectures.
All the money this complex makes will go into a scholarship fund to support the university's goal of boosting its endowment by some $370 million in the next five or six years. — WGHP-TV
Baker University in Kansas City, Mo., announced it is making several renovations and additions as part of the Baker Builds Champions capital project.
Associate vice president of capital planning, facilities and emergency management Scott George said Phase 1 is expected to be completed by February 2022 aside from the track resurfacing, which won't take place until late May 2022 to coordinate with athletic schedules and commencement.
The baseball and softball fields at Charlie Richard Sports Complex are being rebuilt with turf, new dugouts and spectator spaces. A new soccer field with turf, lights and spectator spaces is being constructed south of the football stadium. This field may also be used for lacrosse in the future.
Liston Stadium's track will be resurfaced, and a new press box for baseball and softball will be constructed along with a new indoor training facility, restrooms and concession spaces.
The fields will all be artificial turf and built to complement the overall feel of the sports complex. The soccer turf will be one of only a few FIFA-certified fields in the Midwest, and the baseball and softball artificial turf will mimic the playing characteristics of pro team fields providing consistent and safe play.
"We are creating spaces that will be more fan-friendly for games, safer fields and overall enhancing the complex," George explained.
Currently, teams share space in Mabee Gym and Liston Stadium. The new indoor facility will have artificial turf and netting for batting cages and pitching. Baseball and softball having their own facility will free up Mabee Gym, helping the wrestling, cheer and dance teams with scheduling.
The new soccer field will allow football and soccer to practice at the same time throughout the entire season and stop the need to practice late into the evening.
George says there are future phases for improvements that envision a centerpiece building at the athletic complex to house new locker rooms, bathrooms and spectator spaces along with an addition to the north side of Collins gym to house wrestling. There would also be the addition of an auxiliary gym for all students. He says these phases will be explored as private fundraising efforts continue, but are not currently scheduled at this time.
Houser says the third phase for the outdoor facility would include football locker rooms and locker room space for softball, baseball and men and women's soccer teams.
The athletic department was able to make these renovations and additions due to the Forever Orange campaign, launched in May 2016 and will end in 2022. It relies on the support of generous alumni and friends of Baker. Since its inception, Baker University has raised $34.1 million so far. A $1 million grant from the Sunderland Foundation will support phase one of the capital project, and the three-phase Baker Builds Champions capital project is estimated at over $17 million. — The Baker Orange