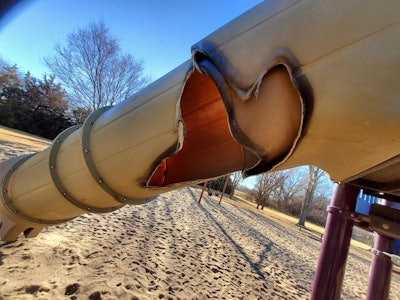 Wichita Park and Recreation
A string of vandalism in Wichita, Kan., has caused damage at multiple parks, and the cost to make the repairs is taking funds from other projects, officials said.
The City of Wichita said this week that vandalism is becoming a significant concern because of the increase in destruction at parks that's causing costs to add up, KSNW-TV reported.
For example, someone damaged a control panel at Aley Park, knocking part of the panel off the wall. Troy Houtman, Wichita Parks and Recreation director, said it will cost $5,000 to replace it.
Vandals also broke into the building at the swimming pool and trashed the inside, leaving behind a big mess.
"We work really hard to make these amenities available for all of our kids across the city and all of our citizens, and when this happens, it's really disheartening," Houtman told KSNW-TV. "We have to clean it up, replace it, and other items get put on hold."
A playground inspector who checks the playgrounds every month found someone had taken a blowtorch to the one at Emery Park. The matting under the sand, a platform children stand on and a slide were damaged.
"When money is used for repairs, we can't use it later for improvements," Megan Lovely, Wichita communications manager, said.
Houtman said the Emery Memorial Park damage will also cost $5,000, plus it will be some time before the city can get replacement parts because of supply chain issues affecting the rest of the country amid the pandemic.
He said the vandalism also makes playgrounds unsafe, and the city has to close them until repairs are made.
The City of Wichita is working with Crime Stoppers of Wichita and Sedgwick County to catch the vandals.
The Wichita Community Foundation saw the story about the damage at Emery Park and has offered to pay for half of the repair to the slide.
"Everybody should have that spirit," Houtman said. "Everybody should really be looking for ways to take care of our parks."
According to KSNW-TV, the City of Wichita detailed recent vandalism incidents:
Emery Park:
Someone used a blow torch on a playground slide, platform and matting under the sand
Watson Park:
Train barn broken into

Air lines broken

11 boards kicked out of barn

Strand of lights stolen

11 decorations stolen or destroyed

Extension cord stolen

Power strip stolen

Fire extinguisher discharged in men's restroom
Aley Pool:
Two office windows broken

Women's restroom door kicked

Fire extinguisher discharged in women's restroom

Power strip stolen

Damage to front counter

Fence line damaged
Minisa Pool:
Three picnic tables dropped into deep end

Two of the tables are damaged and will need replaced

Dropping of the tables damaged the pool basin and will need to be repaired

Fence cut and fasteners removed
Linwood Splash Pad:
Graffiti to the front roll top door

Graffiti on the splash pad floor
Orchard Pool:
Graffiti to the chemical door

Concession door damaged