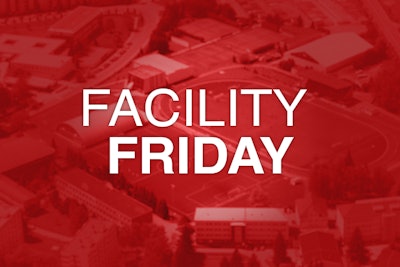 Members of the Jacksonville University men's and women's basketball teams walked through the doors of their Basketball Performance Center for the first time in January.
The 17,000-square-foot structure, located next door to Swisher Gym, includes a weight room, coaches offices, meeting area and the floor space, with one full court and a half-court forming a "T."
"This is such a blessing," said junior forward Tyreese Davis, who is in his fourth year with the men's program. "This is major ... everything you could ask for. It feels like home."
That's exactly the sentiment university officials wanted the student-athletes to feel.
"It was unbelievable for our student-athletes to walk in here and see the place they can call home," athletic director Alex Ricker-Gilbert said. "They can hone their craft, build relationships, be together ... that's what it's all about."
Crews broke ground in October 2020 and JU president Tim Cost said the facility came in under budget, just shy of $10 million. A combination of donations and university funds paid for the center.
The two teams will begin practicing inside the center this month. It will finally free up the clogged schedule at Swisher Gym that coaches had juggled for decades with the two basketball teams, volleyball, cheerleading and dance and intramurals having to jockey for court time.
Sophomore forward Osayo Osifo, who transferred from the University of Florida, compared the facility favorably to what the Gators have in Gainesville.
"Florida is very good but this is just as great," he said. "More rims, more courts, the lighting is good, if not better," he said. "Florida does have some awesome banners but once we get some, we can start putting them up. Knowing the school is behind us and the level of support, we have a lot of responsibility to come out and perform." — Jacksonville.com
---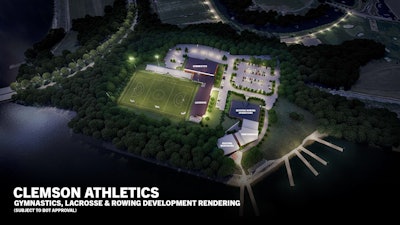 At Clemson University in South Carolina, the Board of Trustees Finance and Facilities Committee are reviewing a $27.5 million expansion plan for new and upgraded lakefront facilities for lacrosse, gymnastics and rowing. The plans are subject to full Board of Trustees approval in February 2022.
Construction would commence upon Phase II approval later in 2022, with projected completion in late 2023.
Clemson last year announced the addition of women's lacrosse and women's gymnastics, which will begin competition in the 2022-23 and 2023-24 academic years, respectively.
"We are thrilled about this commitment from the Board of Trustees for their approval in committee today," said director of athletics Graham Neff. "Clemson athletics and IPTAY are primed to move forward in providing some of the nation's best facilities for gymnastics and lacrosse. We are equally excited for the benefits this will bring to our vibrant rowing program. The experience of our current student-athletes is at the heart of our department, and this commitment makes Clemson immediately competitive on the recruiting trail as well."
The stunning new project would overlook Lake Hartwell, adjacent to the current rowing facility, and create a vibrant area for student-athletes. Existing trails in the area will be kept intact.
The development features a new lacrosse stadium, including bleacher seating and artificial turf, and a 9,000 square foot operations complex, including coaches offices, locker rooms, player lounge and other amenities.
The Gymnastics team, which will compete in Littlejohn Coliseum, will call a new 21,000 square foot facility home for day-to-day operations and a full practice facility. Like lacrosse, the gymnastics complex will include a practice gym, offices, locker room, lounge and training room.
A new 10,000 square foot training and recovery facility with designated space for sports science, nutrition, sports medicine and strength and conditioning, will be constructed to serve the three programs adjacent to their facilities.
Recent facility investments in women's sports at Clemson include a McWhorter Softball Stadium, the Duckworth Family Tennis Center, Soccer Operations Complex, rebuilt Littlejohn Coliseum, as well as a new banked track and expansion at the golf facility.
Lacrosse Head Coach Allison Kwolek recently signed Clemson's first class for enrollment in the fall of 2022. Clemson will begin the process of identifying the first head Gymnastics coach in the coming months. — Clemson Tigers
---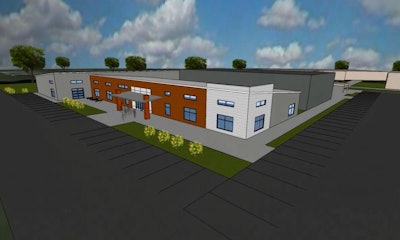 The Crawford County Recreation Center and Illinois Eastern Community College finalized the terms for the transfer of funds to start construction on a new recreation center on the campus of Lincoln Trail College. Construction work on the new facility will begin this year in the early spring and is expected to be completed by late 2022.
IECC has contracted with CDI as the design-build firm for the project. "We are fortunate to have the opportunity to work with CDI on this project," said Dr. Ryan Gower, IECC Chancellor. "Rick, Kyle and Evan [Harruff] have a proven track record and have built amazing facilities in our area." The Terre Haute, Ind.-based firm is no stranger to projects on college campuses. Their work includes buildings at Rose Hulman Institute of Technology and Indiana State University. They've also worked on other commercial, municipal, and industrial projects throughout Eastern Illinois and Central Indiana.
"This is the largest construction project on Lincoln Trail College's campus since 1975," said Dr. Zahi Atallah, LTC President. "There is no question this project will enhance the quality of life for residents of our local communities and greatly enhance LTC's campus."
The new recreation center will connect with the Roland-Nicholas Natatorium, which is currently being renovated to include things like a climate-controlled party room, restrooms, and a changing area. The rec center will tie in on the west side of the building. Once complete, the indoor pool will be a part of the new facility, which will be operated independently of the college itself.
"This facility is going to be much more than just a gym," said CCRC president Bill Sandiford. "This is going to be a place for people of all ages to come and enjoy. We're going to offer recreational programming that fits the needs of our members from children to senior citizens."
The recreation center will offer a community atmosphere for members where they will be able to enjoy innovative fitness and recreation programs.
"We plan to offer programs like dance, yoga, spinning, aerobics, water aerobics, youth sports, adult sports leagues, SilverSneakers, and healthy eating courses, just to name a few," Sandiford said.
The recreation center will also include a large space for free weights and strength equipment, a cycling studio, and cardio equipment such as bikes, treadmills, and rowers. In addition, there will be a child watch area for members where they can safely leave their children while they exercise or take classes. That area can also be used for summer camps and before and after-school programming. There will also be a multisport court that can be used for basketball, tennis, pickleball, and volleyball.
"One of the things we're very excited about is the indoor track," said Sandiford. "This will give people a place to go to walk and jog all year long, no matter what the weather is like outside."
"Once construction begins, this project will move quickly," said Atallah. "We're planning to break ground in the early spring of 2022 and CDI says the project will be complete late in the year. We could start occupying the building by December of next year."
The CCRC has been raising funds for the project, which will be turned over to IECC for the construction. "There is still some fundraising to do," said John Brooks, who serves on the CCRC Board. "We've raised funds to cover about 80-to-85 percent of the project. We're excited that we're at the point where we can move into the construction phase of the project."
Sandiford said that the CCRC has received tremendous support from the community as well as local businesses and industries. "When we started this project, we wanted to do something to enhance the quality of life in Crawford County. This is a great place to live already, but we have heard from businesses and industries that they've had trouble recruiting and retaining employees. We believe that the recreation center will be a cornerstone piece to help attract and keep people here." — Lincoln Trail College