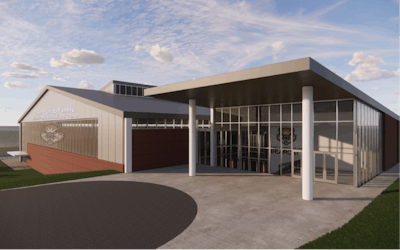 Courtesy of stvincent.edu
Saint Vincent College in Latrobe, Penn., has announced plans to build a state-of-the-art, multipurpose indoor complex to provide the community with abundant space for an array of athletic, fitness and recreational activities.
The 82,200-square-foot Dunlap Family Athletic and Recreation Center will be located on the Saint Vincent College campus adjacent to the Fred M. Rogers Center.
The $18 million facility will provide the Saint Vincent College community much-needed facilities for recreation and exercise, intramural athletic competition and varsity athletic practice, while supporting educational, cultural, civic and recreational programming for the Saint Vincent and local communities.
The center will also enhance the college's current recreation and exercise offerings, housing a fitness room with cardio and circuit training equipment; a recreational track; and instruction rooms for yoga, pilates and other fitness classes.
The facility will include an artificial turf practice field and a set of multipurpose sport courts, providing varsity athletes with an area for weather-protected practices and intramural athletes with ample space for year-round competition. There will also be an athletic training center for medical therapy and treatment.
The building will help to support the educational, cultural, civic and recreational programming that Saint Vincent provides for its community and guests, as its flexible design will include meeting rooms, visiting spaces and a healthy café.
An official groundbreaking will be held in the spring, and construction will commence soon thereafter. Construction is expected to be completed by summer 2023. — Saint Vincent College
---
Texas Tech Athletics in Lubbock, Texas, has begun construction on a new baseball team facility.
Texas Tech was able to begin construction on the $14.5 million project after several lead gifts, including a contribution from Royce and Linda Lewis and Capital Mortgage Services of $2.5 million.
For their generosity, Texas Tech will name the indoor infield and hitting space inside the new team facility the Royce and Linda Lewis Development Center after lead donors Royce and Linda Lewis and Capital Mortgage Services.
The project, funded through philanthropic gifts to The Campaign for Fearless Champions, will represent a significant investment into a Red Raider baseball program that has appeared at the College World Series four times and won three Big 12 titles in the nine seasons under head coach Tim Tadlock.
In order to not displace the Red Raiders during their season, Texas Tech will split the project into two phases. The initial phase will see construction take place to expand the existing facility, allowing the Red Raiders to continue to use their locker room and present indoor space with limited restrictions. Texas Tech will then renovate the current team facility in anticipation of a fall of 2023 completion date.
As part of its initial plans, the new facility will prioritize player development with an enlarged indoor training facility that features adjustable netting to allow for indoor infield work. Student-athletes will have an expanded film room nearby to analyze their swing or watch film of a future opponent.
The team clubhouse will remain in its present location down the left field line but will greatly expand as part of the new facility. The project will provide the Red Raiders several upgrades from its current facility, including a first-class locker room as well as a team lounge, nutrition area, video area and expanded athletic training space.
The coaching staff will move their day-to-day operations from their current location in the club area of Rip Griffin Park to the new baseball team facility. The project entails adding office space for coaches as well as a new coaches' locker room. — Texas Tech
---
A big step forward was made in the Nevada Wolf Pack men's and women's basketball facilities' project when in February the University of Nevada announced major private donations that will provide $8 million for a new locker room facility and other improvements.
A department-record $4 million donation from Eric and Linda Lannes coupled with two $2 million donations will fund an $8 million Wolf Pack basketball locker room and player lounge facility due to open in 2024. https://t.co/nkbKfjlxwA

— Chris Murray (@ByChrisMurray) February 23, 2022
The lead gift is $4 million from UNR alum Eric Lannes ('82) and his wife, Linda; another pair of $2 million donations are from donors who requested anonymity. The $4 million gift is the largest single donation in Nevada athletics history.
"It's just a really exciting time; $4 million (is) a transformational gift for the athletic program, and specifically for the men's and women's basketball program," Nevada athletic director Doug Knuth said in a news conference.
The Men's & Women's Locker Room Building is planned to contain both locker rooms and players' lounges for the two Wolf Pack programs.
The building, which will sit next to the Ramon Sessions Basketball Performance Center on the north end of the campus, is currently in the design phase, with an opening set for early 2024.
The Sessions building, which Knuth referred to as "phase one" of improving Nevada's basketball-related facilities, was completed in 2017. It gave the Pack's basketball programs their first dedicated indoor practice courts. — Reno Gazette Journal