Georgia Southern athletics family Saturday as the ground was broken on the Anthony P. Tippins Family Indoor Practice Facility prior to the annual spring game. The $12.3 million facility will be built adjacent to Allen E. Paulson Stadium and will serve all 17 NCAA-sponsored athletic programs. The transformative project, which is slated for completion in early 2023, will benefit the needs of all 400 student-athletes while also creating new revenue-generating activities for the department.
Speakers for the event included University President Dr. Kyle Marrero, Director of Athletics Jared Benko, Tippins, Chairman of the Athletic Foundation Leonard Bevill, softball coach Sharon Perkins and football coach Clay Helton. Following their speeches, members of the Tippins family, the speakers and other representatives of the USG, University and Department of Athletics posed for a ceremonial shoveling of dirt on the site of the project.
"I saw a vision for the IPF and to me was really simple," Tippins said. "The fact that it can be used for all sports, not just football, this was not going to be just another facility, but this one was going to be a piece to something really, really big."
"This is a statement to all of us," Helton said. "This is a national statement to who we are, that we are taking the next step forward."
A generous gift from the Anthony P. Tippins Family jump-started the project and the remaining costs will be covered through fundraising and donations. Tippins, originally from Claxton, Georgia, is the current President of Coolsys Professional Solutions. A retired 23-year Veteran and Commissioned Officer in the United States Naval Reserve and a Registered Professional Engineer in the state of Georgia, Tippins is a 1992 graduate of Georgia Southern University. Tippins earned his BS in mechanical engineering technology from GS and an Executive MBA from Emory University. After working in multiple key management and engineering roles, Tippins co-founded Aztec Energy Partners, which was sold to Danfoss in 2006. He then started Axiom Energy Solutions, which CoolSys acquired in 2018. —
---
The first phase of Vanderbilt's planned facility upgrades, part of the Vandy United fundraising campaign, are expected be done by the beginning of the 2024 football season, according to a release from the athletic department.
Utility work will begin this summer and full construction will begin during the 2022 football season.
The first stage is a new practice facility for the men's and women's basketball team, which will be located in the north end zone of Vanderbilt Stadium and contain new locker rooms, practice courts and offices as well as a weight room, training room and nutrition facility.
The facility will be connected to the football stadium and Memorial Gymnasium and will connect the concourses at Vanderbilt Stadium as well as adding new balconies for football game days.
"For our program, being able to have world-class facilities from the standpoint of training, getting all the top equipment, being able to have more (practice) courts—they all create more opportunity for our student-athletes to get better in their development," Vanderbilt basketball coach Jerry Stackhouse said in a statement. "(Candice Lee's and Chancellor Daniel Diermeier's) commitment and the commitment of all the coaches to take our programs to the next level are unmatched." — Tennessean.com
---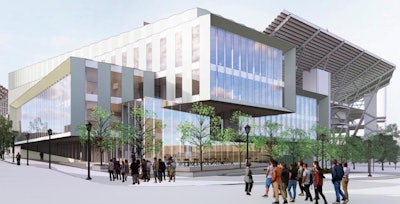 The Board of Regents of the University System of Georgia approved Georgia Tech athletics' plan to construct a new state-of-the-art student-athlete performance center project. The 115,000-square-foot facility, funded through athletics Initiative 2020, will be built in the footprint of the current Edge/Rice Center in the northeast corner of Bobby Dodd Stadium.
Georgia Tech athletics' Student-Athlete Performance Center will house areas that most directly impact student-athlete performance on a day-to-day basis, including strength and conditioning, nutrition, sports medicine, academic support and Tech athletics' renowned Total Person Program. It will also include new expanded space for Georgia Tech football, featuring a dedicated football-only strength-and-conditioning area, players' lounge and meeting spaces. The student-athlete performance center will also serve as a campus fixture for fans and passersby, and include premium seating for Georgia Tech football games and other events held inside Bobby Dodd Stadium.
To allow for the new student-athlete performance center to be dedicated entirely to student-athlete development functions, Georgia Tech will convert the Wardlaw Center (located on the south end of Bobby Dodd Stadium) and the McCamish Pavilion Annex building into permanent office space for athletics staff that are displaced from the Edge/Rice Center.
"We couldn't be more grateful and excited that the Board of Regents of USG has approved proceeding with our new student-athlete performance center project," Georgia Tech director of athletics Todd Stansbury said. "The student-athlete performance center is the crown jewel of our Athletics Initiative 2020 fundraising efforts and will be a transformative facility for Tech athletics, as it will allow us to recruit and develop Everyday Champions that will represent Georgia Tech at the highest level athletically and academically. On behalf of our past, present and future student-athletes, I thank the University System of Georgia, led by Chancellor Sonny Perdue, the Board of Regents of USG, led by Chairperson Harold Reynolds, our Institute administration, led by President Dr. Ángel Cabrera, and everyone that invested in this project and our student-athletes through their donations to AI 2020. I am very excited for the future of Georgia Tech athletics."
With approval of the project from the Board of Regents, Georgia Tech will immediately begin the final design process for the student-athlete performance center, with construction to follow in conjunction with Bobby Dodd Stadium operations. The anticipated completion date for the project is 2025. — Georgia Tech Athletics