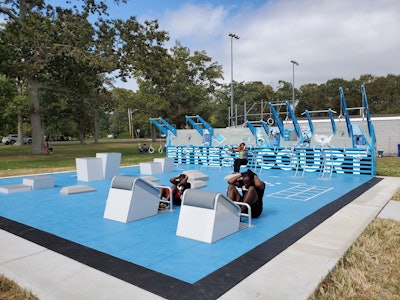 City of Grand Rapids Parks and Recreation
A collaboration between Priority Health and the city of Grand Rapids, Mich., is bringing an outdoor fitness center to the city.
The city, Priority Health and the National Fitness Campaign hosted a ribbon cutting Thursday to celebrate the opening of the new outdoor Priority Health Fitness Court at Ottawa Hills Park.
The new court is an open-air wellness center allowing users to leverage their own body weight to get a complete workout. The space can also be used in group or solo settings with local volunteers leading classes for group classes.
Created with adults of all ages in mind, the Fitness Court is adaptable for all fitness levels and aims to help create a user-friendly space for the community to pursue physical activity.
The court works with a coaching system called Fitness Court App that transforms the outdoor gym into a digitally supported wellness ecosystem. The Fitness Court App is available for iOS and Android and is free for new and solo court users. — Grand Rapids Magazine
---
In Springdale, Ark., Shiloh Christian School officials recently dug their gold shovels into a mound of dirt to signal the start of a construction project to bring a new athletic facility to the private school.
A $5.6 million indoor workout and practice facility that will include a turfed field, a much larger weight room and offices among other amenities. It was a vision that athletic director and head football coach Jeff Conaway put before school officials almost a decade ago, Shiloh Christian superintendent Keith McDaniel said.
"This is something that was on his heart for a long time and it's something that we've been chasing after, but until this past year it was not something we had an opportunity to do," said McDaniel. "We had a great donor come along beside of us and the rest of our Shiloh family got on board, and we were able to raise enough money to get the project going."
The facility will occupy the former home side parking lot on the west side of Champions Stadium. — Northwest Arkansas Democrat-Gazette
---
The Rushville (Ind.) Parks Department completed a new addition to North Veterans Memorial Park: a pickleball court. In the past, this space was underutilized and rarely visited by park attendees.
The parks department was deciding between adding a new basketball court or a pickleball court, and seeing the national rise in interest in pickleball, the department committed to bringing a new activity to the Rushville Parks system.
Through a joint effort from the Parks Department, the Street Department, and Eugene Stanley, the pickleball court quickly came together.
To celebrate the grand opening of the pickleball courts, the City of Rushville and Rush County Bicentennial Committee held an inaugural Bicentennial Summer Series Pickleball Tournament.
The pickleball courts are open to the public at North Veterans Memorial Park. This addition signifies the city's continued investment and interest in Rushville's parks system. — Greensburg Daily News