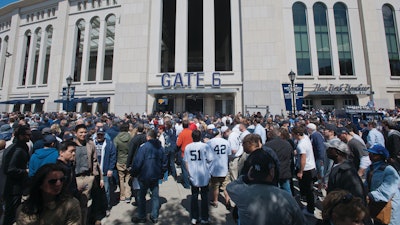 Securing sports stadiums and arenas has never been a simple task, but in today's high-tech world, the threats facing venue operators are many, varied and increasingly require sophisticated strategies and tools to counteract them. From securing vital cyber infrastructure to thwarting gun violence, operators have a lot on their plate.
To better understand the challenges facing sports venue operators, the National Center for Spectator Sports Safety and Security at The University of Southern Mississippi this spring surveyed venue security directors in charge of professional sports teams from Major League Baseball, Major League Soccer, the National Basketball Association, the National Football League and the National Hockey League. The hope is that information gleaned from the study will assist venue directors in policy development, increase awareness of technology solutions, identify resource needs, and address training gaps to help protect human, physical and cyber assets.
Here's a quick look at some of the survey results, which frame how facility operators see the current environment on game day, as well as how they're meeting the challenge of keeping everyone in the venue safe and comfortable.
A quarter of respondents indicated that fan behavior is "much worse" (25 percent) or "worse" (40) than it was 10 years ago.
Nearly two-thirds (65 percent) of participants indicated that COVID-19 restrictions caused increased tension between patrons and staff.
Alcohol abuse was the most common form of inappropriate fan behavior (82.5 percent), and fights between patrons was the most concerning for venue directors (72.5).
The majority of participants (82.5 percent) have observed or detected unauthorized drone operations in airspace above or near their venues.
The majority of venues (95 percent) experienced security staff shortages in the last two years, with COVID-19 the leading cause for those shortages, followed by staff not showing up for work (84.2) and a lack of qualified applicants (60.5).
Most respondents (87.5 percent) indicated that they use patron screening technology, with walk-through metal detectors the most common solution (100), followed by handheld magnetometers (85.7) and X-ray screeners (60).
Most venue operators said they have a cyber security defense program (87.5 percent), and nearly all (92.5) inform patrons of the secure in-house Wi-Fi network available for use at their venue.
The top five technologies or analytical tools respondents said they would purchase if additional funding was available:
• Facial recognition system (37.5 percent)
• License plate reader (32 percent)
• Staff identification RFID chips (30 percent)
• Retractable bollards (27.5 percent)
• Automated barrier systems (25 percent)

For complete survey results and NCS4's industry recommendations: ncs4.usm.edu/research/industry-reports/