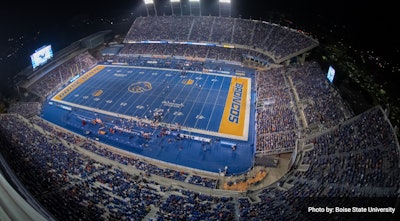 Courtesy of Boise State University
In Idaho, Boise State Athletics received a $750,000 commitment to support infrastructure and maintenance at Albertsons Stadium, director of athletics Jeramiah Dickey announced. The donor has requested to remain anonymous.
Infrastructure is a key pillar of the What's Next Initiative and includes Albertsons Stadium as one of the 12 priorities critical to position Boise State Athletics for future success and sustainability.
The gift is anticipated to support the purchase and installation of LED lights at Albertsons Stadium as part of continued Experience Blue renovation efforts to enhance the game day experience for fans and student-athletes.
"Our goal of creating an elite fan experience will be possible through this incredible gift," said Cody Gougler, senior associate athletic director for external affairs. "While we still have process and details to work through, our vision will be to utilize LED lights to impact the in-game atmosphere and serve as a value-add for additional events hosted in Albertsons Stadium throughout the year."
Future details and developments on the stadium lighting project will be provided in the coming months.
The gift comes as an additional contribution to a previous commitment toward Boise State's Lyle Smith Society. A leadership giving society to support Boise State Athletics, the purpose of the Lyle Smith Society is to increase philanthropic revenues, providing consistent funding for scholarships, operational needs and capital projects. — Broncosports.com
---
In Pikeville, Ky., the University of Pikeville has revealed its newest facility, the SportsPlex.
The building, located in Coal Run, was leased by the university last year and has been renovated with amenities for UPIKE's golf, wrestling, archery and bowling programs.
In October, UPIKE administration and City of Coal Run officials took part in the celebration, which included an interactive tour of the facility.
"We are all excited to debut this facility and the awesome opportunities it provides for our student-athletes," said UPIKE Athletic Director Kelly Wells.
Formerly occupied by Big Lots, the SportsPlex now features four distinct areas dedicated to the development and training of UPIKE programs.
A ten-lane bowling center with an advanced scoring and metrics system, a golf area featuring a simulator, wrestling mats and strength training equipment, and an archery shooting range fill the large building. The area also provides programs such as dance with valuable space for practice.
The UPIKE SportsPlex is located at 58 Power Drive, Pikeville, KY 41501.
---
In Kansas, Garden City Community College, Blue Cross and Blue Shield of Kansas and National Fitness Campaign has opened an outdoor fitness court.
The Broncbuster Outdoor Fitness Court opened this month with a ribbon-cutting ceremony. It is located next to the Katherine Jones Tennis Courts near the Dennis Perryman Athletic Complex parking lot on the GCCC Campus.
The Fitness Court was developed to expand free access to high-quality workouts and create equitable access to exercise for communities around the state. The Fitness Court is the world's best outdoor gym that lets people use their own body weight to get a complete workout using seven exercise stations.
Created with people aged 14 and over — and with all abilities in mind — the workouts are adaptable for all fitness levels, allowing participants to move at their own pace. Users also may download the free Fitness Court App which acts as a coach-in-your-pocket and enhances the outdoor gym into a digitally supported wellness experience.
"We need more innovative solutions to address the physical activity needs of all Kansans. Solutions that will level the playing field and allow everyone a safe place to enjoy the outdoors and improve their health," said Virginia Barnes, director, Blue Health Initiatives at Blue Cross and Blue Shield of Kansas. "We believe that all people deserve this opportunity, and we are proud to partner with Garden City Community College and NFC to show our commitment to improving the health of all Kansans."