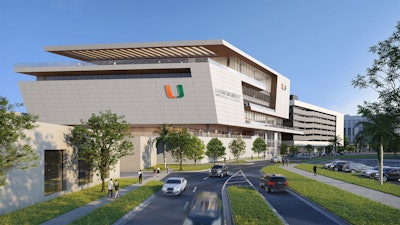 Courtesy of Miami Hurricanes
The University of Miami shared plans to build a new on-campus football operations center. Designed by HOK and Arquitectonica, the seven-story building will elevate the program and the student-athlete experience.
This 172,000-square-foot complex will provide the best amenities in sports medicine, strength and conditioning, nutrition, sports psychology and personal branding services. It will also serve as a memorable destination space for recruits and their families and a home for alumni to visit and reconnect.
The project also includes a canal bridge connecting to the existing Carol Soffer Indoor Practice Facility, a parking garage with 555 spaces and a ground-level dining center to serve all University of Miami student-athletes.
The expansive first-floor lobby will be open to all campus visitors. It houses the team locker room, equipment room, nutrition center and dining hall with indoor and outdoor seating.

On the second level, an immersive, 360-degree digital experience will celebrate the past and present of Hurricanes football.
The third floor features athletic training and medical facilities, hydrotherapy and a state-of-the-art recovery spa with high-end amenities, including saltwater float tanks, red light therapy, a meditation room and a relaxation lounge.
The fourth floor contains the team auditorium, all team meeting rooms, the primary recruiting lounge and the recruiting reception area.
The fifth floor houses locker rooms and a fitness center for coaches and staff.
Coaching offices, staff offices, meeting rooms and player development spaces are on the sixth floor.
The seventh floor includes a 7,500-square-foot rooftop terrace with views of campus and Miami's skyline, as well as a digital media lab, NIL suite, golf simulation area and multi-purpose gymnasium.
— HOK.com, MiamiHurricanes.com
---
Thomas County (Ga.) Central High School has officially broken ground on a 122,000-square-foot multipurpose facility to be utilized by athletics, band and even the JROTC, and it will be the first of its kind in South Georgia.
Phase one of the project will supply new football and basketball locker rooms, and a 120-yard indoor practice field for all of athletics. This phase will also include new student parking.
The facility is expected to open on the Jackets campus in 2024. — WTXL-TV
---
A unique project at the University of Rhode Island will create a new wellness space as part of the university's Fascitelli Fitness Center. Construction began in November on an Outdoor Wellness Patio, which builds on natural features already in place near the fitness center.
The new outdoor labyrinth will be available 24/7, and also be a reminder as students walk by to pause and take a moment in their day.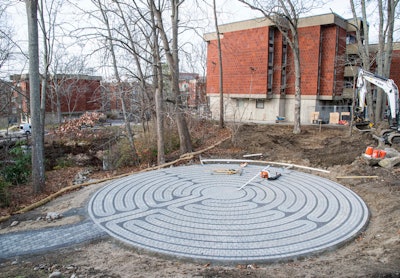 The new outdoor space will also build off the nearby bike path, offering more reasons for students to get outside. The area is part of the department's effort to offer more spaces for student fitness across the campus.
They plan to offer activities such as yoga classes, guided meditations, journaling workshops, and more, but also want to let the space just exist and welcome visitors, at any time of day. The site will be officially dedicated in the spring. The project was endorsed by the Student Senate, which also donated $25,000 for seating at the site. — URI.edu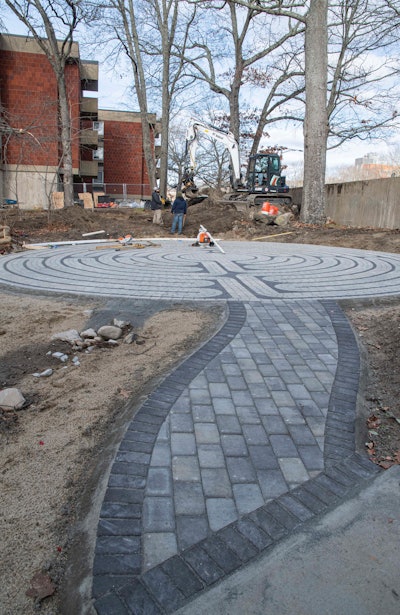 ---
Work to renovate the Rumpel Fitness Center at Fort McCoy in Wisconsin began Nov. 1 and is expected to be completed in fall 2023.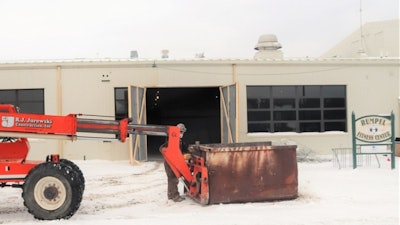 A project engineer said the renovations include the new siding, roofing and sidewalks to the exterior, as well as a storage addition. The interior will have a layout redesign that includes locker rooms, cardio/stretching/equipment areas and offices. There will also be fresh paint throughout, a new entryway and vestibule, and a new redesigned pool. "The renovations will create a modernized, energy efficient facility," said Fort McCoy Family and Morale, Welfare and Recreation director Patric McGuane.
While Rumpel Fitness Center is being renovated, building 1395 by the Fort McCoy Running Track is fully outfitted with the equipment from the fitness center and will be open to the post community for fitness.
Other buildings will also be available for fitness activities. Fort McCoy was established in 1909 and its motto is to be the "Total Force Training Center." Located in the heart of the upper Midwest, Fort McCoy is the only U.S. Army installation in Wisconsin.
The installation has provided support and facilities for the field and classroom training of more than 100,000 military personnel from all services nearly every year since 1984. — Army.mil