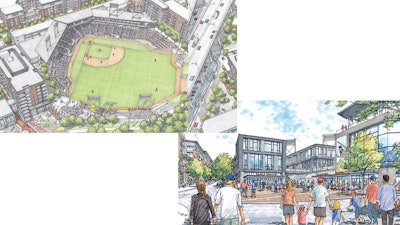 Artist's renderings courtesy of Knoxvilletn.gov
The proposed downtown Knoxville, Tenn., stadium cost has jumped up by millions, and could go higher yet, officials in Knox County have acknowledged.
The 7,000-seat stadium envisioned as the home of the Tennessee Smokies is expected to open in 2025. CBS affiliate WBIR-TV reported that an initial target budget of about $65 million has grown in the years since it was first announced, and last year, authorities projected a total cost of about $100 million, which has gone up again, as of a report Monday.
Entrepreneur and baseball team owner Randy Boyd is covering the $14 million difference in cost, Boyd, the city and county announced Monday morning, as reported by WBIR-TV. Boyd has agreed to front perhaps another $20 million in possible overruns in the form of a loan that he'd recover through an expanded tax increment financing district around the structure.
The announcement of the project cost hike had been widely expected and comes just before the city-county sports authority's meeting Tuesday, the first in months.
The cost of the project has risen partly by rising construction material costs.
The financial obligations of the city of Knoxville and Knox County will remain the same with no increase for either side, Tuesday's announcement said. Their governing bodies already have blessed the project, with minor opposition.
As of 2022, estimates were that the city and the county would spend no more than $800,000 apiece per year. That could change because of rising interest rates. Both have pledged not to use property tax revenue to cover their share. The state of Tennessee has also thrown in $13.5 million to help, WBIR-TV reported.
With Monday's announcement, Boyd, the city and county say they feel confident they're looking at a "guaranteed maximum price" of nearly $114 million. They or their representatives have been talking intently in recent days to prepare for Monday's announcement.
Site work is underway east of the James White Parkway in the Old City near Jackson Avenue. Word about a groundbreaking is expected this spring, according to Monday's announcement.
The stadium is envisioned to also house soccer, concerts and other public events.