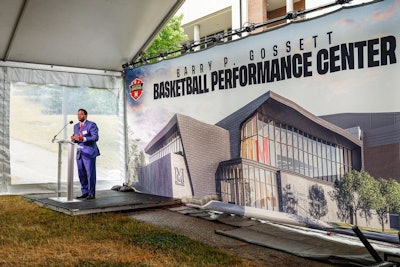 Courtesy of Terrapin Athletics
The construction of the new Barry P. Gossett Basketball Performance Center is officially underway as the University of Maryland in College Park, Md., held its groundbreaking ceremony June 22.
The 44,000-square-foot facility will be located adjacent to the XFINITY Center, creating a new landmark on the northern edge of the Maryland campus.
It will feature a dedicated practice court for the teams, a centrally located strength and conditioning facility, expanded locker rooms with cutting-edge technology, state-of-the-art athletic training areas with hydrotherapy, dedicated space for film study and game-planning as well as large lounge areas and office space for both coaching staffs.
Construction of the facility is expected to be complete prior to the fall 2025 semester. — University of Maryland
---
Flathead Valley Community College in Kalispell, Mont., announced in June that it received a $500,000 donation from Lucy Smith to name and support the Furlong Smith Fitness Center in the Wachholz College Center.
The new space features a fitness area with equipment and machines, a yoga and multipurpose classroom, as well as locker rooms and showers.
The fitness center will officially open its doors in fall 2023 and provide a space for students, faculty and staff to focus on their physical and mental health. — Flathead Beacon
---
St. Michael Catholic School in Fairhope, Ala., broke ground on new football and soccer fields in early June.
The new stadium, scheduled for completion by the fall 2024, will be a multifunctional facility intended for both soccer and football games.
Designed with state-of-the-art features, the stadium will include a natural grass field.
The exact seating capacity for fans remains unknown but will be updated as construction progresses. — Gulf Coast Media
---
Take a look through and share these recent Facility Friday highlights: