Innovative pools and underwater exercise equipment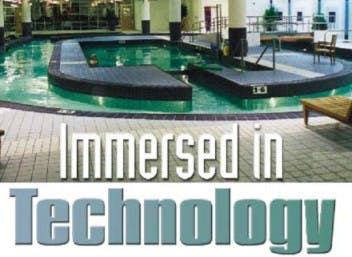 John Spannuth was visiting with an aquatics director at a community fitness center in Wisconsin two years ago. As president of the Boynton Beach, Fla.-based U.S. Water Fitness Association, Spannuth delights in dropping in on community centers, health clubs, YMCAs - any facility in the nation with an aquatic component. He was pleasantly surprised to hear his Wisconsin contact proudly say of her facility's six lane pool, "Right now I can take you down there, and it's filled to capacity."
So, off they went.
"We went down there," Spannuth recalls. "Six people swimming laps: 'Filled to capacity.' That pool was probably costing her $250 an hour to operate, and there were six people in the water."
Such a waste of valuable space has become an all-too-common scenario in today's world of aquatic fitness, according to Spannuth. "There are so many pools in this country that are not paying for themselves, and it is a crime," he says. "Pools can pay for themselves, positively, and one of the real revenue-generating programs is aquatic exercise."
Looking to turn the tide toward expanded pool use and profitability are visionary manufacturers who have introduced varying temperatures, currents and submersible workout machines to aquatic exercise. Their goal is to lead the masses to the buoyancy, warmth and resistance of water - be it for conditioning, rehabilitation or recreation.
"Unfortunately, we can't seem to break the lap-pool mentality," says Ken Lochbaum, president of Loch Integrated Systems Inc. of Erie, Pa., and developer of the multifunctional Turttle Pool. "Everybody wants to put in lap pools. Now, the people who are competitive swimmers and the universities that have contests need to have a lap pool. But we need to understand why we put pools anywhere in the world and especially this country, because if you look at the physiological benefits of water on the human being, water is the way that we should go."
Gordon Shields, director of marketing for Wilmington, Ohio-based Ferno-Washington Inc., a manufacturer of both submersible exercise equipment and self-contained therapy pools, agrees. "In most clubs that we've seen, the pools are underutilized at any time of the day because it's a small percentage of people who are lap swimmers," Shields says. "If the lap swimmers have two or three lanes to swim in and you take up one lane with some aquatic equipment, you're getting the best of both worlds, because you can get a lot more people using that pool."
Spannuth adds, "Less than 5 percent of Americans can swim 500 yards without a stop. Now, some people have said, 'Well, you wouldn't believe all the people who swim laps in our pool.' Yes, but what about all the people who don't. Ninety-nine percent of people can walk in the water, including a lot of people who cannot walk out of the water."
Lochbaum, a physical therapist, developed the Turttle Pool - it stands for "therapeutic, unique, rehabilitative, two-temperature, lap and exercise" - to satisfy the needs of multiple constituents. The system features a rectangular warm water well for therapy and exercise surrounded by an oval of cooler water for lap swimming, water walking, or even underwater in-line skating. It can be built with additional exercise pockets, or "feet," at the turns in the oval, and a hot tub may be added as the Turttle's "head." Users can experience up to six different water temperatures under one roof and often without exiting the water. With the exception of the hot tub, all pool appendages are accessible through stainless steel doors in the pool.
Moreover, water in the oval can be pumped to create a current of up to 25 mph - enough speed, according to Lochbaum, to surface a water skier tethered to the deck. Lower speeds facilitate water walking and lap swimming, with the current or against it.
The Turttle Pool's interior well can be outfitted with underwater equipment for strength training, biking or sport-specific exercise. "Now we are producing equipment, such as our weight-lifting stack, that begins to quantify the weight-lifting exercises in water," Lochbaum says. "We will tell you whether you're displacing five pounds, 10 pounds, 20 pounds, 100 pounds, 400 pounds."
Throughout the underwater exercises, both equipment and user are anchored by a system of adjustable PVC devices that plug into sockets located every two and a half inches in any direction on the pool floor and, if desired, the pool wall. The so-called GridLoch system allows individuals to be completely submerged while engaged in sport-specific training. "How do tennis players swing a racquet to make themselves stronger?" asks Lochbaum. "We literally put them underwater with a breathing apparatus, attach their feet to the bottom of the pool and allow any angle that they want to swing to be utilized. There is water all around them. Therefore, it doesn't matter at what angle they move the racquet. They will build up the actual strength and fitness of that muscle group in a synergistic pattern that they're going to be using on land."
Lochbaum built the prototype Turttle Pool in 1994. Five years later, the Health Development Center at Good Samaritan Health Systems of Kearney, Neb., became the only facility in the world to commercially offer the Turttle Pool. Good Samaritan paid $600,000 for the pool and deck, but added amenities such as ceramic tile, underwater lighting and an ADA ramp that pushed the final price tag to around $800,000.
"It's a huge initial investment for something that really isn't proven yet in most people's minds," says Tom McLeod, director of the Health Development Center, which opened the pool in March 1999. "We're pretty much the test site. As we use it and prove that this concept is valid and other individuals in medical fitness facilities talk about it, we believe it's going to go places."
McLeod's only regret so far is that his 29,000-square-foot aquatic facility isn't large enough to accommodate an expanded Turttle Pool. He estimates the pool alone brings 100 people per day into the Health Development Center (not counting members who use it before, after, or in concert with their dry-land workouts), and the number is growing. "It's been overwhelming," McLeod says. "The arthritis and aquatics programs are about 65 percent above predicted numbers. The program itself has just taken off."
Facilities looking to maximize use of existing pools, even lap pools, are not without options. Health clubs and community fitness centers, in particular, can tap underrepresented demographics with pool technologies that cater to the young and old.
The AquaGaiter, a submersible treadmill manufactured by Ferno-Washington, has been popular among seniors, who not only have the time to use the pool during non-peak midday hours, but also the money to join a club in the first place, according to Shields. At the same time, children are likely to take to the water if there is a touch of novelty involved, such as that created by the MaxaWave wave generation system manufactured by WaveTek of Cohoes, N.Y.
Targeting, in large part, elderly individuals who may be intimidated by land-based equipment such as stair-steppers, the AquaGaiter incorporates the low impact nature of water with an exercise machine made simple. A user can adjust the speed of the motorized walking/running surface by turning the lone control dial toward "faster" or "slower" (the AquaGaiter can reach a maximum speed of 5 mph). Side steps are included for safety, as on a land-based treadmill.
According to Shields, it's not uncommon for existing pools to have more than one AquaGaiter, which sells for between $12,000 and $15,000. Multiple installations allow a facility operator to place the machines at varying water depths and for more people to have access to the technology at any one time. The equipment can also serve as a bridge from physical therapy to exercise in fitness facilities that partner with health-care providers. "People come in with an injury and start using the AquaGaiter, and they, particularly the elderly, love it so much that they join the club to be able to use that piece of equipment," Shields says.
Ferno has also introduced a variety of non-motorized submersible exercise equipment, including a cross-country ski simulator, a rowing machine, and a slide board that simulates skating. Each component sells for less than $4,000, and volume discounts are available. Shields says that placing multiple pieces of equipment in the same pool not only offers users a variety of exercises, but opportunities to socialize, too. "People can move from one to the other," he says. "They can exercise different parts. They can do upper-extremity exercises, lower-extremity exercises and have some camaraderie, as well."
As some pools take on characteristics of gyms, others have assumed the look and feel of a water park. MaxaWave can be adapted to existing pools to create adjustable vertical waves up to 2 feet high, depending on pool dynamics. "You can turn the waves on and rent your pool out for birthday parties or canoe training or even triathlon open-water training," says Scott Christiansen, corporate communications manager at Aquatic Development Group, WaveTek's parent company. "You can host roughwater learn-to-swim classes in a controlled environment." Even lap swimmers report experiencing increased fatigue from working out in the waves, Christiansen says.
Most MaxaWave installations are in YMCAs, which attract more families than hard-core health clubs, according to Christiansen. "It is an alternative revenue center in terms of pool programming, but it's an amenity enhancement in terms of membership drives and setting yourself apart from the competition," he says.
Costs associated with the MaxaWave vary based on factors such as pool size and infrastructure. A 45-by-75-foot pool, for example, translates into a $108,000 investment. Pools that are 75 feet by 82 feet or larger require more than one MaxaWave unit. Installation can add $30,000, depending on whether tunnels exist underneath the pool deck or if a vault must be installed to house the wave-generation equipment. A rent-to-own plan is available, and the company reports that profits generated by expanded pool programming in YMCAs and in health clubs typically pay for the MaxaWave in five years.
"The eight loudest, most dedicated members of a club show up at five in the morning to do their laps," Christiansen says. "But when you put waves in, you get 150 to 200 kids smashing down the doors in the afternoons or in the evenings. When you talk about the bottom line, that's really what it's all about."
Whether targeting the young, old, fit or out of shape, manufacturers are applying technology to water - in innovative exercise pools and existing lap pools - to boost pool use and improve users' health. Even elite athletes who have suffered career-threatening injuries have benefited from the great technological strides made in relatively compact, self-contained therapy pools over the past 10 years (see "Pools with Healing Powers," p. 58).
A broader range of people are learning that they can remain fit without serious risk of injury by working out in water, according to Shields. "People now recognize that they need to exercise," he says. "People find excuses not to, but if they find products that make it easier, that they enjoy, that they're comfortable with, that they're not intimidated by - all of those things add up to more opportunity for people to exercise and maintain a fitness level. We see water as just such a natural way to exercise without the fear or danger of getting hurt."
And the more that word spreads about the inviting and beneficial nature of water, the more aquatic facility operators stand to profit. Says Lochbaum, "They're starting to realize from a financial standpoint that water can bring them 500 new members from a population of people that the operators never thought would actually go to a club before."