Mind-Body Programs and Energetic Athletic Activities Are Introducing Group Fitness to a New Generation of Exercisers, Giving Club Owners a Powerful Member-Retention Tool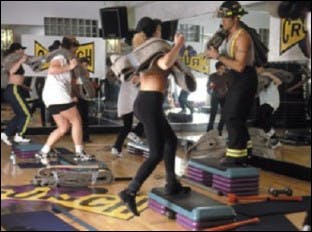 Back in 1990, when many health clubs across the country were converting aerobics rooms into spaces for other activities, Court House Plus in Vernon, Conn., was doing the opposite, turning unused racquetball courts - two at a time - into studios intended specifically for group exercise. "I wanted to corner the market on group fitness and double the number of classes I offered," says Jamie Fairley, the club's general manager, recalling that only about 200 of his 2,600 members at the time participated in the 23 classes offered at Court House Plus. "There's something about group activities that affects member participation and longevity."
There sure is. A dozen years later, nearly half of all Court House Plus members take part in at least one of the 120 group fitness classes held in six separate spaces at the 40,000-square-foot facility. And as far as Fairley's concerned, he has cornered the market on group fitness in north-central Connecticut by first seeking out qualified and energetic instructors and then keeping his programs fresh.
Likewise, club operators in other parts of the country are recognizing that group exercise programs - perhaps now more than ever, since many of today's activities appeal to both men and women - are major keys to success in a competition-driven market. "You need to have a strategy to bring both existing and potential members in," Fairley says. "The reason you want to get them involved is because they stay longer."
Indeed, dozens of studies on the effects of social-support systems for club members reveal that most new exercisers do not have the self-discipline to maintain a regular fitness program on their own for more than a few months. In an individual exercise regimen, a structured goal-setting system and the development of a strong social-support system are often missing. When people participate in group exercise programs, not only are they improving their physical well-being, they're also undergoing "social cohesion and adherence changes" as a result of the group environment, according to Jim Annesi, wellness director of the YMCA of Metropolitan Atlanta and author of Enhancing Exercise Motivation: A Guide to Increasing Fitness Center Member Retention, published in 1996. "As members' bodies lock in those changes," he says, "they also lock in the behavior of exercise."
Some exercise experts even contend that the social dimensions offered by group fitness programs - which appeal to a broad demographic typically ranging from 20-something professionals to retirees - carry more weight than the physical benefits. "Camaraderie has become more important because of the changes that have occurred in facilities over the years," says Cedric Bryant, chief exercise physiologist and vice president of educational services for the American Council on Exercise. "In the early days of clubs, there was a lot of on-the-floor instruction provided to members. That's not the case anymore."
And that's why the health club industry must continue to come up with ways to reinvent group fitness - a strategy many club owners are already following. Annual surveys conducted by the International Health, Racquet and Sportsclub Association reveal a steady increase in the number of facilities offering mind-body classes (yoga, Pilates), high-energy cardiovascular workouts (kickboxing, cycling), outdoor excursions (hiking, rock climbing), athletic-oriented activities (the trademarked TaeBo ® and Hoops ® programs) and even logical extensions of aerobics that target youths (hip-hop and ethnic dance classes). Because many of these activities no longer focus on choreographed dance moves - as do aerobics, step aerobics and Jazzercise ® - the intimidation factor for men has been removed from the equation, creating some group fitness environments with increasingly balanced male-female ratios.
"You have to keep things fresh, and that's a challenge," says Richard Cotton, vice president and chief exercise physiologist of Salt Lake City-based industry consultant First Fitness. "It's similar to the hottest restaurant in an upscale part of town: It's great to be seen there at first, but then it gets kind of boring. Right now it seems as if there are a lot of choices and a lot of people participating in group exercise. But things could change rapidly."
Indeed, the reputation of group fitness has been characterized by several ebbs and flows since the mid-'70s, when the choreographed movements of aerobics paved the way for a new group exercise craze. As boredom eventually set in with standard aerobics programs, the step aerobics concept rejuvenated the movement by bringing then-popular stair climbing into the mix. (Today, multi-tiered step exercises remain popular and are key components of many group exercise activities.)
Then, in 1987, West Coast endurance cyclist Johnny Goldberg (more widely known as Johnny G) developed what has perhaps become the industry's best-known group exercise activity and arguably the first to appeal to men as much as women. Spinning ® is the trademarked name for the indoor cycling program Johnny G created, and variations of it are performed every day in health clubs nationwide under other trademarked names such as rpm ® and Power Pacing ™ . Other facilities may simply call it "indoor cycling" if they don't use instructors trained by the companies holding those trademarks or use their licensed equipment. "Clubs tend to get themselves in a precarious position when they begin to market their activities under a trademarked name," Bryant says, warning that a trademark infringement suit could financially cripple a club. "They should respect registered trademarks."
In addition to Spinning, some of today's more popular trademarked group fitness programs are TaeBo (a combination of Tae-Kwon-Do and boxing), Body Pump ® (a barbell workout) and YogaFit ® (a combination of yoga and fitness). And newer group activities are being developed all the time - although some will enjoy short-lived success, either because of their degree of difficulty or their quirkiness. Jumping repeatedly on a small round trampoline, for example, can feel unnatural to some exercisers.
The jury is still out on Cardio Strip, a new group activity pioneered by choreographer and fitness professional Jeffrey Costa that (in the words of a course description at Los Angeles' hip Crunch LA club) "takes some of the basic moves of the striptease and combines them with aerobic elements to create a fun, energizing and sexy workout." The program's debut last year marked a major attempt by the New York-based Crunch chain to attract members bored by traditional aerobics. Other recent group fitness innovations introduced by Crunch include Cycle Karaoke (cycling and singing simultaneously) and Circus Sports (trapeze flying, ring swinging and various tumbling passes).
Other programs - ones that couldn't be more unsexy - include Urban Dance Praise and Gospel Moves, which incorporate many of the same exercises as traditional group fitness activities but are set to the beat of contemporary Christian music. Meanwhile, indoor and outdoor fitness boot camps are beginning to target health clubs with the promise of obstacle-course, interval and circuit training unlike anything members can experience within the confines of traditional club activities.
To lure less high-impact exercisers more concerned with mind-body functions, clubs also are increasingly offering yoga classes. While many facilities host a variety of traditional Middle-Eastern yoga disciplines (Hatha, Ashtanga, Vinyasa, Jivamukti), some of them may not include fitness elements key to a club's group exercise goals. One attempt to capitalize on the yoga movement by incorporating fitness components is YogaFit, an activity introduced to the club scene by Beth Shaw in the mid-'90s. It eliminates classical chanting and combines such fitness moves as push-ups, sit-ups and squats with traditional yoga postures.
Yoga might soon encounter some competition, though, as the practice of Pilates begins stretching its boundaries into the realm of group fitness. Traditionally developed as an individual exercise regimen using specialized equipment, Pilates also has become a group activity in which participants use mats to go through a series of strength and flexibility moves focusing on core muscle groups.
Yet all of these new activities, just like their predecessors, have the potential to lose participants over time as newer group fitness options become available. Says Bruce Carter, founder of Optimal Fitness Systems International, a Longmeadow, Mass.-based consulting firm for club operators, and president of GetCYCED ® , a new trademarked member-retention program based in Weston, Fla., "I'm sure right now, as we speak, somebody's out there trying to come up with a new group exercise activity."
According to John McCarthy, IHRSA's executive director, practically every new health club these days is designed with at least two group fitness studios. Operators of older facilities, too, are hiring design firms to reconfigure their floor plans and convert seldom-used spaces into exercise rooms.
Usually among the first areas to be overhauled are racquetball courts. Because the recommended minimum amount of space dedicated to any group exercise studio is 1,200 square feet (although some architects feel more comfortable designing 2,000-square-foot spaces), 800-square-foot racquetball courts are usually converted in pairs (and sometimes in threes, depending on the size of the club). The rooms should be at least 30 feet deep so as to avoid overcrowding.
Larry Hart of Thomas, Miller & Partners, a Brentwood, Tenn.-based architecture firm specializing in fitness center and health-care facility renovations, recalls one club that converted two racquetball courts into two levels. A teen center occupied the lower level, while a group fitness room was on the top. "That's a pretty good solution to the problem of having more programs than you've got space," Hart says.
Converted racquetball courts require greater enhancements than regular rooms, largely for acoustical reasons. Popular solutions involve enclosing upper-level viewing areas and installing sound panels or thick glass walls. High ceilings, if the room is properly outfitted for sound control, should not cause acoustical problems. If anything, they will make the room seem more spacious.
Proper acoustics in other group fitness settings is important, too. Because music - sometimes loud music - is vital to many activities' success, thicker walls will help soundproof rooms that abut workout areas, meeting spaces and child-care facilities. How much outside noise is transmitted to spaces above and below activity rooms depends on the building's structure. But the installation of a 1 1 / 2 -inch thick mesh surface on top of the floor slab and underneath the workout floor will reduce sound travel to lower floors, Hart says. Likewise, drywall partitions that extend past the ceiling to the facility's roof or the next level's floor structure will minimize reverberation to upper floors.
Other elements to consider include lighting and décor (spaces should be bright and inviting), HVAC systems (group fitness rooms require more frequent air exchange), sound systems (a boombox won't cut it anymore) and building code occupancy restrictions (don't underestimate the number of people who will use a room at any one time).
This may sound like a major project, but when compared to expanding a gymnasium or locker rooms, "a group fitness room is actually one of the least-expensive rooms to renovate in a club," Hart says. "The most expensive item in there is the floor surface, and even that isn't too expensive."
If lack of storage is the concern, club owners can opt for a storage alcove located to the side of the exercise floor. This space allows for storage of an increasing number of props and equipment pieces. Typical dimensions for an alcove are 4 to 6 feet deep by 12 to 15 feet long, and they are usually open and convenient to access. "If you've got 30 people getting ready for a class, you don't want just one person at a time being able to get to the equipment," says Carter, who's been suggesting the alcove alternative to clients in recent years. "But we're still trying to keep the room as beautiful and as exciting as possible."
For some clubs, that means placing group fitness programs in highly visible areas. Crunch LA opts for glass walls surrounding its Cardio Strip room, while a Colorado Springs club holds group fitness activities in spaces right next to machines designated for individual workouts. For its cycling program, a facility in Schaumburg, Ill., uses a raised platform with the equipment at the perimeter of the platform, facing in. "There's an enormous amount of energy going on in those group exercise areas," Carter says. "And if people can see that excitement, they're more motivated to get moving themselves. But be careful when deciding whether to put group exercise areas in totally visible places. Some people are still uncomfortable being watched."
A group exercise space is only as good as the individuals who run the activities in that space, so hiring the proper instructors and program director is imperative. "The people who develop the best relationships with your members are group exercise instructors," Bryant says. "They have the greatest impact on retention."
In fact, the most common reason why group fitness programs fail, experts say, is because club owners and general managers often view instructors as "prima donnas" (in the words of one facility operator) and fail to offer them support. Fairley recruited many of his instructors from clubs where group exercise was viewed as an "orphan program" and not integrated with other activities. "When we said we wanted to corner the market on group fitness, we knew we also had to corner the market on instructors," Fairley says. "It takes a little more focus to run a group fitness program. Many health clubs are simply selling access to equipment. To make a commitment to group exercise, you can't just tell all your members, 'Hey, we've got cardio kickboxing now!' and expect that they will come."
Fairley invested in long-term member-retention strategies by offering free classes to members, and then paying continuing-education fees for his instructors and reimbursing them for shoes and music. They are part-time employees, but Fairley still asks for their input - both positive and negative - about room environments and class offerings. Teaching group exercise classes has now become more art and science than hobby.
So has participating in group exercise classes - so much so that some potential members may limit their club search only to those facilities that offer such programs. Many of those clubs that dismantled group exercise rooms in the early '90s (or, worse, opted to build new facilities without studios) now realize they made a mistake.
"The beautiful thing about where we're moving right now is that activities like yoga are 3,000 years old and have a very rich history," McCarthy says. "We're dealing with some very complex disciplines now that have a lot of life in them. They help people stay fit in new ways."
Even when those new ways start getting a little stale, history has proven that group exercise - in one form or another - will rise again. Clubs like Court House Plus have built a reputation on group fitness for more than a decade, and it'll take more than a potential slowdown in that segment of the industry to get them to abandon their group fitness philosophy. Says Fairley: "When owners and general managers stop taking classes at our club, I think that's when the instructors should start getting a little concerned."