Fitness Equipment Enters Hotel Rooms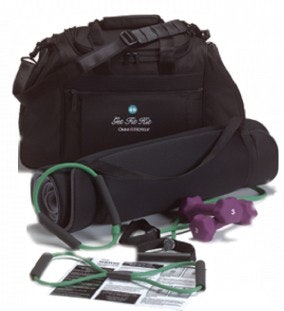 Even before 9/11, the lodging industry was looking at some very evocative numbers of its own: 62.5 and 71. The first was the occupancy rate one year ago at hotels overall, while the second was the rate at luxury hotels - both significant declines from previous years. And then, of course, the lodging industry was (along with airlines and rental car companies) among the hardest hit by the terrorist attacks.
What's an industry to do?
Significantly, at a time when airlines have cut back on perks such as meal service, many hotels are going the opposite route to attract paying customers. One luxury chain, Irving, Texas-based Omni Hotels, is expanding a program it instituted a year ago to bring fitness right to the door of weary travelers.
When the "Ideal Living" program was launched in May 2001, it had two components: Ideal Nourishment, which provides guests with healthy roomservice meal options; and the Get Fit Kit, a canvas bag, also delivered to the guest's room, that contains a mini radio headset, a floor mat, two dumbbells, an elastic exercise band and an exercise booklet. At the same time the chain was promoting in-room workouts, it embarked on an overhaul of its hotel fitness centers.
The "Get Fit" program that was rolled out in April now offers, in addition, Get Fit Guest Rooms that are equipped with a Get Fit Kit, a treadmill and a mini-bar stocked with healthy snacks and beverages, such as energy bars, trail mix and sports drinks - all for an additional $14.99 per day. Omni Hotels, which is testing the program at 40 of its locations and at some of the chain's Hilton and Marriott franchises, has struck up a partnership with Salt Lake City-based Fitness Equipment Services, whose Sole Fitness Equipment was created specifically to be moved around in hotels.
Kimberly Blackmon, a spokesperson for Omni Hotels, says the treadmills' size has allayed any fears about sound transmission. "These aren't the huge bulky treadmills that take three people to move; they fold up and roll," she says. "We'll always have, as a recourse, the ability to set up special rooms just for treadmills that have no rooms below them."
Blackmon expects that the program will take some time to catch on - Omni has started with just two treadmills per hotel - but she believes there's a market out there waiting to be tapped. Hotel fitness centers typically are closed at night and somewhat cramped during peak times - and, as she says, "As a woman who works out every day, I don't necessarily want to go down to a gym and work out with a bunch of sweaty guys." Also, Blackmon notes, the price is right.
"It's not bad, especially when I think about what encouraged this effort," she says. "Mariah Carey came to our New Orleans hotel and wanted a treadmill, and of course we didn't have one. She said, 'I don't care what you have to do, get me a treadmill and bill me whatever you have to bill me.' So it cost $400 for someone to run out and buy one and set it up in her room. We thought, wow, if she wants a treadmill in her room that bad, there must be other people who want one, too."