Club members will eagerly pay extra to access high-tech gadgets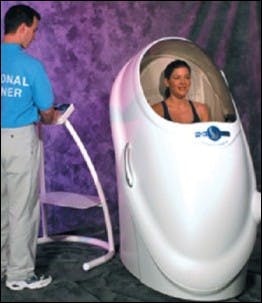 Health club operators already squeezing maximum profits from juice bars, pro shops and class offerings, take note. A new era of money-making potential on the club floor is dawning, and it's already clear that club members are eager to pay extra to access high-tech machines designed to enhance individual workouts and document fitness progress.
Hypoxic chambers, for example, hit West Coast clubs about six years ago, and have generated legions of loyal users ever since. The units simulate high-altitude training by controlling the environment within a completely enclosed transparent cubical or "room." The chamber's internal atmosphere is controlled by multiple generators, which combined use less power than a treadmill, according to Gary Kotliar, president of New York-based manufacturer Hypoxico Inc. Available in one- or two-person sizes, the oxygen-depleted chambers allow users to work out on equipment such as treadmills or stationary bikes, reaping the same physical benefits as traditional exercise in half the time. "If you're on a treadmill 20 minutes in the chamber, it's the same benefit as 40 minutes in the regular atmosphere," says Kotliar. "It makes you stronger, and you can burn three to five times more fat as in a regular environment. That's why it has seen big success in clubs that use it."
Hypoxico sells single-user systems for roughly $20,000 and two-user units for $33,000. Leasing options are also available. According to Kotliar, most clubs charge $5 or $10 per user per 20-minute session. Larger clubs may issue debit cards that track users' chamber time electronically. One small-town club owner simply charges $10 to reserve a specific timeslot in his club's one-person unit.
Popular among professional athletes and Olympians, hypoxic chambers also provide clubs with one more weapon in the war to win over prospective members. Not only do they hold the potential to draw elite athletes in the area, thus creating a buzz among existing members, they also make for an attractive amenity that may separate one club from the next among undecided prospects. "On every tour that comes through here, people will ask what it is," says Richard Marshall, general manager of Crunch Los Angeles, which installed a chamber four years ago.
"Once they realize what it is, they're like, 'Wow!' Some people swear by it, and that's all they'll use."
Additional technology for club applications has emerged more recently, but it has less to do with users actively getting in shape than the chronicling of their physical transformation.
A useful tool within research settings for around a decade, the Bod Pod is just now finding a place within health clubs as a means to accurately measure an individual's body composition. Clients sit in an egg-shaped, airtight chamber during two 50-second measurement periods as computerized pressure sensors gauge how much air is displaced by the individual. This measurement is combined with the person's weight to determine whole-body density, from which body fat and lean body mass can be calculated. Test results are printed in less than five minutes.
In March, Concord, Calif.-based Life Measurement Inc., makers of the original Bod Pod (retail price: $31,500), introduced a $19,500 Bod Pod ST model designed for commercial use. The latter unit is voice-activated, talking users through the two-minute body composition test without the need for staff assistance. Its lower price also makes it more cost-effective for clubs, which are charging between $20 and $50 per test, according to Tammy Callahan, LMI's marketing coordinator. "You can pay for it in a matter of months," she says, adding that clubs can sell multiple tests at discounted rates, using a simple punch card to track usage for each individual. "Some clubs may use a block of tests as an enticement for new members. It's another tool in their arsenal."
Both Bod Pod models claim to be more accurate than traditional body composition testing methods using skinfold calipers and more comfortable than underwater weighing. "It's much simpler," says Brian Wallace, vice president of research, physiology and nutrition for LGE Performance Systems, an Orlando, Fla.-based performance training center catering to professional athletes and corporate executives. "It's great in the health club setting. The only painful part for most people is putting on that Speedo."
First-time users of the Triform 3D BodyScanner might feel slightly uncomfortable, too, but that's partly what makes this machine so effective. Introduced to the United States from Europe earlier this year by BodyShape Scanners Inc. of Alexandria, Va., the Triform Scanner provides users with an objective three-dimensional image of themselves, viewable from a variety of angles. Images and viewing software are stored on a computer disc that clients bring with them at the time of each new scan, and one scan can be superimposed over another to reveal gradual changes in body shape, even from the privacy of a client's home computer. Each disc has room for more than 1,000 scans.
"It's such a great motivator, because users can see their bodies changing right before their eyes," says Kevin Meselka, owner of Planet Fitness in Rockville, Md., and trainer of several professional athletes. As a beta test site, Planet Fitness leases its scanner for $2,000 a month, then charges $50 per scan or $30 per month for one year of unlimited scans. Prospective members receive free scans during club tours. "It's a marketing tool for gyms," says Brian Meltzer, eastern regional sales director for BodyShape Scanners, "as well as a tool for trainers to really communicate with their clients and would-be clients."
In addition to allowing body-fat percentage to be calculated, a scan may, for example, reveal that a person's chronic back pain is related to posture, or even that one leg is slightly longer than the other. "We can see these things and prescribe exercises, such as individual leg lunges, directly designed to correct the imbalance and heal the pain," says Meltzer, who is also an athletic trainer.
The actual scanning process, which involves projecting bands of white light on an individual's body while he or she stands for 10 seconds in a 10-by-12-foot booth, is seen as a quicker, less-intrusive alternative to having body measurements taken by hand. Though it uses no more power than a computer, a staff member needs to be present to ensure the scanning process follows a correct sequence and that it results in a usable scan. An attached changing area ensures user privacy. "Athletes will go in the booth in five seconds, but other people have to be convinced sometimes," Meltzer says. "But once they see themselves on the screen, they just start to stare. Then I start to break down their scan for them - explaining all the symmetry, posture and measurement aspects - and they aren't that shy anymore. They're hooked."
As club members see the benefits of new technology on their bodies, club owners are seeing the benefits on their bottom lines. Clubs are justifying the considerable investment in these new amenities by charging per-use fees, or packaging unlimited usage of a given machine as part of upgraded memberships. Long lines and waiting lists are proof-positive that users are willing to pay extra for an enhanced workout experience.
"From the special athlete to the beginner, they're all excited, because there's finally a usable link between technology and fitness," Meselka says. "Clients want technology. They want to really see results."