Pilates, or Something Like It, Is Sweeping the Nation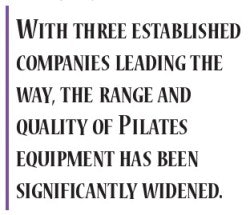 Chances are, you have never heard of Frederick Matthias Alexander. The odds are even better that you've never heard of Moshe Feldenkrais.
Joseph Pilates, now he's a different story. While actors study the Alexander Technique and judo enthusiasts the Feldenkrais Method in near obscurity, Pilates, once the domain of a small but fervent klatch of dancers, is now recognizable to millions of exercisers across the globe. In the United States alone, the percentage of fitness facilities offering some form of Pilates jumped from 10 percent in 1997 to 47 percent in 2001.
What accounts for the difference between Pilates and its somatic cousins? Not so much technique - each stresses balance, flexibility and a mind-body objective that for want of a better word is known as centeredness. That said, there appear to be three important differences. One, Pilates can incorporate five pieces of equipment that because of their strangeness - a glance at an equipment catalog will turn up Reformers, Wunda Chairs and Trapeze Tables - impart a sense of mystery to the whole enterprise. Two, Pilates has a New York City imprimatur that the rest of the country seems to find irresistible. And three, perhaps most important of all, Pilates lacks a registered trademark that might prevent every other club from jumping on the bandwagon.
While Pilates' explosive mainstream success has been a positive sign for what has lately been a sluggish health-club industry, it has also led to a fair amount of confusion among facility owners. Should they decide to establish a Pilates program or expand their current offerings, they must contend with a number of issues regarding appropriate instructor education and certification. In addition, with three established companies leading the way (Balanced Body Inc., Peak Pilates and Stott Pilates), the range and quality of Pilates equipment has been significantly widened. Last (but not least), the Pilates world has for a decade been riven by potentially destructive internecine warfare - between those pushing Pilates toward a wider audience, and those who believe it has already lost its way.
I am trying to save Pilates." With words such as these, Romana Kryzanowska, a New York-based Pilates teacher, tells interviewers on which side of the divide she stands. At 80 years old - by all accounts, a young 80 - Kryzanowska is one of a small handful of people still alive who worked directly with the master himself. (Joseph Pilates died in 1967.) In Pilates-speak, this makes her an "elder teacher." It can also make her particular crusade seem a little self-righteous to non-elders. Alluding to Kryzanowska, Kevin Bowen, president of the Pilates Method Alliance (PMA), a national nonprofit advocacy group, says, "There is one organization that will say that this one particular person is the only one who knows how to teach according to the way Joe wanted. It's bogus."
That organization is Pilates Studio Inc., a New York studio that once belonged to Joe's wife, Clara. Sean Gallagher, who purchased the studio from Clara in 1990 and installed Kryzanowska as its program director, claimed to own the trademark for Pilates despite the fact that neither Joe nor Clara had ever patented or trademarked anything related to the method, including the name. (Joe's name for the technique was "contrology.") Gallagher began an aggressive (and for awhile, successful) attempt to block other clubs from using the name, but a New York judge ruled against Gallagher in 2000 - the beginning of the Pilates era. Now, the PMA is readying for a second round of litigation, as Gallagher recently managed to secure a trademark on the phrase "Pilates Studio." The PMA, which sees this as being akin to trademarking the phrase "weight room," at press time was devoting a special newsletter to getting clubs and Pilates studios to contribute to its legal fund.
For all the maneuvering between Pilates Studio Inc. and, well, everyone else, there is a fair amount of agreement among Pilates aficionados that the method's success is a double-edged sword. Bowen says that his organization's four elder teachers often reflect on whether Pilates himself would be pleased with his theories' assimilation into the exercise culture - and have decided Joe would smile, then grimace.
"Our elder teachers think he would be excited that it has gone out so far, because his whole philosophy was that he thought everyone should be doing it," says Bowen. "But we all believe that Pilates is being misconstrued as exercises on particular equipment. Actually, Pilates is a philosophy and a learning discipline of how to move your body, and that's where it's becoming perverted. The same thing happened with yoga in this country: Everyone thinks it's an athletic practice, whereas it's a spiritual practice. The problem with Pilates is that it's on every corner, and a lot of it is bad."
As it turns out, many people have the same prescription for what ails Pilates: meaningful teacher certification. Now, if they can only agree on a program. Kryzanowska is developing one. Equipment manufacturer Stott Pilates offers a certification arm (Stott Education) that includes several training options, including a "hosting program" where a club can get its instructors certified without leaving the premises. Other businesses have sprung up that specialize in Pilates education (Polestar Pilates, PowerHouse Pilates and The Pilates Coach, among them), offering courses in technique, instructional videos and the like.
In November, the PMA came out with a position paper on the state of Pilates teaching ("It's kind of a 'buyer beware' market at this point," Bowen says), and is currently in the process of creating a national certification exam. The hope is that some sort of national standards can be developed to counterbalance a Pilates world in which the first injury-related lawsuits have been filed and certifications can be purchased on the Internet for $39.95.
"Pilates was never meant to be learned in a weekend or two," says Bowen. "You can't teach this particular concept of movement until you've actually learned how to do it yourself. Some of these new quickie teacher-training programs are basically just regurgitating exercises to the public."
It's a situation that's familiar to fitness and wellness facility operators who hired on personal trainers - two trainers waving two certificates might boast vastly different knowledge and practical experience. In Pilates, the presence of elder teachers - not to mention the people who studied with the people who studied with Joe - makes things a little more complicated. The PMA's effort will define as "comprehensively trained" anyone who has completed a minimum of 400 hours of "appropriate" training (with the definition of appropriate still in the works), and will grandfather in those who were teaching Pilates prior to 1991, depending on the exact teaching lineage they claim and several other credentials.
As things stand now, the PMA (in full CYA mode) doesn't even recognize the concept of Pilates certification. "We refer to them as teacher-training organizations, period," says Bowen. "They're a bunch of for-profit companies running their own quote-unquote certifications. The number of programs out there is high, and the number of hours required ranges from six to 900. That's why we're urging people to talk to us before installing a Pilates program. For their protection and for ours, we want to make sure Pilates is done correctly."