Adding or Improving Child-Care Services Probably Won't Make Fitness-Center Owners Rich. But That Doesn't Mean It's Not Worth Doing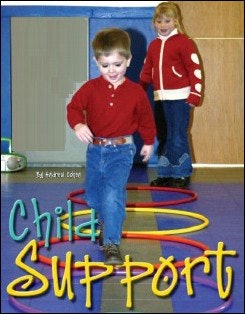 Almost anyone can be a parent. As disquieting as this fact sometimes seems to child caregivers, a corollary is equally as disquieting to parents: Almost anyone can be a child caregiver. And almost everyone, it seems, is giving it a go.
Fitness center operators in both for-profit and nonprofit settings increasingly recognize that parents wrapped up in child rearing don't have the time or energy to visit the fitness center. That represents a potentially serious drain on revenues, in terms of both memberships and program participation.
Monetary issues aside, child care is also an important customer service, even for organizations that don't ordinarily speak in terms of "customers." For example, Margaret Collins, the reigning National Association of Child Care Professionals (NACCP) Director of the Year, hails from River Road Preschool, which is run by River Road Baptist Church in Richmond, Va. Collins, who also validates child-care programs for the National Association for the Education of Young Children (NAEYC), says one of the best child-care programs she has ever seen is on a military base.
"In this day and age, it's hard for parents to find people to watch their children, so they're having to take their children around with them," Collins says. "And people really want to work out. It's important to them."
One of the reasons anyone can add a child-care component to a fitness business is the dearth of government regulations governing drop-in care. Unlike full-day day-care centers, which are licensed by state departments of human services and the like, drop-in child care (defined by many states as care that occurs while parents are on the premises and readily available) is presumed to require little oversight.
Presumed by some, perhaps. Full-time day-care providers regard this as akin to the belief that nuclear weapons require less oversight following the collapse of the Soviet Union.
"I'm sure everyone is familiar with some of the brain research that shows how important the first three to five years are to a child's brain development," says Barbara Roth, child-care consultant for the YMCA of the USA. "Thirty years ago, there was the sense sometimes that child care might just be a waiting time until kids were in school or until they were back with their parents. Now we know that brain development is going on all the time, and we're either helping it or hurting it. So anytime kids are with you - even if your motivation is to increase revenues - it's really important to look at what this time is going to be like for the kids. How do you make sure it's a positive experience?"
Sherry Workman, executive director of the NACCP, says the answer has to be more than "Come in, play with some stuff." Many first-time child caregivers, she adds, don't anticipate kids' need for directed play. "I think the expectation among some club owners is that the kids will just be sitting contentedly, when in fact there may be other issues, such as kids who are upset that their parents have left to work out," Workman says. Children in these circumstances may dominate the attention of the primary staff person, causing a breakdown in the child-care area's administration.
"There are all sorts of issues," notes Roth. "How long can kids stay in drop-in child care if mom wants to take a number of classes? If they're there for more than an hour, is the facility expected to provide for their nutritional needs? There are diapering issues. There are space issues - if you decide that 10 children can comfortably fit into a child-care space, and 20 children show up one day, how do you staff for this? I mean, if you offer an aerobics class and five people or 50 people show up, so long as your space is big enough, you're okay. That's not the case with child care."
The following areas, childcare experts say, should be the primary focus for fitness center owners who are considering adding (or adding to) a child-care component:
FACILITIES As with any other space within a fitness facility, a child-care area's square footage and location are important considerations. However, adjacencies are even more vital in the design of child-care areas, with particular sensitivity needed in striking a balance between security and access.
There are two schools of thought regarding child-care placement. Most designers believe child-care spaces should be as centrally located as possible, for the peace of mind of parents as well as children. This belief leads some designers to include glass doors or windows between child-care areas and adult activity areas. The drawback is that children susceptible to separation anxiety may cry when seeing a parent on the other side of the glass, while parents may not be able to separate themselves enough to enjoy their workout.
Many child-care advocates, on the other hand, feel strongly that child-care areas should include an outdoor component or at least visual connection to natural light, meaning that proper placement would be along an exterior wall. This configuration might alarm parents who fear their child getting lost in the shuffle (or forcibly taken by a stranger).
The child-care area itself should be well-lit and ventilated, and include space that can be compartmentalized to accommodate infants and toddlers (ages 6 months to 3 years), preschoolers (ages 3 to 5) and older children separately. Separation of age groups, while not a legal requirement of drop-in childcare facilities, can help ease staffing burdens.
"In licensed facilities you have to separate age groups - in Texas, for example, you're not supposed to have a kid in the same environment who's 18 months older than the youngest child," Workman says. "But here you might have a situation where you've got a 1-year-old, a 5-year-old that came with him, and some other lady's 3-year-old."
"It's obviously a safety issue," adds Roth, "as simple as saying, 'Let's separate the 2 1/2 -year-olds, who are running and jumping around, from the new crawling babies they might run and jump on.' "
Last, child-oriented fixtures should be specified: child-sized toilets and sinks, baby changing stations, cubbies for coats and diaper bags, and child-sized furniture. If child-sized toilets or sinks aren't in the budget, stepstools should be purchased for the children's convenience.
MATERIALS Age-appropriate toys should be purchased for each potential user group. Meanwhile, developmentally appropriate materials should be selected that allow children to be creative while playing safely. Just as it is better to keep children of different age groups separate, it is vital that the wrong toys and materials don't get in the wrong hands. Therefore, proper supervision and storage are as important as the paper, crayons, blocks and paint you purchase.
While space is often limited in a fitness center setting, a number of larger, themed toys that are popular with children should be considered, including easels for painting, workbenches and plastic play kitchens. (In the latter case, you'll want to purchase a stove, refrigerator and sink, as well as a generous assortment of plastic and wood food, pots and pans, and plates and utensils.) For organizations considering an expansion where space is readily available, indoor play structures (of the type more typically located in McDonald's Playlands) can be a good addition - although a supervisory headache in situations in which children of different ages are present. A growing number of health clubs and nonprofit recreation centers have installed even larger groups of themed structures, creating indoor streetscapes and clubhouses. Bel Air (Md.) Athletic Club's BAACyard Clubhouse, for example, is a 21,000-square-foot, two-year-old addition to a 90,000-square-foot health club. Along with recreational-sports components such as a gym/multipurpose athletic court and aerobics and martial arts rooms, the BAACyard Clubhouse includes a toddler play room and a tree maze for kids ages 3 to 11.
No matter the size of the space, a related issue will be the choice of appropriate surface materials and the rooms' overall color palette. For reasons of crawling comfort and acoustics, carpeting is a natural for infant and toddler areas. Mats printed with pictures, roadmaps, letters and numbers - or mats made of interlocking lettered and numbered tiles - are a good addition to these spaces.
Walls in all children's areas must be well-built to withstand damage and non-textured for easy maintenance. (Textured surfaces should be coated with a paint that is impervious to cleaning solutions.) Paint specified for toddler areas typically exhibit bright primary colors, while rooms containing larger themed elements often cry out for wall-sized murals - to complete the picture, so to speak.
It is most important to remember that any decorative elements chosen - from murals all the way down to pegs for coats - be at children's eye level and within children's grasp. Murals aside, decorations should be changed (and new toys purchased) frequently, to keep the experience fresh for children who come regularly. Organizing infant and toddler programs around daily or weekly themes - shapes, dinosaurs, vehicles, textures - is an inexpensive way to introduce kids to new concepts or to ensure each child has a favorite toy to play with.
PROGRAMS Because YMCAs and municipal recreation centers serve everyone in a community, child care has long functioned under the heading of children's programming - something meant less for the convenience of parents than for the benefit of children. Newer facilities that set up a child-care component - lacking the constraints of history or a cramped retrofit - often have more freedom to develop and institute programs that break the child-care mold.
Deciding on which types of programs to run depends most on meeting the needs of your particular community, but there are other important considerations. For example, during the school year, daytime programs will tend toward toddler and preschool-age children. Evening programs, on the other hand, will have to respond to the needs of the afterschool set. In non-temperate regions, summertime programming will differ greatly from wintertime programming.
Most municipal recreation departments already have such programs in place, and so are valuable resources for for-profits going down the children's-programming road. But then, many health clubs are no slouches in this department, either. Wellbridge, the nation's fourth-largest chain of health clubs, has made an overall commitment to providing quality child programming at its franchises; it acquired Bel Air Athletic Club while the BAACyard Clubhouse was under construction. John Gorman, the club's general manager, notes that adult members can place their child in a nursery while they work out, but quickly adds that the club's focus is elsewhere: working with elementary and middle schools to run clinics and holiday camps, and making the adult side of the club a destination spot for Fitness Days and high school field trips. The facility also boasts a successful swimming program. "But we're not a rec center," he says. "Because, you know how rec centers are. They have great components, but they're kind of a free-for-all. We try to do more structured activities."
Adds Cheryl Spath, Bel Air's director of youth services, "We've got summer camps, a preschool that's certified by the Maryland Department of Education, birthday parties, a dance program, a martial arts program and a licensed after-school program. It has evolved beyond child care over the past 10 years. We're youth services."
That's a moniker that would suit Greg Miklos, director of membership at The Clubs at River City in Peoria, Ill. His facility's 55,000-squarefoot youth fitness club, which opened in 1994, is connected via a breezeway to a health club built in 1971. Parents drop their kids off when they come to work out, Miklos says, but the kids aren't just sitting. The kids' facility features a kids-sized weight room, an indoor pool, a gymnastics center and a basketball court. "That's where you make your money, on the programs - swimming lessons, basketball leagues, gymnastics clubs, karate, tai kwon do," Miklos says. "Your revenue base is often not off your memberships, but off your programs."
STAFFING Because child-care organizations accredit programs but don't certify employees, there is little agreement nationally about what staff members should know. In some states, workers in approved child-care facilities - full-time daycare facilities, that is, such as River Road Preschool - are often offered free community-college tuition by the local social services department to complete their early-childhood or child-development credential.
Many drop-in facilities, on the other hand, are proving grounds for staffers eager to enter the child-care business. At Bel Air, while the supervisors are all experienced in school or day-care settings, summer-camp staff are "college students working on degrees in education, child psychology or nursing, and who want to work with children," says Spath. "This is a great place for them to gain practical experience." The Clubs at River City supervisors, Miklos says, are instructed in CPR and first aid, and most are child-development students working through local college internship programs. YMCA workers, meanwhile, have the advantage of in-house Y certification training, which is available for all programmatic areas, including child care.
Workman believes that not enough fitness-center owners make an effort to give child-care staff members resources that could help them provide children a positive experience. "It could be as little as a book on early-childhood education," she says. "Books are cheap - it's not like you need to install an entire curriculum." (See "Child-Care Resources," p. 52.) In addition, she says, an effort must be made to instruct parents about how they can help their children transition to child care.
"There should be … not so much rules, but call it an understanding," Workman says. "You could create a note sheet that advises parents to tell their children where they're going to be, make sure they know the name of the person who'll be working on a given day. Parents should know who's with their children, and children should know who's working so they don't feel dumped there. Instead of rushing to get to their class, parents should take more time to make sure their children feel comfortable."
SCHEDULING Just as important as what staffers know is how staff is utilized. As Collins puts it, "The quality of child-care workers will be directly related to the ratio of staff to children in the facility."
Staff-to-child ratios are another area in which guidance for drop-in facilities is sorely lacking. At approved day-care facilities, staff-child ratios run from 1:3 for infants to 1:4 for toddlers, 1:5 for 2-year-olds, 1:7 for 3-year-olds and as high as 1:10 for 4-year-olds. Collins says that in her travels for the NAEYC she has seen ratios (typically in Ys) that run as high as 1:12 or 1:14. "No teacher can handle that many children," she says. "The good kids get ignored because they're doing OK while the staff juggles the ones who are having problems or have special needs."
The problem in so many facilities, she says, is that administrators don't know from day to day (or even hour to hour) how many children they will be serving. Many Ys, Roth says, insist that parents who sign themselves up for classes pre-register (usually a week in advance) for child care. "And when registrations are full, they're full," Roth says. "If management consistently find they have a long waiting list, they know they'd better find more space and more staff."
In addition to ensuring staffers don't get overwhelmed, employees should be scheduled with sensitivity toward the children's needs. "With very young children, if they come every Wednesday morning when mom works out, one of the ways it can be a positive experience is that they see the same adult faces every Wednesday morning," Roth says. "Most kids go through a period of stranger anxiety, and mom's not going to enjoy her workout if she's dropping her child off and he or she is screaming and crying and miserable every single time."
SAFETY Lawsuits can't be avoided, but they can be won. Background checks should be run on anyone on the premises who will have contact with children, and records kept of all such checks performed. All workers should meet local health regulations regarding infectious diseases. Child-care areas should be inspected regularly (with inspections documented), just as with any other area of the facility. Equipment in need of repairs should be removed immediately. All children's equipment and materials should be designed specifically for use by children, and be age-appropriate.
One aspect of child care that's frequently misunderstood by newcomers to the field is the amount of sanitization that should take place in this setting. All materials handled by children, including furniture and tabletops, should be sanitized twice a day, at a minimum, and they should begin the day sanitized. Carpets should be cleaned regularly, and changing tables after each use. Disposable gloves should be used when cleaning child-care areas and when diapering children, Workman says. "That's extremely important, especially if different children are coming every hour. Sinks should be well-stocked with sanitizing soap, and hopefully the changing station is located near the sink, not way across the room where you have to touch three kids before you get to it."
While some sort of child care is a given in nonprofit recreation settings, many for-profit facility owners clearly have difficulty with the prospect of sinking resources into a non-revenue component. Yet, others remain convinced that money can be made indirectly, by adding a service to attract families as members, and by using child care as a stepping-stone to other lucrative programming.
Certainly, that's the way an increasing number of club owners view it. Bel Air's $1.6 million construction cost for its clubhouse expansion seems like an awfully big up-front commitment, but neither Gorman nor Spath are fazed. "It's a profitable entity," Spath says. "It's allowed us to add a variety of profitable programs."
Christina Dort, marketing director for Leisure Sports, a Pleasanton, Calif.-based club chain with five West Coast locations, concurs, noting Leisure Sports' successful kick-boxing, racquet sports and other health programs for kids. But another big plus, beyond attracting the family demographic, is that the clubs are able to attract employees who have children. "It's great for our employees to have a place for their child while they teach an aerobics class," Dort says. "Child care is a major benefit, because it helps us with our employee base as well as with our membership base."
And, Workman notes, it doesn't take a multimillion-dollar expansion to get started. "In comparison with all the fitness equipment they buy, it's not that much money," she says. "It could be more cost-effective than they might think."
The only danger, Roth says, is if a facility owner loses sight of the primary purpose of child care. "It's very difficult to make money at child care if you offer a high-quality program," she says. "The biggest expenses are the staff, the nutritional component, and the supplies and equipment. Those are the elements people might cut if they want to make money. But it's important for people to realize that if any of those areas are cut, it's usually detrimental to kids' development."