The Public vs. Private Issue Rears Its Head in the Parks and Recreation Sector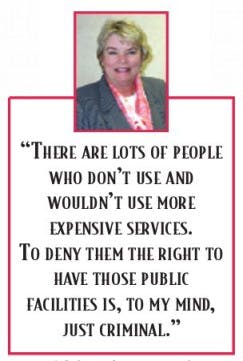 Being an understanding person is what Jane Hodgkinson does for a living. As the executive director of the Western DuPage (Ill.) Special Recreation Association - an extension of nine park districts in western DuPage County - she understands the importance of providing recreational opportunities for individuals with disabilities.
But what Hodgkinson doesn't understand is why some local health clubs - backed by the Boston-based International Health, Racquet & Sportsclub Association - have taken aim at public recreation agencies, their most recent target being the Bloomingdale Park District, a member of the WDSRA. Last March, a $14.75 million referendum to fund construction of a public recreation center was defeated there, thanks in large part to an 11thhour negative ad campaign funded by IHRSA and a Bloomingdale club (see "Public Enemies," Oct. 2002, p. 59).
"There is always going to be a clientele that doesn't want to use a public facility. But the reality is that there are lots of people who don't use and wouldn't use more expensive services. To deny them the right to have those public facilities is, to my mind, just criminal," says Hodgkinson, who was recently installed as president-elect of the Illinois Association of Park Districts. "After Bloomingdale, I just said, 'Enough is enough. We need to take action.' "
That action is likely IAPD's most aggressive response yet to opposition from the private fitness industry. To help their member agencies combat negative campaigns, the IAPD has teamed with the Illinois Parks and Recreation Association to develop a marketing kit tentatively titled, "Campaign Development Guide to Overcoming Professional Opposition."
Designed to offer rec agencies turnkey assistance, the kit is "going to be very hands-on," says Myk Snider, principal of Sphere Associates, the Chicago-based communications firm hired by IAPD and IPRA to develop the marketing kit. "Ideally, park districts will just take it, roll it out and cut-and-paste it to their local situation." It remains to be determined how the kit will be distributed to IAPD and IPRA members.
What is clear is that the kit will tailor to rec agencies of all kinds, suggesting for different groups various marketing techniques such as radio and TV public service announcements and newspaper ads. All kits will include an implementation primer and a campaign management strategy guide - materials designed not only to serve as opposition countermeasures but also as educational tools.
"IHRSA is very strategic about what it does. Before a park district can respond to an accusation made by IHRSA, their people already have three ads in the newspaper, and they know to put ads in the day of the referendum vote and the day before. Our people aren't that sophisticated in that manner," says Bill Wald, IPRA executive director. "Now we have to educate our people and provide them with the right tools to do the exact same thing and to present their case in a better fashion."
"The idea is to help park districts figure out the best way to equip their community to understand the value of what they're doing," adds Snider. And what park districts and other public recreation agencies are doing is working to improve the quality of life and increase health awareness in their respective communities, says Hodgkinson, citing the proliferation of obesity and juvenile diabetes as a major impetus for action. "We need public education campaigns to encourage people to get off the couch, turn off the TV and do something that's active. From the public recreation perspective, we have a responsibility to make sure that we have facilities available for our populations."
While that responsibility and the decision whether or not to provide those facilities ultimately falls upon the voters themselves, they still expect rec professionals to spell everything out for them. "When they go out to referenda, park districts are asking the community to make a decision. How do they create the clearest understanding of what is involved and what the benefits are to the community?" asks Snider. "To some extent, it's recognizing that the fundamental issue is ownership. The community has ownership. It's their park district. A business - whether a member of IHRSA or not - may have a wonderful relationship with the community, but when it comes down to it, it's privately owned."