The Navy's Civilian Afloat Program keeps sailors on course physically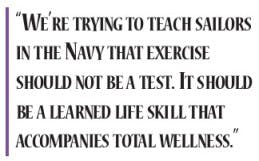 If ever there was a population that stood to gain from the endurance-building benefits and stress-reducing side effects of exercise, it's the men and women aboard the U.S. Navy's aircraft carriers and ships. According to key administrators at Navy Personnel Command in Millington, Tenn., the Navy has never been more committed to the well-being and fitness of its sailors than it is currently.
"We're trying to teach sailors in the Navy that exercise should not be a test. It should be a learned life skill that accompanies total wellness," says Doug Butts, a 15-year veteran of Navy Morale, Welfare and Recreation who became the first manager of the Fleet Readiness Program two years ago.
Navy ranks have long included enlisted personnel whose various duties include overseeing physical testing of sailors. Deployment of civilian recreation directors on Navy carriers and ships began in 1985, but only within the past three years have civilian fitness directors come onboard. Today, under the Civilian Afloat Program, each Navy carrier and each three-ship amphibious readiness group (which transports both sailors and U.S. Marines) count among their personnel one civilian specializing in each discipline. "They get help from military bodies, but the recreation and fitness directors are the top dogs in their divisions," says Civilian Afloat Program manager Sharkie Stielper, who served two years as the first civilian fitness director onboard the USS George Washington. "They are the ones responsible for designing and implementing programs and tours."
These individuals must carry similar credentials to those of their counterparts in the civilian world: degrees in parks and recreation or tourism for recreation directors, and degrees in exercise science for fitness directors. In either case, at least two years of practical experience is preferred before these civilians hit the high seas, according to Butts, "because it's a pretty big job."
In exchange for 16-hour days during which activities must be programmed for separate shifts totaling as many as 5,700 sailors, the civilian directors are paid between $32,000 and $39,000 annually, including bonus pay of $150 per month if the deployment takes them into an area designated as a danger zone. As of this writing, 16 of Stielper's Civilian Afloat Program employees were deployed in the Persian Gulf. "They're civilians," Butts says, "but they go where the ship goes."
In fact, the ship may go for six months without seeing land, challenging recreation and fitness directors to keep sailors mentally and physically active. Onboard activities include everything from karaoke events and ice cream socials to card and chess tournaments. Basketball courts can be chalked, taped or painted onto the deck inside one of a carrier's three hangar bays, allowing for full-court games using portable goals - that is, if enough aircraft are absent. Even if a hangar is occupied, sufficient room is usually available to squeeze in an aerobics session.
Belowdecks, a carrier offers as much as 5,000 square feet of usable space for fitness equipment and activity, including a 60-by60-foot designated fitness area, as well as various nooks and crannies in which individual pieces of equipment can be stowed. "Sometimes it's not uncommon to walk through a hallway and see a bike or a treadmill there," Stielper says. "We've gotten really good at putting equipment in some pretty unconventional spaces."
According to Butts, all Navy ships and submarines (which don't carry civilians) are expected to carry a minimum amount of fitness equipment - generally 80 pieces of cardiovascular equipment such as treadmills, stationary bikes, elliptical trainers, rowing machines and climbers, and at least one circuit of plate-loaded or selectorized equipment (most ships carry more). Dumbbell stations are common, but free weights incorporating plates and barbells are discouraged for safety reasons, given the yawing action of ships at sea.
The Navy's Mission Essential Branch handles all equipment testing and purchasing, important duties given the rate at which a ship can sail through its fitness machines. "Coming back from a six-month deployment, a lot of treadmills will have in excess of 20,000 miles on them," says Butts, adding that salt air and power surges can also put equipment out of commission prematurely. Cardio equipment typically survives two years at sea, while strength training equipment lasts roughly four years. Equipment maintenance is handled by the recreation and fitness directors, with help from sailors temporarily assigned to that duty from another of the ship's divisions.
As the treadmill odometer would indicate, the machines are in near constant use, driven by such events as 5K runs and duathlons involving running and cycling stages. Bench-press and arm-curl contests keep workout sessions interesting, as well. "There are a lot of things that you can do, just as on land," Stielper says. "You just have to tailor activities to the equipment that you have on the ship."
Of course, burnout isn't limited to treadmills, and both Butts and Stielper, who oversees 31 civilians in the program, realize that the challenge of programming long hours in tight quarters isn't for everyone. "The big difference between these people and somebody who's in the military is that if they're not having fun anymore, they can quit," says Butts.
But with half her employees poised alongside Navy sailors for war in the Gulf, Stielper classifies the mood as upbeat. "They're happy," she says. "A couple of them say that it's been a long deployment and they would like to come home. But they understand the mission, and they're generally in good spirits about it."
Stielper admits that the jobs offered by the Civilian Afloat Program are fairly unconventional, but in many good ways. "How many civilians out there can say they've shot a 50-caliber rifle or that they've been launched off an aircraft carrier, going from 0 to 100 mph in three seconds." she asks. "I've gotten to see some very nice ports that the average civilian is not going to be able to afford to see: Croatia, the Middle East, Turkey, Japan, Singapore, Italy. It's a great way to see the world."
And the money's not bad, Stielper adds, particularly for young professionals. Still, for civilian recreation and fitness directors, like the sailors they serve, motivation in this line of work may come as much from feelings of patriotism as a desire to collect a paycheck. "You do it because you love to program, you respect your country and you respect that these sailors are giving up their time to protect your freedom," Stielper says. "These people do it for 20 years, and if I can say I did it for two years, that to me is a small token to give back to my country."