Electronic Golf and Tennis Amenities May Help Clubs Boost Appeal and Profits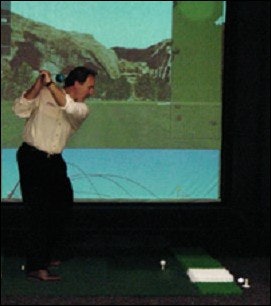 Thirty golfers competed in the Masters this past April, each paying $75 to enter the field. This wasn't Augusta, Ga., however. This was New Berlin, Wis., home to Motion Fitness & Racquet Club and the first annual Motion's Masters. The tournament, open to the then-eight-month-old club's 5,000 members, was played entirely on an electronic golf simulator located within an 1,800-square-foot area devoted to duffers and dreamers.
The tournament champion received a plaque, but the real winner could be the club itself, which invested $50,000 in the Full Swing Golf simulator as a means of differentiating itself from the local competition. "It's really new, and it's not real common yet," says health club consultant Nancy Arnold, who serves full time as Motion's program director. "When I talk to women members around the club, they tend to say, 'My husband golfs all the time, but I don't.' This opens the door for them. If your club is already in a community where people are golfing, this is the perfect thing, because it gets spouses or significant others interested in the sport. It could be a lifelong experience for the two of them."
Tennis, a sport that has struggled to create interest, particularly among youths, served as the impetus for Sports-PC Tennis, an interactive game experience whose manufacturer is also targeting the health and racquet club market. Available commercially through Sportwall since 2000, Sports-PC Tennis takes the old green practice wall - with its horizontal white stripe painted at regulation net height - and adds LED targets, a time clock, a scoreboard and sound effects, allowing for more than 20 skill variations based on five skill-enhancing games. "A couple times a week, we have a Sports-PC Challenge, where we get four, six or eight people out there and run them through three or four different games," says Jim Leupold, director of tennis at Desert Springs, a J.W. Marriott Resort and Spa, in Palm Desert, Calif. "We have a lot of fun with it and still come up with an overall winner."
Whether these high-tech twists on country club games fully win over health club members and operators remains to be seen, but success stories are starting to emerge.
Located on its own court surface in front of the pro shop at Desert Springs' Tennis & Lawn Club, the Sports-PC Tennis wall has received plenty of attention since its summer 2001 installation. "When someone's playing on it, it never fails to draw a crowd," Leupold says. The club charges $25 per half-hour to use the wall, with a special twilight rate of $15 after 5 p.m. Scores from games played on the wall are sometimes factored into round-robin tournaments played on the club's 20 traditional tennis courts, or serve as tournament tie-breakers. Games include the single-person "chase," in which the player tries to hit each of the panels as they are fully lit in succession, and the two-person variation on "tic-tac-toe," in which players alternate shots while trying to hit three adjoining targets.
Flexibility afforded by the various skill level settings allows the wall to be used in many ways and by many age groups, according to Leupold. "I use it extensively for my local junior programs," he says. "The five- to seven-year-olds can play on it very easily, and we also have a couple of strong 16-year-old players who do very well on it."
"We target kids to get them exercising at an entry level," says Sportwall spokesperson Frauke Wittmer-Grant. "On the other hand, it's a high-performance training system."
The wall looks like a typical hitting backboard, but with five illuminated targets (spaced like dots on dice) appearing above the white net line on each 4-foot-wide-by-8-foot-tall panel. Desert Springs has four electronic panels sandwiched between two blank ones - a configuration that allows a large enough margin for shot-making error while keeping users hustling, Leupold says. Before beginning, users press four buttons on a remote control to select the game, skill level, time allowed, and volume of sound effects. Laminated instruction cards located at the wall and within the pro shop guide users through the setup. Leupold says staffing the wall is unnecessary.
Computerized panels run roughly $2,500 each, with a system like the one at Desert Springs (including the two non-computerized panels) carrying a $12,000 price tag, according to Wittmer-Grant. (Related Sportwall products with potential health club application include Sports-PC AllSport, designed with seven targets per $4,500 panel for baseball and soccer training, and Sports-PC Electronic Playground, a self-contained room of targets for active child-care areas priced at $25,000, though existing rooms such as dormant racquetball courts can be retrofitted with targets for $6,000 and up.) Leupold says the Sports-PC Tennis system has nearly paid for itself in the two years since Desert Springs had it installed.
Arnold, meanwhile, anticipates hitting a break-even point with her club's golf simulator four to five years from now. Users, whose $58 monthly membership fee at Motion Fitness covers unlimited use of an indoor putting green and three hitting cages, pay $25 an hour to use the simulator. Aside from the initial purchase price, the club's overhead costs include payments to four retired high school and college golf coaches who take turns staffing the simulator during peak usage - usually from 4 to 9 p.m. These coaches also run men's, women's, adult coed and kids' leagues, and provide individual and group lessons.
Cold-weather climes are particularly well-suited to the simulator, according to Full Swing Golf president Floyd Arnold (no relation to Nancy), since PGA-affiliated club professionals are typically available to operate the machines during golf's off-season. During Wisconsin's fair-weather months, Nancy Arnold keeps golfers coming back to the great indoors by offering a league that combines rounds played on a local golf course with rounds played on the simulator.
But is the indoor version as good as the real thing? Unlike other golf simulators that rely on the user to enter his or her club selection into a computer, which then approximates shots based mostly on club head speed, Full Swing simulators use two parallel planes of infrared light to measure ball speed and trajectory. Once the ball strikes a backdrop, its spin is calculated to determine whether the shot goes straight down the fairway (represented on a high-definition screen), or whether it manifests a hook or slice. Users can choose from dozens of famous courses, from Pebble Beach to St. Andrews, and experience every Microsoft-digitized inch of trees, tall grass and sand traps.
Motion Fitness even boasts a "19th hole," a bar serving beer and wine along with an assortment of protein beverages and smoothies, giving added meaning to the phrase "full-service health club." "There are people who golf and then sit in the bar and have a couple of beers," says Joe Dunne, the club's co-founder. "The whole idea is to get people in the door."
Other clubs with Full Swing simulators have also been creative in their revenue-generation approaches. Apple Athletic Club in Idaho Falls, Idaho, uses its simulator as a means to entice prospects into purchasing premium memberships by offering one hour of free golf each month. Ogden (Utah) Athletic Club, meanwhile, has justified waiving its per-use fees based on the number of club memberships it can trace directly to the simulator, Floyd Arnold says.
Still, among the 3,000 Full Swing simulators in use around the world, fewer than a dozen can be found in health clubs currently. Floyd Arnold expects that to change, though, as PGA players such as Tiger Woods and David Duval - not to mention just about every golf magazine - continue to demonstrate a clear link between physical fitness and golf success. "We're just scratching the surface," says Arnold, a regular on the health and fitness trade-show circuit in recent years. "A lot of people who are members of clubs spend a lot of time getting their bodies in shape, and when they go outside and can't figure out why they can't hit a little white ball straight, they get very frustrated. The simulator can teach them the rules, the etiquette and the basics of golf. When they've gained an understanding of golf and are ready to go to the golf course, they're going to be successful."