Fitness centers struggle with their members' choice of clothing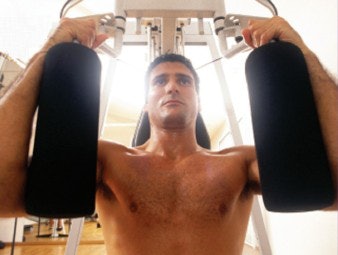 Carla Rafferty had a problem. Program director for the rec ministry at Germantown (Tenn.) Baptist Church and in charge of overseeing the church's 100,000-square-foot Recreation Outreach Center (ROC), she was seeing certain aspects of her visitors that she didn't think belonged in church.
Namely, their butts, their boobs, and more.
"It seems like the style nowadays is for girls to pull their shorts up and roll them down - the really short shorts that expose things that shouldn't be exposed, particularly on the abductor/adductor machines," Rafferty says. "We also don't like exposed abdominals."
The real problem came when Rafferty started looking around for sample dress codes that she might replicate in the ROC. To her surprise, she found that not many health clubs had explicitly - if that is the word - written policies regarding members' choice of clothes.
That won't be the case for long. With much more attention being paid to the 50-plus market, expect more clubs to begin developing policies that spell out what's OK and what's … revolting.
"It's absolutely more of a problem with women than with men," Rafferty says. "The thing with men that we usually deal with, which is kind of humorous in a way, is that they don't keep their pants pulled up and we can see their butts. That's just the style."
Health club owners who have policies in place confirm that they have written them to differentiate themselves in their local marketplace, not as a response to any particular member complaint. Fitnessology, a Green Bay, Wis., club that opened in 1995, has a basic no-Lycra ® policy that suits its members, who are almost exclusively 40 years old or older. (According to a report in Wisconsin's Marketplace business magazine, many of them are corporate executives or individuals looking to rehabilitate musculoskeletal injuries.)
Ron Richert, general manager of Hendrick Health Club in Abilene, Texas, says the appeal of dress codes also has a class component. "We try to cater to an upscale market, and they don't really care for the big muscle builders," Richert says.
Some of the country's more exclusive clubs deal with the problem of dress by giving their members clothes to wear. ClubCorp, for example, a Dallas-based chain that includes athletic, country and business clubs, provides workout "uniforms" (logoed shirts, shorts and warm-ups) in roughly half of its fitness centers, according to Steve Tharrett, vice president for strategic operations. Many of ClubCorp's clubs that offer uniforms (for an additional fee, usually) launder them after use and return them to members' rental lockers. "Members love it," says Tharrett. "Our dues are much higher than the industry average, and this sort of goes along with that, I guess."
Industry veterans tend to portray dress codes as being so straightforward that the actual wording is unimportant. Indeed, search the web for sample dress codes and you're likely to discover vague terminology such as "proper" or "appropriate" to describe recommended athletic attire. The International Health, Racquet and Sportsclub Association offers some guidance to its member clubs, noting in a legal brief that dress codes should "specifically state what is and is not appropriate attire at the club." More important from a legal standpoint, the association recommends that clubs' codes "do not have a 'disparate impact' on a protected class." As an example, the brief states, "a 'no hats allowed' policy could be found to discriminate against members of a religion that requires women to cover their heads and/or faces at all times."
One of the the better-known dress codes originated with Q, The Sports Club, an Akron, Ohio-based chain that was subsumed over several years by the Carlsbad, Calif.-based 24 Hour Fitness chain. Q clubs forbade tank tops, insisted on shorts worn over Lycra tights and ruled out jeans, open-toed shoes and T-shirts bearing inappropriate messages. Q's highly visible dress code was soon copied by numerous other clubs.
Hendrick Health Club's code is derived from Q's, Richert says, although he adds the club has become less strict in recent years. "We don't allow people to wear jeans, camo boots and ripped-up shirts," he says. Hendrick's code expressly forbids "hard-soled dress shoes or boots on treadmills." Asked whether members would actually attempt to step on a treadmill in boots, Richert just laughs. "We're in Texas," he says.
Rafferty's journey to create a dress code for the ROC began with one that had been in place at a Q location in Germantown before it became a 24 Hour club. That code seemed mostly concerned with tank tops, she says; hers was altered as each new offense was discovered.
As a result, Rafferty's dress code in its current form (it appears on the church's web site with two quotes from Corinthians) is very detailed:
"Shorts: Must be at least to mid-thigh, and cover undergarments completely. Short shorts or running shorts with side splits are not appropriate. Bike shorts and tights should be covered with a T-shirt or shorts.
"Shirts: Must be worn at all times, and cover the midsection (no exposed abs). 'Spaghetti' straps or tanks that expose the ribs are not appropriate. Shirts advertising tobacco, alcohol or indecent behavior are not allowed.
"Shoes: Must be worn at all times (exception: when involved in a program that requires bare feet). Shoes worn on the wooden floors must have non-marking soles (no boots or hard-soled shoes). Open-toed footwear is not allowed in the workout areas, track and basketball courts."
The aspect most open to interpretation (and the one that has endured the most tinkering) is the one forbidding indecent T-shirt messages. The problem there began with shirts from Big Johnson.com ("The hottest shirts on the planet"), but quickly moved on to shirts bearing rap lyrics and ads for beer. "We started asking guys to turn them inside out so kids wouldn't see them," Rafferty explains. "So then we decided if that was going to be part of our dress code we thought we'd better cover everything that might come up. Us being a church, we don't want people advertising Bud Light or whatever."
Perhaps it's the subjective nature of policing T-shirt messages, but Rafferty reports she gets significantly more flak on that score than when she busts someone for short shorts. Or perhaps it's the fact that the person in question has to walk around with an inside-out shirt. Richert avoids this problem by providing a replacement shirt for the offending member to wear.
Hendrick's code includes a recommendation - not a requirement - that members wipe off equipment after exercising as a courtesy to other members, using towels positioned by management around the fitness center. 24 Hour Fitness' code, on the other hand, considers a towel for wiping down equipment part of its members' required "dress." It also includes an admonishment that "shower shoes and swimming suits are acceptable in the pool area, but leotards, Danskins or cutoffs are not," a reasonable-sounding addition for clubs with natatoriums.
Rafferty admits her "struggle" over this issue is amplified because of the ROC's church location, but says that even in secular health-club environments, she's surprised at what sometimes passes for clothing.
"I'm afraid that people don't always use their better judgment when it comes to choosing apparel to work out in," she says. "If you're going to get on some of these machines and you know that your butt's hanging out, to me it just doesn't seem like something you would want to do. Or, we have a lot of yoga classes, and the poses they get into - you know what I'm saying. It's funny that we have to tell people what they shouldn't wear."
Rafferty isn't taking any chances that the message doesn't get through. Stacks of the facility's dress code, professionally printed, are available in a standing display at the front desk. An attractively enlarged and framed version is hanging on the wall in the men's and women's locker rooms. During new users' orientation (the recreation center is free to all community members), they are given a copy of the dress code along with the usual informational tour. "It's almost impossible for people not to know we have a dress code," Rafferty says.
And as she's quick to note, the desire for a modest environment springs not from prudishness, but from a desire to cast a wider net from a health standpoint. "We hope that we attract a variety of shapes and sizes of people, and sometimes some of the inactive people don't feel comfortable going to a club because everybody there is in shape already, and don't mind showing it," Rafferty says. "Our goal is to hopefully get some people up off the couch. We don't want them walking into our facility and there's a bunch of skin everywhere."