The versatility of equipment purchasing programs, especially those offering leased and refurbished equipment, can help ease the financial burden of outfitting a fitness center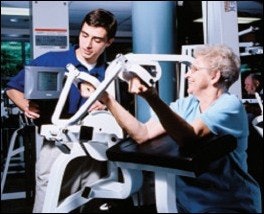 Even though Christmas is coming a few weeks late to the City of Fort Morgan (Colo.) Community Services Department, director Chris Nunes doesn't seem to mind. That's because come Jan. 16, for the first time in the history of his department's Armory recreation center, the fitness area will boast brand-new cardio equipment, "just in time for people who've made New Year's resolutions," says Nunes.
Users will also have at their disposal a variety of refurbished, secondhand strength machines in near-mint condition. "For a small amount of money, we're providing residents with quality equipment," says Nunes.
The Fort Morgan Community Services staff managed to equip 80 percent of its 2,000-square-foot fitness center for only $20,000 by splitting its equipment bid: half of the money went toward the purchase of three new cardio machines, the other half to buy three refurbished strength pieces, including a leg press and a Smith machine. "Budget dollars are getting tighter and tighter," says Nunes. "With the refurbished equipment, we had the ability to stretch those dollars."
The equipment needs of Fort Morgan Community Services, which provides for a town of 11,000 residents, are certainly much less than, say, a metropolitan chain of 25 health clubs. Nevertheless, in efforts to cut costs amid an economic climate that is dubious at best, operators of fitness centers of all sizes are exploring the increasing variety (and versatility) of equipment purchasing programs.
For some facility operators, buying new equipment is still more advantageous than any other means. For example, all fitness equipment at the Peak Health & Wellness Center in Great Falls, Mont., was purchased new - first, when it opened in March 2002, and then five months later when the club was expanded to accommodate 30 more pieces. "One of our owners has seven clubs throughout the Northwest and has really good purchasing power," says Lynn Compton, the Peak's director. "He might put in a $250,000 order, spread the equipment around in all of his clubs and get a substantial discount. If we were a stand-alone facility, it would be a lot more expensive."
It's fairly common for manufacturers to offer bulk discounts, says Tim Cluny, regional director of Advanced Exercise Equipment, a full-service provider of commercial exercise equipment serving eight states stretching from Arizona to Missouri. However, don't expect to receive the same discount from two different manufacturers, even if they make the same types of equipment. Several factors prohibit vendors from following a standard discount formula, or what Cluny calls a "cookie-cutter approach." "Manufacturers may get a better profit margin from one product than another. It really depends on the mix of product, and of course, the volume of the purchase," he says. "So is there a standard discount. Typically not. Even if we, as distributors, offer a discount, it will eventually depend on the customer and his or her setting."
Bulk discount purchasing programs are ideal for large fitness facility chains of regional or even national stature, but for smaller operations leasing has emerged as an increasingly popular option.
In point of fact, equipment leasing isn't that new of a concept. Macrolease, a Plainview, N.Y.-based national equipment leasing company specializing in a variety of markets, has been leasing fitness equipment to YMCAs for 35 years. The difference these days, says Al Rousseau, Macrolease's vice president of sales and marketing, is that capital is at such a high premium, especially for start-up businesses. "Leasing is tied to the equipment, the equipment is your collateral," he says, advising facility operators to "keep your bank lines of credit open for renovation, advertising, whatever."
"When it comes to owning a building or land, I would love to, because those types of assets retain their value fairly well," says Jim Mellor, vice president and chief financial officer of Metro Atlanta YMCA, a Macrolease client. "But I don't see any need to own athletic equipment. What I want is the benefit of use. Why would you own equipment that lasts two years? Are the reasons emotional? Because they're certainly not financial."
Leasing is an attractive option for many because it allows facility operators to acquire tens or hundreds of thousands of dollars of equipment in return for one fixed monthly payment. "Every month it shows up on our budget, we send the bill to City Hall and they cut a check," says Lisa Donald, fitness supervisor for The Heights recreation center in Richmond Heights, Mo., which leases more than $400,000 worth of strength and cardio equipment. "With the lease, I have an idea of how much I can spend monthly, and I can structure the amount of equipment we lease within those boundaries."
In reality, it's not quite that simple - lessees are making payments to the lessor for the rights to use equipment from one or more vendors, and must agree to contracts ranging from 18 to 48 months in length. "A lot of people think a lease is like a rent," says Joe Schmitz, president of F.I.T. Leasing in Tustin, Calif. "It's really a financing instrument, like a car lease."
There are several types of equipment leases. One option allows lessees, at the end of a lease, to purchase the equipment from the lessor for 10 percent of its original value. Generally, the lessee's accountant will advise whether to capitalize the equipment or write off the entire payment. Then there's the $1 purchase option, also known as a "capital" or "finance" lease. For $1, at the end of the lease, title to the equipment is passed to the customer. Because of the small purchase option, the equipment is often depreciated and any accumulated interest is expensed, similar to the method utilized in bank financing. For both the 10 percent and $1 purchase options, the lessee attains ownership of the equipment at the end of the lease term.
Lessees can also choose a fair-market-value (or operating) lease, which gives them the option of either purchasing the equipment at fair market value (anywhere from 10 to 20 percent of the original value, depending on "manufacturer motivation and wear-and-tear," says Schmitz) or renewing their contract. In the latter case, the lessee returns the existing equipment to the lessor in return for as much as 20 percent value toward the lease of new machines.
This leasing option has become very popular among both equipment vendors and facility operators, particularly those who manage Ys and municipal recreation centers. "The equipment manufacturers like it because they've got a good chance to get us back to lease more of their equipment," says Mellor, adding that it was the wellness directors at the Metro Atlanta YMCA's 11 fitness facilities who suggested that equipment leasing would better serve their end users. "Our members like it because they have new equipment, the same equipment no matter what facility they visit."
Donald says that the new cardio equipment in her facility, which was installed in October under the parameters of a three-year lease, has helped draw new customers and retain loyal ones. "People seem to be excited about it. In the spring, we brought in several demo pieces and people gave us input on what machines they liked and didn't like," she says. "Of course, they were sad to see some of their old favorites go, but it's nice to say that we can offer them state-of-the-art equipment."
Roy McIntyre, director of fitness at Orion, Mich.'s Great Lakes Athletic Club, agrees, but also enjoys the fact that come renewal time, he isn't obligated to acquire equipment from the same manufacturers. "Everything gets replaced, whether it needs it or not," he says. "You get the latest and greatest out there, and you don't have to keep the same manufacturers."
In fact, it's not all that uncommon for fitness facility operators to renew their lease contracts with the same funding source, but choose different vendors the second time around. "Think about it: you're doing these agreements two to four years in advance. Manufacturers don't know what new equipment they'll come up with between now and then," says Mellor. "All you're doing is establishing a relationship with a vendor that says, 'I'm going to come to you first.' But you don't have to. You can say, 'I don't think I like what you've got, so I'm going to manufacturer B.' It's a relationship, but one that has to be earned at the end of the lease cycle."
Indeed, the final 90 days of a lease are critical. It's during this time that vendors and lessees, through channels established by the third-party lessors, negotiate anything from interest rates on future leases to trade-in values for old equipment. Lessees can also use this opportunity to request "bundled transactions," which allow them to acquire equipment from multiple vendors. The 14,000-square-foot fitness area at Great Lakes Athletic Club, for example, houses more than $1 million in leased strength and cardio equipment from five different vendors. "Chances are if you're doing $200,000 total, and $100,000 of that equipment is from one vendor, you'll do the rest of the purchase from the same vendor because of multiple equipment purchase incentives," says Schmitz. "But if you get $100,000 of equipment from one vendor and you also want equipment from three others, we can do it."
If requested, lessors will also occasionally agree to lump in with larger transactions a small amount to cover "soft costs," for items such as lockers and flooring. "We really don't do much more than $10,000 to $15,000 of soft goods per $100,000 transaction," says Schmitz. "If you said you wanted $50,000 for flooring, we probably wouldn't be willing to do that, even if you had IBM-quality credit."
The reason, Schmitz continues, is that the collateral value of weight-room flooring depreciates significantly over a short period of time, whereas a standing calf raise machine retains a greater percentage of its original value, even after two years of heavy use.
This is generally the case with strength equipment, and lessees will structure their leases accordingly. Both the Metro Atlanta YMCA and The Heights have four-year leases on their strength pieces. On the other hand, components within most cardio machines, particularly treadmills and exercise bikes, tend to wear out sooner. Thus, many lessees choose to go the safe route and renew leases for such equipment every two years.
Still, two years can be a long time to the facility operator who doesn't know a thing about repairing a broken-down elliptical machine. Not to worry: Many vendors offer lessees full parts and labor warranties. To Donald, this is her lease program's best feature. "Almost everything that has gone wrong, with the exception of two incidents, has been paid for by the company," she says, adding that all of those repairs were to cardio machines. By contrast, The Heights' four-year-old strength equipment remains "in really good shape," says Donald. "The most I've had to do to is replace some ripped pads. As far as the frames and the movable parts go, they're fine."
Leasing or purchasing new fitness equipment aren't facility operators' only options. Buying refurbished equipment is becoming an increasingly popular choice, especially for facilities that find it difficult to pay retail. "People from high schools, middle schools, personal training studios - they all want the cheapest thing possible," says Cluny. "They're pinched for money and are looking for anything they can get their hands on, anything that's used and pre-certified."
Add to that mix police and fire departments and apartment complexes, and you have the target market of UsedGymEquipment.com, which deals exclusively in refurbished fitness equipment. Simple as it seems, the company fully refurbishes machines acquired from manufacturers or repossessors and then sells them, with limited warranties, to cash-strapped facility operators. Steve Paterson, UsedGymEquipment.com's president, believes that more people are becoming open to the concept of purchasing refurbished equipment, especially when it saves them money. "Less than 5 percent of the vertical market purchases used equipment," he says. "But as quickly as the new models come in, people aren't necessarily seeing themselves as used equipment buyers. They're saying, 'If I can get a cross-trainer for $3,000 instead of $5,000, and it looks new, I'm there.' "
What has boosted the growth of the approximately 15-year-old refurbished equipment market is the fact that in recent times, manufacturers have been more willing to send their older equipment to a secondary market. "Years and years ago, no manufacturers had trade-in programs. Club owners were calling us because they had gyms full of equipment, but they couldn't get rid of it before their new stuff came in," says Paterson. "Finally, manufacturers developed trade-in programs and started to work with guys like us."
As manufacturers replace their customers' outdated machines with new models - which generally happens every two or three years, depending on the piece of equipment - the used machines are snatched up in bulk by companies like UsedGymEquipment.com. "The only way you can tell the difference is through generational changes. Manufacturers make enough changes, they make their machines a little bit bigger and better, so that people want to buy the new stuff," says Paterson. "But here's your club owner who bought all new equipment two or three years ago, and now he needs eight more treadmills on the floor because he's got people standing all over the place. He already has 15. If, after three years, he wants to buy eight treadmills just like the first ones he bought, he can't. He says, 'Forget this, I don't want to buy 23 new treadmills. I just want to buy a few more.' That's our customer."
There is no one-size-fits-all formula when purchasing fitness equipment. A number of options are available to fitness facility operators, from those who run large university recreation centers to those operating small high school weight rooms. "Some people think you have to either buy all new or all refurbished," says Paterson. "You don't."
Indeed, facility operators can choose to acquire all of their equipment at once using one method, mix and match methods (and vendors), or plug holes as needed. "Depending on whether some deals are available," says Compton, "we'll pick up a few new pieces every once in a while."
With the fitness equipment marketplace as competitive as ever, it appears that those on the supply side will continue to do whatever it takes to hold on to loyal customers and entice new ones. "It puts a lot of pressure on the vendor to keep the account, and it puts pressure on other vendors to try to win away your business," says Mellor. "The competition really brings out the best in everybody."