Finding room to store all those pieces of equipment may be easier than you think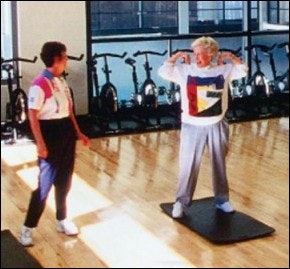 Time was when an aerobics room in a fitness or recreation center was exactly that - a room devoted solely to teaching and performing aerobics. Times change, though, and the aerobics room eventually morphed into the group-exercise room. Today, that same space can be used for anything from indoor cycling to salsa dancing to speaker presentations and community meetings.
That's why creative equipment storage in these spaces - let's call them multipurpose rooms - is so important. The design of flexible and easily accessible storage areas can go a long way toward lowering operational costs for facilities and ensuring that the building's effectiveness goes beyond simply a fancy exterior facade.
In order to create more profit centers within a fitness or recreation facility, operators must abandon the old model for allocating space, which was "How many people can I fit into one spot." The model for success in today's ever-evolving industry is "How fast can I set up this room for a different use."
The answer to that question depends largely on how you answer other questions, such as "Where can I put the stationary bikes when the room is being used for other purposes.," "How can I accommodate speakers who need a 'backstage area' to prepare for a presentation?" and "Where do visitors put their coats?" Storage is the key to ensuring the flexibility that multipurpose rooms require.
The issues surrounding storage are not sexy, but they are essential to consider, because storing aerobics steps and yoga mats is one thing, while finding a dedicated place to keep dance props, exercise equipment, punching bags and boxing gloves is quite another.
By anticipating the types of programs that will be run in a given room and the number of participants those programs are expected to draw, as well as various scheduling patterns and security needs, you can determine the adequate size and other logistics of each storage space. To help you do so, ask yourself and other staff members a series of questions similar to the ones below:
• What equipment do you currently have for the room? • What equipment will you need in the future? • What equipment needs to be accessed by whom, and how often? • Is all equipment accessible to physically challenged users? • How secure does the equipment need to be? • How often will equipment need to be changed, replaced or repaired? • What new programs might be added within the next five years? Which ones might be nixed?
A rule of thumb in determining storage-allocation needs is to predict the average number of people any single event - class, presentation or demonstration - might attract. For example, group-exercise classes might draw between 20 and 30 people. If it's a step-aerobics session, anticipate needing twice that many steps, as some people double up. A yoga class, on the other hand, will require only a few additional mats to cover any extra participants or to replace ripped or damaged mats. Participants in a cycling class will each need only one bike, while some members of kickboxing programs may want to use two bags instead of just one.
Continue envisioning equipment needs for all possible activities that a given multipurpose room will accommodate. Then multiply the number of equipment pieces by an average of 2 cubic feet for yoga equipment, 3 cubic feet for aerobics steps, 4 cubic feet for Pilates mats, 6 cubic feet per kickboxing bag and 1 cubic foot per set of gloves, and 8 cubic feet for stationary bikes. Usually, a Pilates bench requires 162 cubic feet of space, stacking chairs need 2 cubic feet and tables need 28 cubic feet. In each case, the sum should give you an approximation of the volume of space needed to store each kind of equipment piece. Hence, 20 stationary bikes will take up an average of 160 cubic feet, while 20 Pilates mats will only require 80 cubic feet.
As in any good planning exercise, thinking about the future is critical. Facility managers must keep a keen eye on the possibility of multipurpose spaces expanding, contracting or transforming to meet facility needs that aren't yet known. New regulatory requirements, economic realities, technologies and trends will also dictate a facility's future direction. Twenty years ago, for example, many college recreation programs included roller-skating and trap shooting, each of which required diverse equipment. Today, they've been replaced by healthy-cooking classes and self-defense programs, which also boast distinct equipment needs.
Whether in the process of designing a new facility or renovating an existing one, architects and building operators can reengineer the concept of a multipurpose room. A simple design solution involves integrating storage alcoves or corridors into the floor plan. For example, when creating a new fitness and wellness center at the City College of San Francisco (slated to open in Spring 2005), designers interviewed staff members to determine the kind of storage spaces that would be needed and their required proximity to the facility's multipurpose areas. The solution was to design the multipurpose rooms near the ground-floor gymnasium so they could share secure storage space with gym equipment, which requires extra-high double doors and no threshold. The storage areas run between the multipurpose rooms - think of the space as a storage corridor - and are accessible from each room.
Just one of the 7-by-12-foot, 2-inch-thick mats that the college plans to use in the multipurpose areas can weigh as much as 60 pounds. And considering the high number of mats needed in the space, simply hiding them would likely pose a problem. So plans call for storing the mats either on hangers or stacking them on flatbed mat trucks.
Mat trucks for large mats usually measure 8 feet long by 4 feet wide and are essentially vinyl-covered plywood platforms. These units can hold up to 800 pounds. A variation of the mat truck is a vertical unit, which has sliding mat hooks and can store up to 10 mats. Both units are portable and supported by heavy casters but need to be stored because they are usually aesthetically unappealing.
Mobility and flexibility are the keys to easing storage woes. Creative solutions can be as simple as utilizing residential garage storage systems such as wall hooks and shelving units that are available at stores like Home Depot and Lowe's. A journey through the Yellow Pages or the Internet may also provide quick access to an array of equipment-storage solutions.
Among the best options are racks, which are available from suppliers of retail-store planning equipment and can hold audio equipment, punching bags, jump ropes, steps, cooking equipment and other gear. They can be located either against a wall or used as a room divider, because most usually come with casters for easy mobility. Many rack systems feature a brushed-aluminum finish that gives them a warm and appealing appearance.
Other aesthetically and structurally sound solutions are universal caddies made of steel tubing and available in a variety of sizes. Some are designed to house steps, yoga props and medicine balls, and are built on casters that enable portability and spare floors from excessive damage. Additional units include wall-mounted systems with durable steel-plate backings, and still others are lockable for security purposes and can be accessed from either the front or the top. Utility lockers are another option when storing balls, punching bags and other equipment.
Freestanding closets originally designed for clothes, toys or household appliances and available at many retail outlets are yet another possibility. When organized properly, a surprising amount of gear can fit into these units. Clustered together, a series of closets with white or natural-wood finishes (available in many different sizes) provide a plethora of storage options without compromising a multipurpose room's clean and bright appearance.
Mirrors can be installed on the exterior back of these units, which can be constructed on casters, thereby solving the need for extra mirrors in dance, yoga, weight training and other classes that require an analysis of skills. Another mirror option is portable units, which typically measure 6 feet high by 8 feet wide, and can be elevated 18 inches off the floor via rollers and stored in a built-in closet or nearby storage room when not in use. Likewise, portable ballet bars can be used when a multipurpose space does not lend itself to permanent installations, keeping in mind that adequate storage space will need to be allocated.
Stationary bikes can also be stored in dedicated areas outside multipurpose rooms. Ideally, these spaces would be lockable built-in closets with minimum dimensions of 4 feet deep and 8 feet high. If the closet space is taller than 8 feet, some bikes can be hung horizontally on the walls from steel hanger rods that span the closet. Provided the walls are reinforced with at least 2-by-4inch studs, this type of rack solution should be sufficiently strong to hold lighter units. (Models today typically weigh between 50 and 150 pounds.) Alternatively, heavier bikes can remain nested on the ground level of the closet, and storage shelves can be used to take advantage of a closet's full cubic space. But by elevating the bikes, you're able to leave more room for tables, chairs, podiums and other pieces of furniture that may be required for special events such as lectures, conferences and meetings.
If additional space is needed for those larger items, consider using a mat truck again, which allows fast and easy delivery from a closet, central storage area or storage corridor to the specified room. The flatbed units can also accommodate everything from exercise cycles to portable coat-hanger racks.
When all else fails and there appear to be no more storage options in a particular multipurpose room, consider borrowing a concept from the athletic and intramural departments of major colleges and universities. Equipment large (podiums, heavy mats, stationary bikes) and small (boxing gloves, steps, balls) can be housed in a centralized location where instructors and other staff members can check out the equipment they need for a given class or event. Although this option requires the use of a full-time equipment manager, there are several benefits associated with knowing where the equipment is, who checks it out and what kind of condition it's in. That translates into less liability and probably fewer repairs.
Generally speaking, when addressing potential storage solutions, it's best for you, your staff and your architects to mentally run through all of the possible scenarios surrounding current and future multipurpose-room uses, calculate the amount of space necessary to store all of the equipment that you envision acquiring within the next two to five years to support programmed activities, and then add an additional 20 percent for contingency-storage purposes.
Obviously, no one has a crystal ball that can predict facility growth or space demands. But you can make reasonable and safe predictions by following these guidelines. When facility operators consistently cast an eye to the future, they have a fighting chance of winning the storage game.