The concept of premium seating continues to evolve as a marriage of product development and ticket marketing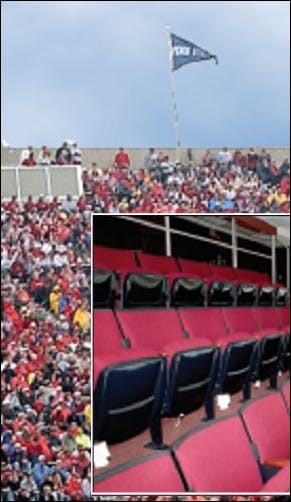 The Nashville Sounds, a Class AAA affiliate of the Pittsburgh Pirates, are counting on an aggressive marketing campaign to help sell not-yet-built $40,000 luxury suites. The idea is to convince city leaders that there is enough support for a new downtown stadium to replace outdated and out-of-the-way Greer Stadium. While it's a high-priced tactic, Sounds officials are simply taking their cue from places like Ohio State University, which paid for nearly 80 percent of a $194 million renovation of Ohio Stadium through the sale of 81 new hospitality suites and 2,500 new club seats.
From colleges and the major leagues to high schools and the minor leagues, facility operators are finding new revenue streams by placing an increased emphasis on treating patrons as VIPs. Traditionally, that has come in the form of wide and fully padded seats with high-end upholstery and lumbar support, richly finished wooden-back models or, in some cases, chairs that look more like living-room recliners than stadium seats.
With many facilities today offering a half-dozen or more seating options, including multiple variations of general seating, club seating and luxury suites, it's no wonder that architects in Kansas City say savvy seat marketing at a new 25,000seat stadium for Major League Baseball's Royals could generate just as much revenue as a new 40,000-seat facility.
But even though comfort remains king, it is only part of this seat story. In some cases, facilities are using the concept of premium seating to upgrade all aspects of a fan's game-day experience except the actual seating - including special parking privileges, access to member-only lounges within the facility and discounts at area restaurants and golf courses. After all, "How far can you go with just comfort?" asks Richard Sherwood, president of Front Row Marketing Services, a Philadelphia-based consulting firm for sports and entertainment facilities. "Everything varies from market to market. The starting point is the game or the concert or other special event. If you don't have good events, people aren't going to want to come to your facility. Once you accomplish that, the success of premium seating is a function of how many, at what price and with what amenities."
One could argue that the trend toward more diverse seating options began with the opening of Baltimore's Oriole Park at Camden Yards in 1992. Previously, most chairs in general seating areas were made of solid plastic that didn't allow the clothes on spectators' bodies to breathe, leaving fans with large sweat circles on their backs in hot and humid weather. The chairs at Camden Yards feature slatted backs to provide ventilation and increase their nostalgic appeal by looking similar to wooden seats.
Gradually, as facilities became all-day entertainment venues rather than just a place to watch a game, seats began to offer increased lumbar support, higher backs and greater overall comfort. Manufacturers of club seats and suite seats took those advances even further, adding wider bottoms, tray tops, side tables and many other fan and franchise requests. Ralph Wilson Stadium, home of the NFL's Buffalo Bills, even installed heated seats five years ago, an innovation that has yet to catch on across the NFL but serves its purpose well in Buffalo.
And new seat models continue to emerge, redefining the market to fit new needs. Among the latest developments:
• Last fall, Hussey Seating introduced the Evo chair, a curvy, all-polymer stadium and arena seat developed in conjunction with European manufacturer Pel Stadium Seating. The modular Evo design allows for mounting on either the floor or risers, and its space-saving profile makes the seat suitable for replacing narrow aluminum bleachers. Its body-molding comfort factor is also ideal for suites and club sections, Hussey officials say. Options include armrests and padding.
• In January, American Seating introduced the Viva armless stadium-style chair to replace bleacher benches. Because Viva seats are made of injection-molded plastic rather than more durable blow-molded plastic, they cost less than larger stadium chairs, but still boast contours and lumbar support. American is marketing the Viva primarily to high schools and smaller facilities.
• In mid-2003, Preferred Seating began targeting similar facilities with its new Champion bleacher-mounted seat. Designed to replace bleachers or install permanently right on top of them, the stadium-style chairs are made of no-break injection-molded polypropylene and come with or without arms. There is also a contoured model with no arms and no back that offers a wider and more comfortable sitting experience than standard bleachers.
That kind of versatility convinced Mary Krizmanic, last year's president of the Parent-Teacher Organization at Bishop T.K. Gorman Catholic School in Tyler, Texas, to encourage school officials to install four Champion seats on the 50-yard line in the top row of 1,500-seat McCallum Stadium for the 2003-04 school year. Rather than pay $5 to sit on concrete risers, fans placed $700 worth of bids during the school's annual auction to sit in the Champion seats for football games and track meets. Sheltered from the wind and sun by the press box, the seats quickly achieved best-in-the-house status.
After its success with four seats, the PTO turned over administration of the seats to the school's booster club, which then ordered 92 more seats based on a newly implemented program in which buyers shell out $125 for the rights to a given chair for all 2004 spring and fall middle and high school sporting events, as well as all 2005 spring sporting events. They also are allowed to engrave their family name (or student's name and graduation year) on a donor plate affixed to each chair. Then, beginning with the 2005-06 school year, fans will be able to purchase seats to an entire school year's athletic events for $50 each - netting the athletic department at Gorman's middle and high schools $5,000 a year, according to Krizmanic.
"My only concern is how we're going to make sure the people who bought those seats get to sit in those seats," she says, adding that the section will probably be cordoned off, with volunteer ushers keeping general-admission ticket holders out.
In April, North Dakota's Fargodome, while not physically replacing any seats, began selling club seats to all events except University of North Dakota football games. In a program aimed at fans who can't afford one of the facility's 40 luxury suites but want some of the privileges suite holders enjoy, rights to 350 of the Fargodome's best seats - locations will vary from one event to the next, depending on the facility's numerous seating configurations - can be purchased for $300 or $350 per seat per year. Seat holders then receive special perks, as well as right of first refusal for all sporting events, concerts, theatrical productions and other events held at the Fargodome. But they are still required to purchase tickets to each event they choose to attend. Dome officials estimate sales of the VIP seats will bring in an additional $113,000 in revenue every year - plus, it is hoped, help draw bigger events to the facility.
Likewise, The Dell Diamond, home of the Round Rock Express in Texas, is expected to jump from a Class AA to a Class AAA affiliate of the Houston Astros next year, thanks in part to the park opening the 2004 season with six new luxury suites featuring the same molded-plastic chair-back seats installed throughout the rest of the stadium. The new suites join 24 existing suites and already have an extensive waiting list - proving that plush chairs are not the only driving force behind premier seating programs. "They were gone pretty much the second we announced them," says Express spokesman Mark Swanson.
Despite the facility's best efforts to improve the game-day atmosphere, adding or upgrading seating options isn't always a sure bet to raise revenues, especially if facility operators overestimate the demand for such amenities. "We're saddled a lot of times with facilities that were built with too many club seats, and now we have to find ways to sell them," Sherwood says.
Traditionally, club seats have been considered one step removed in status from luxury suites, and smaller businesses and corporations that couldn't afford higher-end suites usually occupied them. They often boast more-comfortable chairs than the ones available in general seating sections, and sometimes come with waiter service, separate entrances and access to VIP hospitality areas.
More common these days are club seats occupied by individuals - especially in smaller markets - rather than by employees or guests of companies that may have dropped such perks in budget-slashing efforts. Over the past few years, major professional and collegiate facilities have eliminated club seating, altered the marketing emphasis of club seating to an "access is everything" concept, or simply failed to sell out club seat sections. "I won't say club seats are in a crisis mode, but they are in a creative-sales mode," Sherwood says, adding that some facilities now sell club seats on a per-event basis, rather than as seasonal or yearly packages.
Even suite sales have suffered in facilities where too many were initially built. Sherwood tells tales of arenas knocking down walls to create larger party suites out of unsold individual suites, while such well-appointed spaces in other facilities are often left dark during events. "People who are building new arenas are getting smarter," he says. "You can always add more seats later on. I'd rather generate a sellout situation from the beginning, and then create demand. What happens when the novelty of the new facility wears off? What happens if the home team goes bad?"
That's the case at Indiana University, where the Hoosiers football team hasn't produced a winning season since 1994. Rather than wait to make enhancements to Memorial Stadium until the team's fortunes improved, though, a $3.5 million renovation was completed last June that converted aluminum seating for 900 fans into an enclosed club section with 300 fully padded seats. Also part of the project was the dismantling of 15 unused radio and television broadcast booths to make way for 10 luxury suites of various sizes. All of the suites were occupied for the 2003 football season, but only about half of the club seats, with a fourfold increase in ticket price over the old aluminum benches, were sold.
Chuck Crabb, Indiana's assistant athletic director in charge of facilities management, says the university's gamble with club seats might be "cannibalizing" fans who previously held tickets in the converted sections. "We sold as many as we could," Crabb says of the club seats. "Our program is at a point where it's reloading. And we're in a rebuilding situation with our ticket-buying public, too. Regardless of the ticket package fans have, we've got to have a good product on the field to keep them coming back. These improvements are simply signs of our commitment to Indiana's football program."
Other facility operators have turned to gimmicks such as airplane seats, sideline hot-tub parties and shaded front-porch seating atmospheres in recent years. The Wachovia Center in Philadelphia even experimented with toilet seats during the 2003 Philadelphia Wings' National Lacrosse League season - complete with free food and drinks, a plunger and "King (or Queen) of the Throne" crowns. The two seats were located at field level and issued via a radio station's contests. "There's so much competing for people's attention in this city that we wanted to do something different that would get them talking about the Wings," says Ike Richman, Wachovia Center spokesman. It worked. The gimmick generated national press.
With the possible exception of two seats in the Wachovia Center, sports seating certainly hasn't gone down the toilet. But how much further can the industry develop, given so many recent changes in market and fan demographics? "I don't think we're finished with the seating evolution yet," says a designer with one major seating company. "But I don't know exactly how far it will continue to evolve. Right now, we're still in the coming-up-with-new-ideas phase."
Which means that operators of facilities as diverse as a Big Ten university and a small Catholic school will continue to reap the rewards that come with combining product development with savvy marketing. "We were just a little PTO group looking to buy four seats to sell to fans," Krizmanic says. "And then we bought a lot more."