Unlike previous generations, many of today's older adults recognize the benefits of staying active, and facilities of all types are stepping up to serve them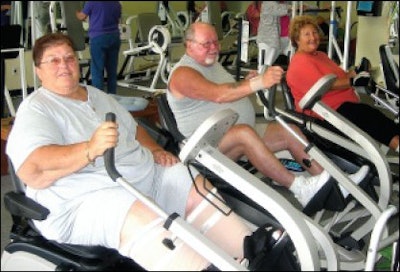 At age 60, Jack LaLanne, TV's original fitness guru, swam from San Francisco Bay's Alcatraz Island to Fisherman's Wharf while handcuffed and towing a 1,000-pound boat. Last year, pushing 90, the perennially svelte LaLanne announced his goal to swim the 26 miles from Catalina, Calif., to Los Angeles underwater, changing scuba tanks every two-and-a-half hours.
Not many people LaLanne's age (or any age, for that matter) would attempt such feats. But at least some of LaLanne's contemporaries are realizing the benefits of a healthy lifestyle more than at any other time in their lives. "The current generation of retirees is much more attuned to wellness and fitness than previous generations," says Deborah Cloud, vice president of public affairs for the Washington, D.C.-based American Association of Homes and Services for the Aging (AAHSA), which reports that the past five years have seen a surge in the number of retirement communities and dependent-care facilities that include either new or retrofitted wellness/fitness centers. Cloud cites the mainstream media's ubiquitous fixation on all things healthy as the primary reason older adults are becoming so focused on their health.
"With the 65-and-older market, it's all about health: How can these people help themselves?" says Colin Milner, chief executive officer of the International Council on Active Aging, a Vancouver, B.C.-based organization dedicated to helping facilities adapt to an aging society. "The message many fitness facilities are sending is one of vanity, when the message older people are looking for is really one of health."
Operators of fitness facilities are gradually beginning to change their tune, joining forces with retirement communities and local agencies on aging to develop new programs, building projects and even franchise operations aimed at the emerging mature market. That means facilities must do more than just add specially marked parking spaces close to the entranceway. It means installing dressing stalls and wider benches in the locker rooms, as well as staying away from an abundance of neon lighting because many older adults prefer conservative design elements.
And it's not just fitness and recreation facilities that are affected by the maturation of the mature market. All industries - from real estate to eyewear - are experiencing new demands on their products and services. "You could see this coming for several years," says Milner, the former vice president of sales and marketing for Keiser Corp., one of the first strength-equipment manufacturers to market to seniors. "There isn't any segment of any industry that the older-adult market isn't impacting. With a demographics shift, you have to rethink how you do everything. I think some facility operators understand that, and that's why we're beginning to see change. The goal - and the challenge - is to make facilities ageless."
The U.S. Census Bureau estimates that there will be more than 40 million adults (or 13 percent of the population) who are 65 or older living in this country by 2010. That figure will more than double to almost 87 million (21 percent) by 2050.
With the increasing buying power of this market, several different campaigns are targeting older adults, including "You Can! Steps to Healthier Aging," a new program begun in September and sponsored by the U.S. Administration on Aging (AoA) that seeks partners to promote health-conscious aging. Similarly, AARP (the lobbying organization for people 50 and older) has teamed with ICAA to educate each other's members about aging and fitness, and in June, the Jewish Community Center Association announced its new partnership with ICAA to provide exercise education, information, resources and tools to older JCC members.
The AoA also sponsors National Senior Health and Fitness Day, America's largest health promotion aimed at the mature market. Held every May (May 25 next year), the event involves local organizations - including health clubs, YMCAs and JCCs - hosting a variety of wellness activities based on the interests of older adults in their areas. Last year's fitness festivities included walks, low-impact exercises, health screenings and health information workshops.
And for the first time, the AAHSA hosted a Wellness Pavilion at its 43rd annual meeting and exposition last month in Nashville. Cosponsored by ICAA and targeting operators of retirement communities of all sizes - from single buildings to large campuses - more than 60 companies were on hand to display their products while experts in the field held 20-minute seminars on everything from the importance of physical activity in day-to-day life to helping residents achieve greater stability through core training.
Unfortunately, despite the best efforts of many organizations and facilities, recent studies show that even though many members of the over-65 set recognize the benefits of regular physical activity, they don't always put that knowledge into practice. The Centers for Disease Control and Prevention reports that more than 60 percent of seniors remain inactive, an observation backed up by a pair of researchers from the University of Kansas and Stanford University schools of medicine who recently studied 196 men and women age 65 and older and found that they preferred to spend their free time playing cards, attending social meetings, watching TV or doing desk work.
Meanwhile, in Scotland, a new study of 409 independent-living adults between the ages of 65 and 84 revealed that even though 95 percent believed physical activity is beneficial to their well-being, 36 percent did not exercise or participate in any form of leisure-time physical activity. Common deterrents to activity, according to the study, published in the August issue of the British journal Age and Ageing, included lack of daily access to transportation, shortness of breath, joint pain and lack of energy.
Transportation issues aside, the irony here is that exercise can ease the same physical and mental obstacles older adults claim are keeping them from regularly working out.
Dottie Drake likes to tell the story of Margaret Compton, who at age 95 joined Fitness First For Women & Seniors, the small fitness center Drake opened for older adults and severely deconditioned individuals in Rio Grande, N.J., in 1998. A wheelchair user for five years after dislocating her hip, Compton visited Drake's facility because she wanted to be able to stand up unassisted for one hour in order to fulfill her longtime dream of riding in a hot-air balloon. After Drake developed a workout routine for her, Compton not only took that hot-air balloon ride at age 96, she also flew in a helicopter at age 97 and rode a Harley-Davidson motorcycle at age 98.
Drake changed the name of her business earlier this year to Miracles Fitness because, she says, "clients would come in and say, 'It's a miracle that I'm not taking my blood pressure medication anymore' or 'It's a miracle that I got down on the floor and played with my grandchildren.' I have 98-year-old people joining my gym and lifting weights for the first time."
Miracles Fitness now boasts four full-service facilities - three in the Northeast and the first franchised Miracles Fitness center in Prairieville, La., which opened in July. Other facilities in Boston and Seattle use the Miracles program, and plans are under way to open new facilities in Kansas and New Hampshire, as well as partner with a JCC in New York. More than three-quarters of all male and female Miracles members are older than 60, and the chain uses such advertising slogans as "If life really begins at 50, shouldn't you be in the best shape of your life at 65?" and "No thongs, no jocks, no loud music."
"I was a diabetic pushing 200 pounds, and I needed to change my life," says Drake, now fit and trim at age 54. "I figured the best way to learn about exercise and strength training was to go into a health club. So I ventured into a health club as a heavy, older lady who wanted to lift weights. The kid behind the desk basically laughed in my face, and people at another club ignored me."
Drake, sensing a business opportunity, decided to study everything she could about health, fitness and running a facility. When she opened her first club, it was one in which she would feel welcome. "I went after the market nobody else wanted," Drake says. "When people in the industry found out, they said, 'What? You want fat, old people in your gym? Are you nuts? Fat, old people don't exercise. Those people are going to have strokes and die, and then you'll get sued.' I said, 'Guess what? They're gonna die if I'm not willing to take a risk and teach them how to live.' "
Retirement communities are also recognizing the benefits of fitness on the aging body, adding such components as indoor swimming pools, spas and plenty of areas for cardiovascular-exercise and strength-training equipment to attract older people. "Retirement communities are in a competitive field," Cloud says. "For a retirement community to compete in the marketplace, it has to offer the services and amenities that consumers are demanding, and certainly wellness centers are one of those things. I would be surprised if there were communities being developed that do not include them."
The AAHSA recently bestowed its prestigious Excellence in Practice award on a fitness center for the first time. The Vista Del Monte Retirement Community's Fitness & Aquatic Center, part of an assisted-living complex in Santa Barbara, Calif., is also a Medicare-certified outpatient clinic and has become a template for many other senior fitness facilities across the country since it opened in 2000.
Typical of these new state-of-the-art fitness centers is the $1.1 million, 10,000-square-foot facility that opened last fall at Leisure World, a Mesa, Ariz., retirement community. "The fitness center is attracting new people who are buying here rather than somewhere else," Dick Steckelberg, who chairs a capital improvements committee for Leisure World, told Mesa's East Valley Tribune last year. "Our major goal is to enhance the value of the community, but we're also interested in attracting active adults to this community so we can keep it going."
Vista Del Monte, Leisure World and other retirement communities have worked with local colleges or universities to develop programming and marketing ideas, and other similar communities may even be linked to campuses in more direct ways. But Oak Hammock at the University of Florida, which opened earlier this year in Gainesville, is actually (as its name implies) affiliated with UF and the university's Shands Hospital through a series of agreements. The $125 million retirement community, located on the edge of campus, seeks to redefine retirement living while focusing on "lifelong learning, fitness and health." It offers a variety of housing options that range from small apartments to three-bedroom homes, and residents enjoy practically the same campus privileges as UF faculty, including access to recreation opportunities, sports, performing-arts events, libraries, research facilities, museums and most classes.
Oak Hammock's 22,000-square-foot fitness center (separate from UF's recreation center) boasts two indoor pools and a whirlpool, classrooms, state-of-the-art equipment and a physical therapy area. It was designed in conjunction with the university's College of Health and Human Performance, and faculty and students serve as an ongoing resource for the facility.
In another effort that veers from the norm, ground is being broken this month on a 98,000-square-foot, first-of-its-kind facility called LifeSports. Located in Midland, Texas, LifeSports stems from a concept DeMars developed, and it is expected to open its doors in July 2005 with an emphasis on "successful aging," regardless of an individual's age.
"You can't just stage things for one group," DeMars says, explaining that his new facility (to be managed by Minneapolis-based Health Fitness Corp.) will offer programming activities aimed at all demographic groups but with a particular emphasis on youths and older adults. Among LifeSports features will be multiactivity courts, a sports training center, a wellness center and a medical facility. DeMars plans to program such activities as adventure hikes and windsurfing, open a spa that offers massage and acupuncture services, and provide fitness opportunities for individuals with chronic diseases and other physical ailments. "This is not just about going in and picking up weights," he says. "This is about how you live your life."
The trend toward creating age-friendly facilities shows little sign of slowing down, which is why existing facilities would be wise to take steps toward becoming "ageless."
The ICAA has developed a comprehensive checklist (available at icaa.cc/facilitylocator.htm) to assist potential users in identifying and then locating age-friendly fitness facilities in their area. The checklist also helps facility operators stay ahead of their competition. By asking such basic questions as "Is the facility easy to get to?" and "Do classes have different levels of intensity, duration and size?" and then addressing specific equipment features, the checklist provides a comprehensive score based on a series of yes and no responses. The higher the score, the more age friendly the facility.
Age-friendly facilities must address a variety of spacing, programming and equipment issues. Are the parking lot and paths to the facility well-lit and close to the entrance? Do the exterior and interior doors to the facility open automatically? Is there extra room between machines to allow for users who may require a walker, crutches or a wheelchair? Are free trial memberships available? Do marketing materials and membership contracts come in large-print versions? Is the music appropriate and set to reasonable volume levels?
A large portion of the checklist is devoted to equipment, which some manufacturers are now gearing toward older users by providing larger, easier-to-read and easier-to-operate display panels, lower resistance levels, and increased comfort in the form of larger seats, longer handrails and wider footrests. Recent cardio innovations include machines that combine the benefits of an elliptical cross-trainer with the safety and stability of a semi-recumbent body position, and recumbent steppers that boast large seats and walk-through access. Manufacturers are also making available pieces of equipment stripped of most bells and whistles, leaving little more than an "on/off" switch to simplify the workout process.
The staffing section of the checklist encourages employees to respectfully and tactfully respond to the needs of older clients, which is not always an easy task. "We're in a business in which the people who have older adults in their care sometimes get paid the same amount as someone who flips burgers," Milner says. "There's a lot of turnover in the fitness industry, and that has held it back when working with the older population."
Drake gives all potential Miracles Fitness employees - some of whom were once deconditioned - a facility tour, introduces them to members and then observes how they interact with them. "I know within five seconds if I'm going to hire that person," Drake says. "You have to really care about people if you're going to be part of this market. You have to be sincere. If you're a phony, you're not going to make it with this population."
Similarly, facility operators must ensure that employees are reasonable when it comes to member expectations. The Vista Del Monte center eschews using dumbbells in favor of creating exercises to which older adults can relate, such as putting free weights into suitcases and walking with them. The rationale? Many seniors love to travel but need the strength to carry their luggage.
"The only goals some of these people have are to bathe, feed and dress themselves every day," Drake says. "So don't put 100 pounds on a machine and tell them to pull it back and pinch their shoulder blades together. That's ridiculous. Put five pounds on there and get them going."
Staff members should be encouraged to ask older exercisers about their health history and inquire about which movements cause pain or fatigue. Older exercisers should be invited to share what activities feel most comfortable for them, and workouts should be built around those activities. All employees should also be trained in CPR and first aid, know how to handle a health related emergency and understand how medication can affect exercise ability.
Milner suggests offering educational sessions that help older adults understand their bodies and how and why they can benefit from exercise. If feasible, he says, develop an advisory board consisting of local politicians, doctors and older adults who would help determine the facility's programs and policies for the over-65 crowd. (For more information about understanding the physical and mental nature of aging adults, see "Older and Wiser," Oct.2003, p. 101.)
"I don't think a lot of people understand the financial power of older adults," DeMars says. "The mature market - baby boomers, especially - will pay a lot of money, but they want service in return. That's the key."