Metal building elements are allowing architects an increasing measure of aesthetic liberty in the design of athletic, fitness and recreation facilities.
Soft Selling | Cool Metal Roofs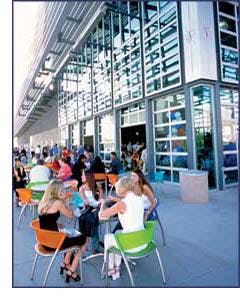 Photo of students sitting outside of the Chandler-Gilbert Community College Student CenterMetal building elements are allowing architects an increasing measure of aesthetic liberty in the design of athletic, fitness and recreation facilities.
Few athletic, fitness and recreation facility designers would expect to find the words "playful" and "whimsical" in steel's architectural vocabulary. On the contrary, steel has been relied upon since its inception as a building material to provide for many facilities' sense of strength and sturdiness. But in recent years, architects have been able to build upon that framework, literally, and in many cases, modify it to give steel-framed facilities as much aesthetic value as they have functional purpose.
Opened in 2000, the Scottsdale (Ariz.) Community College Fitness and Wellness Center, for example, features deep exterior porches that in the summer provide shade and in cooler weather are used for outdoor fitness classes. "We try to do almost everything to serve a functional purpose," says John Kane, a principal with Tempe, Ariz.-based Architekton, which designed the SCC fitness center. "Our climate is so unforgiving that we'll take any chance we get to keep the sun off the glass or to create shaded areas outside the building."
Such areas at the SCC fitness center were made possible when the design team exposed the pre-engineered metal facility's structural elements at its corners. Designers then took some liberties with components of the building's secondary structure, which consists of supporting members called girts and purlins. Typically, purlins are spaced up to 5 feet apart, on center. But dissatisfied with only using these elements in a supporting fashion, the design team, by compressing their spacing, gave the purlins another role -- that of trellises. "We didn't have much of a budget, but we used the standard components in a creative way to turn the building inside out," says Kane. "We pushed the design as far as we could push it while still keeping it cost-effective."
Kane admits that the dry Arizona climate allowed him to "get away with a lot more" with respect to exposing the center's steel frame. In colder, wetter climates, it's not only impractical to expose a building's steel structure to the elements, but such an act would also violate most local building codes. "The energy code in Massachusetts, which is pretty stringent, is based on energy codes that came from Quebec," says Patrick Tedesco, a principal with Cambridge, Mass.-based architecture firm Chan Krieger & Associates. "You have to introduce a continuous air barrier, which prevents heat loss through a building envelope. That barrier needs to be continuous everywhere except for in a wall in which you have glazing. Exposing steel doesn't enable you to do that."
Still, architects like Tedesco are finding ways to use metal elements creatively. At the Dolan Field House at Clark University, for instance, Tedesco and his fellow designers were able to take advantage of the transparency provided by a glass- block clerestory to highlight painted interior columns that support the field house's roof structure. The steel vertical columns were first wrapped with a membrane and then covered with a spray-on insulation product. A rigid material provided additional insulation. Finally, the insulated columns were wrapped with a yellow-painted zinc skin. "The steel is visible through the clerestory, though it's not exposed on the outside," notes Tedesco. In addition, above its entry-level, 12-foot-high masonry base, Dolan Field House was clad in standing-seam zinc sheet metal.
The product, assembled in sections on site and installed by roofers, was used not only for the building's siding, but also for fascias, roof flashing and other detail work. "It gave a nice, compatible look to the whole building," says Tedesco. "Using metal panels, if not done well, can make a building look like a big storage facility. I think we avoided that at Clark."
Architects have been able to avoid the boxy, utilitarian look thanks in large part to recent technological advances in metal building products, particularly with the engineering of such materials. Intelligent engineering software can rapidly produce roll-formed products in a variety of depths and gauges. Long-span sheet-metal panels are now available to clad ceilings of facilities with long-span steel-trussed roofs. Light-gauge steel, long used for non-bearing walls such as curtainwalls and partitions, is stronger than ever and capable of being engineered for use in load-bearing applications. Pre-insulated wall panels consisting of steel skins and foam cores are seeing wider use, as are sheet-metal products with an ever-expanding assortment of coatings that not only offer long-term weather protection, but also cater to a variety of color preferences.
Increasingly, architects are specifying versatile metal building products because of their compatibility with other traditional building materials, such as brick and wood. Instead of erecting building facades consisting exclusively of masonry or glass, architects have combined those materials with a variety of metal finishes to give facilities an aesthetic that is diverse and striking.
This design strategy is particularly useful on large building masses. Such is the case with a four-story student recreation and wellness center currently under construction at the University of Nevada, Las Vegas. That project's design team specified a palette of brick, precast concrete, glass and zinc panels to break up and distinguish each of the 184,000-square-foot facility's four facades, according to Mark Keane, a project manager with St. Louis-based Hastings & Chivetta Architects Inc., the UNLV rec center's design architect.
Interspersing metal paneling on walls consisting primarily of masonry had an added benefit. "The height of the building made masonry kind of cost-prohibitive," says Keane, noting that on facilities like UNLV's rec center, limited use of metal paneling at upper heights can be "a little bit cheaper than using masonry on tall buildings because you don't have the scaffolding and you don't have to get the product up as high, which adds a lot of weight to the buildings."
That may be true, but metal paneling doesn't hold a candle to the impact resistance of masonry. The original architectural choice of an aluminum-clad insulated panel for the upper two-thirds of Dolan Field House's outer walls (a masonry band was scheduled to ring the facility's lower third) raised concerns among Clark University officials. "The facility is used primarily for practices for lacrosse, floor hockey and baseball," says Tedesco. "So the thought was that if lacrosse balls hit the inside of this panel, it would dent a little bit."
Despite assurances from the paneling manufacturer that the company's product would hold up against such abuse, school officials weren't willing to take the chance. The architects then developed a two-part solution: one, they raised the height of the masonry band to one half of the facility's total elevation; and two, they clad the field house's exterior upper facade with zinc panels and backed those panels on the inside with impact-resistant drywall. "We had some lacrosse players hurl lacrosse balls at the material at full speed, and it held up pretty well," says Tedesco. "It has been up now for two-plus years and it still looks new. Wall damage hasn't been an issue."The issues that arise between soon-to-be facility owners and operators and their architects usually have to do with money, or the lack thereof.
Operating under a severely limited construction budget, Kane and his staff at Architekton identified for Scottsdale Community College officials the likeliest way to get the most bang for their buck, and were met with a less-than-enthusiastic response. Recalls Kane, "When we told our clients that all we could afford was a pre-engineered building, they said, 'Oh no, we don't want that.' "
Helping to break such tense situations are recent improvements in computer modeling software, which can allow for more effective budget management and communication between metal component manufacturers, building contractors, architects and clients. "There's an evaluative process that you have to go through in order to ensure that you're maximizing the building footprint, putting the functional things you want in that area, and then finding the most cost-efficient way to frame the building," says Charles Praeger, assistant general manager of the Metal Building Manufacturers Association in Cleveland. "The architect will often ask, 'Can I make use of this arrangement? Can I do this with the footprint? Do I need a column here or can I get rid of that column, and if I do is it going to cost me more?' The metal building manufacturer and the contractor can then, through their computer systems, evaluate those options and say what will cost the least. It really enables the architect to evaluate his options as he's designing the project, and know up front what his costs are going to be."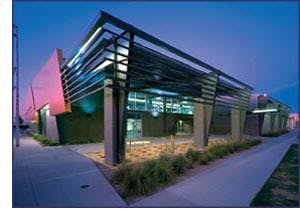 Photo of Scottsdale Community College Fitness and Wellness CenterThings got much easier for the SCC fitness center design team, though, when it consulted with the project's steel contractor, whose employees were more than willing to stretch their imaginations to turn what could have been a boring big box appearing as though it was built on the cheap into an innovative, picturesque -- and most important, cost-effective -- addition to the desert skyline. The secret to success on his (and virtually any) metal building project, says Kane, is "that you have to find the right metal building manufacturer and contractor."
Kane found another willing participant on a subsequent project, the Chandler-Gilbert Community College Student Center, also located in the metro Phoenix area. Opened in January 2003, this facility, much like the fitness center at Scottsdale Community College, features deep overhangs to create shaded patio areas. But with the Chandler-Gilbert project, the design team took the concept of exposing metal framework one step further by making it appear as if many of the student center's structural members have been turned inside out.
In reality, this "exoskeleton" in no way functions in a load-bearing capacity. It is actually a veil of horizontally stacked, 2-by-8-inch anodized aluminum tubes attached to the student center's facade that, when uplit at night, function as exterior luminaires.Perhaps for Kane, this feature served as the ideal manifestation of metal building elements being used to address both form and function. "The idea was to block the sun," he says. "But we also illuminated it -- and that was kind of a fun thing to do."
Soft Selling
There are few words in the dictionary more offensive to Craig Scott than the word "tent." That's because he and his staff at Quakertown, Pa.-based Universal Fabric Structures have invested so much time and energy the past few years on improving the aesthetics of their projects. "It really boils down to the look and the feel of the structure," says Scott, UFS' vice president of sales and marketing. "Historically, people have asked, 'What is that thing? Is it a tent?' Well, it's not a tent per se. We've come a long way in providing creature comforts and really evolving the structure from that dirty word 'tent' to a premium facility that's aesthetically pleasing."
Some of the creature comforts to appear in recent UFS projects include operable, glass garage doors, allowing for greater transparency. "They let a lot of light in," says Scott. "The facility has a really good feel."These days, good vibes are also being felt within the fabric structure industry, whose members have introduced several innovations in recent years to make their sports, recreation and fitness facilities not only more visually appealing, but also more efficient and durable.
Take, for example, the mechanical systems recently debuted by Yeadon. According to general manager John Burns, the company's Wind Sensor pressure monitoring system can efficiently heat and air condition fabric structures by holding internal air pressure to an optimum level during normal conditions, and then raising that pressure level in the event of high winds to prevent structure damage. Maintaining high internal pressure when unnecessary can contribute to excessive utility costs. Similarly, Yeadon's Snow Sensor automatically increases internal heat and pressure in the event of heavy snowfall to ensure that a dome is able to quickly shed snow and avoid collapse.Both control systems come installed with a dedicated phone line that can be configured to allow facility owners to monitor and operate their domes' mechanical systems from remote computers.
Summit Structures, meanwhile, recently launched two redesigned building lines -- the TITAN and the Legend -- that boast shorter installation times, improved snow- and wind-load ratings, and simpler designs involving fewer components. The company's established Pinnacle series has benefited from improvements, as well. At the Sagemont School in Ft. Lauderdale, Fla., for example, a Pinnacle membrane structure used for basketball, volleyball and special events is designed and tested to withstand hurricane winds of up to 158 mph, in accordance with state building codes.
Cool Metal Roofs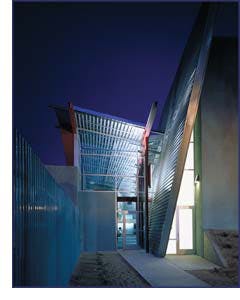 Photo of the Escalante Community CenterMetal wall components receive a great deal of architects' attention, and deservedly so. But Charles Praeger, assistant general manager of the Metal Building Manufacturers Association (MBMA) in Cleveland, is quick to remind architects to look up.
Roof systems are as critical as any architectural element of metal buildings, Praeger contends, pointing to research indicating that metal roofs can be engineered to deliver significant energy cost savings and environmental benefits. Much of the research on so-called cool metal roofs has been conducted through the Building Envelopes Program at the U.S. Department of Energy's Oak Ridge National Laboratory in Tennessee, and supported by the Cool Roof Rating Council (CRRC), an independent, Oakland, Calif.-based organization established in 1998 to provide building code bodies, energy service providers, architects and specifiers, property owners and community planners with accurate radiative-property data on roof surfaces in the hopes of improving the energy efficiency of buildings and positively impacting the environment.
Metal roofs are considered "cool" according to two radiative properties: solar reflectance and infrared emittance. Solar reflectance, as defined by the CRRC, is the ratio of a roof's reflected solar energy to its retained solar energy. High-reflectance materials such as white-painted metal roofing often have solar reflectance values of around 0.70 -- in other words, they reflect 70 percent of the solar energy that reaches the surface.Infrared emittance refers to the ratio of the radiant heat emitted by a roofing material to that amount of radiant heat emitted by a black-body radiator, at the same temperature. Emittance represents the fraction of heat that is re-radiated from a material to its surroundings, and is a critical measurement for facility operators concerned with the "urban heat island" effect -- a phenomenon in which dark materials re-radiate or retain solar heat, and thus warm their surroundings. Scientists commonly attribute this phenomenon to some roofs and dark-colored pavement, such as asphalt-covered parking lots.
Praeger says that perhaps the most prevalent misconception regarding cool roofing is that specifying products with the highest possible solar-reflectance and infrared-emittance properties is appropriate for every project. However, a cool roof's performance is also significantly dependent on the climate in which it is installed. Whether a particular building should be outfitted with a roof with high-reflectance and low-emittance properties, or vice versa, can be determined by analyzing that climate's number of Heating Degree-Days (HDDs). The American Society of Heating, Refrigerating and Air-Conditioning Engineers (ASHRAE) Standard 90.1 determines degree-days by recording the difference in the mean daily temperature and the reference temperature. Using a reference temperature of 65°F (or HDD65), for example, one could calculate the number of HDDs over a given period of time. Imagine that during a three-week period in one climate zone, the average temperature was 64°F for 10 days, 60°F for five days and 55°F for six days. Each of the 64°F days would represent one HDD (a total of 10 HDDs), because the average temperature was one degree below 65°F. Each 60°F day would represent five HDDs (for a total of 25 HDDs) and each 55°F day would represent 10 HDD (a total of 60 HDDs). The grand total for the three weeks is 95 HDDs.
By comparing the number of HDDs for buildings in different areas, one can see whether the building is located in an area that will require more heating or cooling over the course of a calendar year. Generally speaking, areas with few or no HDDs are hot climates (Phoenix, for example, averages 1,350 HDDs a year), and areas with many HDDs are primarily cold climates (Worcester, Mass., home of Clark University, averages 6,979 HDDs). (The latest edition of the ASHRAE 90.1 Normative Appendix D features a list of HDD values for most major U.S. cities.)Praeger admits that the concept of cool metal roofing is just now becoming a topic of interest in the commercial architectural and engineering community. "This is all relatively new," says Praeger. "Nationally, we're seeing a trend toward consideration of cool roofing because there are an awful lot of long-term benefits in reducing the costs for heating and cooling, which affects every building system."
And because of the cost premium associated with specifying cool metal roofs (Praeger indicates that these roofs, primarily because of their specialized coatings, cost more than traditional roofing materials), they likely won't gain a foothold in the construction industry until state and local building codes mandate such environmentally friendly practices. However, four states (Arizona, California, Florida and Georgia) and one city (Chicago) have already instituted building codes or are considering code amendments that either require new commercial air-conditioned facilities to be built with cool roofs or award energy-conservation credits to those buildings that have them.
Meanwhile, Praeger encourages those interested in sustainable design to compare the advantages and drawbacks of cool metal roofing to those of traditional building methods. "When they're thinking about building, people ought to get costs for both options," he says. "Cool metal roofing is definitely one that they should consider."