A forward-thinking, comprehensive approach to equipment maintenance can help protect a club's most prized possession: its positive image.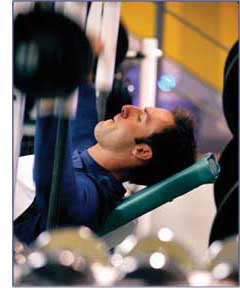 Not even the most prescient fitness center operator can be prepared to face every imaginable challenge. Inevitably, facilities will encounter problems -- the economy will have its slumps, fitness certification authorities will demand that personal trainers meet a new set of standards and fitness equipment will break down.
In the latter case, however, fitness center operators can counter such unpredictability by instituting, to borrow from football terminology, a prevent defense. In a fitness center, a preventive strategy can be used to prolong strength-training and cardiovascular equipment's useful lifespan and reduce the machines' susceptibility to mechanical failure. Any extra attention given to repairing loose bolts, unlubricated rods or torn upholstery can not only counteract any negative stigma resulting from shabby equipment, it can also help reduce the incidence of preventable injuries to members or clients.
Keeping equipment in "like new" condition can be an involved but worthwhile process. The goal is to beat the equipment's depreciation curve, and preventive maintenance helps that goal be reached: Adding just one year to a piece of equipment's life expectancy can reduce depreciation costs by as much as 23 percent.
There are three main areas to consider when creating a maintenance plan for strength-training and cardiovascular equipment: mechanics, aesthetics and logistics.
Mechanics. The first and most critical issue of concern should be the mechanical condition of the equipment. But before any mechanical work can be done, facility operators need to be equipped with the right tools. Generally, most of the necessary tools are listed by the manufacturer in the owner's manual, but not all. A comprehensive list might include a file, a hammer, a pliers set, screwdrivers, an Allen wrench set, a crescent wrench, a mallet, tape (masking, duct, transparent and electrical), a drill and bit set, and a socket wrench set. Grease, a staple gun and touch-up paint in the equipment's color may also be beneficial. These supplies should be located in an easy-to-find and well-organized case or cabinet.
When doing mechanical maintenance, first determine whether a machine is, generally speaking, functioning properly. That is, when used, is it able to perform its intended purpose without any major problems? For example, if an elliptical machine is clunking while being used, that is an obvious sign it is not mechanically sound.
On strength-training equipment, all bolts, welds, cables, belts, bearings, rods, weight stacks, plates, hardware and pulleys should be inspected to ensure safety and functionality. Bolts should be checked for tightness and rust, and welds should be solid without any chips or cracking. Cables and belts should be taut and unworn, while bearings and pulleys should function smoothly. Weight stacks and plates should not be cracked or chipped. Lastly, rods should guide weight stacks smoothly and without resistance. If rods need to be lubricated, the old grease needs to be removed with a towel before the new grease is applied. Unless the equipment's manufacturer recommends using another product -- and manufacturer recommendations should always be consulted, when available -- all-purpose wipe-on grease will usually be sufficient.
If it is determined, after inspection, that one or more components of a piece of equipment are not working properly or need adjustment, those components should be fixed immediately. If the machine cannot be fixed right away, an "Out of Order" sign should be placed on it until it can be properly repaired.
On cardiovascular equipment, motors should be checked for functionality and vacuumed, wax nozzles cleaned and belts checked for tightness, wear and tracking. If a piece of cardiovascular equipment cannot be fixed by facility staff, just as with strength equipment, place an "Out of Order" sign on it or remove it from the floor until it can be repaired, preferably by a professional.
Selecting a fitness equipment professional is not always easy, but in many cases equipment dealers and distributors will provide trained repair professionals who can make on-site calls. Or, if the equipment was bought new or used directly from the manufacturer, the manufacturer should be contacted to see if it has a list of local persons or businesses authorized to do the repair work without voiding the original warranty.
Just as important as knowing how to check equipment is knowing how often to check it. Some manufacturers offer guidelines, but some don't. Here are some general recommendations: On strength-training equipment, bolts, welds, cables, belts, chains and weights should be checked weekly to ensure safety.
Rods and pulleys should also be checked for malfunctions and lubricated according to manufacturer recommendations (or weekly, in the absence of recommendations). On cardio equipment, motors, wax nozzles and belts should be checked monthly. In addition, the functionality of computer systems on cardiovascular machines should be checked daily. At busier facilities, it may be best to address these tasks after normal business hours, since many facilities don't have the personnel necessary to simultaneously supervise the facility and perform exhaustive equipment maintenance, especially during times of peak usage.
When checking equipment, always make sure that its operation meets not only your own standards, but also those set forth in the manufacturer's preventive maintenance guidelines or owner's manual. Adhering to such standards will likely ensure that equipment lasts longer and remains covered by any original manufacturer warranties.
That said, it is essential to know from the moment of purchase what components on your equipment are covered under the manufacturer's warranty, and how long they are covered. Inquire whether the warranty also covers the cost of repair labor. If buying used equipment, it is important to note whether the original warranty is still in effect, and if so, for how long and if it is transferable to new owners. Upholstery and rubber grips and pads are usually covered for up to six months. Many companies offer lifetime warranties against defect on their frames and welded parts, while some guarantee them for up to 12 years. (Be aware, however, that this type of warranty often does not cover chipped or cracking paint, or abuse.)
Manufacturer warranties on bearings, pulleys and other moving parts can vary substantially -- by as much as five years -- from one company to the next, and even among different pieces of equipment from the same manufacturer.
Aesthetics. The appearance of a piece of equipment should also be considered when doing regular maintenance. This can include checking upholstery for wear or tears, or painting chipped equipment -- but mostly, it means cleaning. Cleanliness is often the first thing patrons notice about a facility, and as simple and critical as the task may seem, cleaning can easily be given short shrift by a busy staff. As with mechanics, there are certain materials needed to keep equipment clean, including sponges, rags or towels, and various types of cleaning solutions. Some basic types of cleaning solutions that you may need are a degreaser, a disinfectant, a deodorizer, a fungicide, a tuberculocidal agent, a general cleaner and a sanitizer (particularly for cleanups involving blood). This may seem to be a long list, but some products can perform several jobs at once.
Upholstery should be checked for wear and cleaned every day. If the fabric needs to be replaced, you will need to know if it must be stapled or sewn on. If the upholstery needs to be stapled, it can usually be changed fairly easily with a staple gun, a screwdriver and new upholstery. Sewn upholstery, however, may need to be professionally replaced. Also be aware that you may need to disassemble part of the equipment first to get access to the fabric's point of attachment. To clean upholstery, always refer to manufacturer guidelines for approved cleaning solutions. Sometimes, the same type of solution can be used to clean the handrails, console and motor cover on cardio equipment.
The upholstery is often the part of the equipment most visible to users because it is where they sit or recline while exercising, but there is also a lot of metal on equipment frames that can attract attention -- and dirt. For these surfaces, particularly those near the floor, a degreaser is recommended. Such a solution will not only remove grime, mud and dirt quickly and easily from virtually any type of metal, it will also leave an attractive, shiny finish.
Regardless of the type of spray being used or whether it is being used for upholstery, plastic or metal, it is best to spray the solution directly on the surface, and then wait several minutes before wiping it off. This will give the cleaning solution a chance to loosen the debris from the surface being cleaned, and allow for easier removal of any dust or dirt.
More extensive steps need to be taken to clean surfaces covered with blood. Such substances introduce the risk of communicable diseases such as hepatitis B and ringworm spreading to facility users and staff. Whenever blood gets onto a piece of equipment, it should be handled carefully and quickly. Disposable latex gloves should be worn -- and in certain cases, a mask, gown and eye coverings may also be necessary. All blood should be carefully removed from contaminated surfaces with a clean towel or mop. The towel or mop head should be treated as a biohazard and disposed of in a plastic garbage bag. After the blood is removed, a sanitizing solution should be used according to the manufacturer's instructions. When the cleanup is finished, all personal safety items (such as the latex gloves, mask, gown and eye coverings) should be disposed of as biohazards.
Logistics. There are a number of logistical concerns when preparing a facility's equipment maintenance plan. Those individuals in charge need to have an easy way to keep track of who is cleaning and fixing the equipment. Perhaps the easiest method is to use a binder, with different binders representing different tasks. For example, one binder can represent daily cleaning, while another can include weekly or monthly tasks, such as checking bolts or bearings. Each piece of equipment can be literally "tagged" with an identification number. With this method, a simple chart of what needs to be done (and when) can be made, with each piece of equipment's identification number occupying a vertical column, and individual dates occupying horizontal rows. Once a task is complete, a staff worker can simply initial the proper box.
Management may wish to assign tasks to particular staff members, in which case each date would need to have two columns -- one column filled in by management, matching staff members to certain tasks (the information should be typed in, as opposed to handwritten), and one column for a worker to initial once he or she has completed that task. The person assigning the tasks may wish to assign one shift rotation a greater percentage of maintenance responsibilities. One way to do this is to assign specific tasks to different time periods, regardless of who is working. (This would also require two columns per date.) Even if tasks are not assigned to specific staff members, this binder method makes it easy for workers to avoid repeating a task that has already been done, or neglecting one that hasn't.
If available, a computer database could also be used, with each employee being assigned an identification number that would act as a "primary key." Using this key, people could be linked to certain tasks, and employees could check off a box within the database indicating that a task is complete. An online forum is another potential electronic option that could be utilized to help keep track of maintenance.
Major equipment repairs had best be kept track of, too. Every repair -- from changing a broken bolt on a leg press to having a motor on a treadmill professionally serviced -- should be recorded in a repair log. Just as with recording regular maintenance, there are a few ways to go about this.
Perhaps the best way is to make a database maintained by senior staff or management, assigning each piece of equipment an ID number (ideally, its serial number). In this database, it would be possible to record such information as the date and cost of each repair, the nature of each repair, and equipment downtime while under repair. Details such as purchase dates, warranty lengths and manufacturer phone numbers could also be included. With this information, an administrator could easily find out almost anything about any piece of equipment in his or her facility. (This would also be possible using a notebook or simple chart, although a detailed information search would be more troublesome.) Keeping such detailed records will not only benefit the facility in terms of organization, but it might make manufacturers more willing to help pay for repairs, even after the equipment's warranty has expired.
Even if all these steps to prolong the life of equipment are followed, equipment will still eventually wear out and need to be replaced. Deciding when to replace equipment can be tricky. If a piece of equipment needs to be repaired for the same problem three or more times within a six-month period, it should be replaced. If a repair would cost more than the expected savings of maintaining the piece of equipment during its estimated remaining lifetime, it should be replaced. Depreciation tables make it easy to make such determinations. To help expedite the equipment replacement decision-making process, repair logs and depreciation tables could be linked in a database and organized according to each piece of equipment's serial number.
Obviously, it will only benefit a facility's bottom line if the operator can reduce the frequency at which he or she has to replace or make major repairs to fitness equipment. Preventive maintenance plans can play a significant role in the fight to stave off these inevitable expenses.