For these students in Oregon, exercise is part of their daily classroom routine and their academics are shining because of it.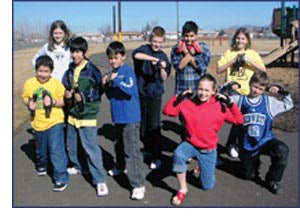 To the unwitting observer, the scene would hardly depict an environment of rigorous academic study. Desks have been pushed to the center of the classroom, creating on its perimeter a narrow but clearly accessible circle of "track." On that outer edge of the room, 20 to 30 students race-walk each other, dumbbells in hand, arms swinging to the beat of a dance song that one might hear on a Top 40 radio station.
A few more minutes of what seems like total chaos continues before the music stops, the children replace and then return to their desks, and the teacher instructs his or her students to open their textbooks, from which the pupils then take turns reading aloud. The reading session continues, uninterrupted by neither horseplay nor outburst, for 20 minutes.
How could order have been restored so quickly to a classroom that just moments earlier better resembled a romper room? Judy Shasek credits what she calls the fitness-learning connection. "There is a direct correlation between aerobic exercise and academic success," says Shasek, director of education for Heavyhands, a Ronkonkoma, N.Y.-based company that manufactures handheld, adjustable-weight dumbbells and then develops fitness programs incorporating their use. "I've read more than 200 research studies by independent groups in education, fitness and medicine. From these studies, I found that 10 minutes of aerobic, rhythmic activity before a task like reading or math that deals with patterns increases the academic success of students. Students who get 10 minutes of exercise before a standardized test do 25 percent better on that test than students who prepare with 20 minutes of tutoring."
After instituting successful pilot programs last fall at two schools near her home in Bend, Ore., Shasek has crisscrossed the country evangelizing to teachers at the elementary, middle and high school levels that a few minutes of exercise in a classroom setting can boost students' test scores and their physical well-being. In less than a year, she says that about 100 programs -- all of them structured around the use of Heavyhands -- have been started at schools nationwide.
Students typically begin an extended reading or math session by warming up with 10 minutes of aerobic activity. This warm-up will be followed by 20 minutes of study, another 10 minutes of exercise, and finally, by 20 more minutes of study. The exercises, though varied, are simple enough to be led by anyone with a basic knowledge of fitness, Shasek says. For example, some Heavyhands routines involve movements that mimic sports such as cross-country skiing. A more creative routine has students pretend that balloons are tied to their belts and are bobbing in front of them. Students are directed to alternately "tap" the balloons with each hand. Such cross-body movements force the students to move the handheld weights 2 to 3 feet in each direction, raising their heart rate into an aerobic training zone.
Elementary school teachers, who are often in charge of the same group of students for all or most of a given day, might find it relatively easy to carve out small pockets of time to engage in a Heavyhands routine. It's a little more difficult for educators in the middle and high school settings because students switch classrooms every hour or so. Given these challenges, Shasek has encouraged middle and high school physical-education teachers to occasionally schedule class periods during which students can incorporate their favorite music and dance moves into custom-made routines (centered around the use of Heavyhands, of course), videotape those routines, and then send the videos to elementary school teachers for use in their classrooms.
"A lot of high school kids may not be that excited about exercise, but they're excited about music, video and dance," says Shasek. "So, building on that, we let them be creative and experience exercise in a way that celebrates their interests and talents. The theme isn't necessarily, 'If you do this, you'll lose weight.' We found that to be a negative motivator. Rather, the idea is, 'This is fun, this taps into your talent and you can help others.' "But in most cases, schools need a little help themselves to get Heavyhands programs off the ground.
A set of Heavyhands -- which includes an instructional DVD and 35 sets of handles (32 for each child in an average-sized class, plus a set for the teacher and a couple of spares) with interchangeable one-, two- and three-pound ends -- costs about $400. Shasek says that many schools have relied on grants from the federal Carol M. White Physical Education for Progress grant program or from corporations such as Wal-Mart, which for several years now has helped schools through its community literacy grant program. "You just need to write three sentences about how your program ties into reading and they are eager to send a check," she says of Wal-Mart officials.
Indeed, for Shasek, the link between fitness and academics couldn't be stronger. She lights up whenever she learns of a school district deciding to convert its pilot Heavyhands program into a year-round fixture. "It just becomes a part of the learning day," she says. "When students pick up their science books, they pick up their Heavyhands at the same time."