Fitness facilities are discovering a golden opportunity to weigh in on the fat fight.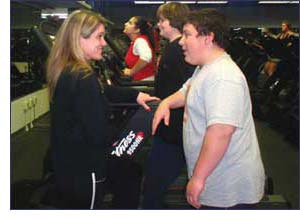 Last November, a group of seven children between the ages of 10 and 14 -- all with body fat percentages of 35 or higher -- were the first participants in FitQuest, a new long-term program sponsored by HealthQuest, a health club in Flemington, N.J. Aiming to arm overweight children with the proper tools and mind-set to develop healthy living habits in a non-threatening environment, FitQuest requires each child to maintain a log of his or her food intake. The kids also meet as a group for one hour twice a week to work out with a certified personal trainer on cardiovascular and strength-training equipment, discuss eating habits with a nutritionist and explore self-esteem issues with a child psychologist. Meanwhile, parents meet with a FitQuest staff member separately to track the children's progress.
"These kids are motivated, and they've all bonded quickly," says FitQuest coordinator Cherie Oostdyk. "I think they also all realize that being overweight is what makes them similar to each other."
HealthQuest officials are currently working out logistics that would allow participants' parents to use their health insurance to cover FitQuest's $75 to $125 monthly fees, a strategy they hope will help the program expand. "There is such a tremendous need out there to help these kids," Oostdyk says.
According to the latest figures from the Centers for Disease Control and Prevention, 64 percent of the U.S. population is overweight (with a body mass index of 25 to 29) or obese (with a BMI of 30 or higher). Some studies estimate that nearly four million Americans weigh in at more than 300 pounds, and more than 400,000 tip the scales at 400 pounds or more. And those figures, like many Americans, are getting bigger every year.
Even more startling is the CDC's contention that 15 percent of the population between the ages of 6 and 19 is considered obese; one in three children born in the United States in 2000 is expected to develop diabetes as a result of obesity.
With only about one-quarter of all health clubs in the United States offering children's programming -- and less than 10 percent boasting dedicated children's-only areas, according to the International Health, Racquet & Sportsclub Association -- health clubs and other fitness facilities have a golden opportunity to ensure not only the longevity of their businesses but also the health of their communities by targeting younger populations and turning them on to the lifelong benefits of exercise and nutrition.
They really have no other choice.
In spite of the popularity of the federal Carol M. White Physical Education for Progress (PEP) grant program, many school districts face record budget deficits and are eliminating physical education programs. And in some states, lawmakers have actually rejected federal dollars aimed at fighting obesity and other chronic diseases by questioning why it should be the government's responsibility to keep people from getting fat.
"It's not that Americans didn't know kids were plump or that school districts didn't know that cutting PE programs was a bad idea. But you're not going to eliminate childhood obesity by just standing there and saying kids need to get off the couch. Things have to be made accessible and affordable in order for change to happen," says Alicia Eckhart, president of the Columbus, Ohio-based consulting firm REConomics, who blames the inactivity of America's youth in part on the fact that (unlike previous generations) many of today's parents don't feel safe sending their kids outside to play and recreate without supervision.
Fitness facility operators have been instrumental in developing an array of programming options and special events to help combat obesity. Last May, IHRSA teamed with several fitness-equipment manufacturers and more than 1,600 health clubs around the country to sponsor Get Active America!(getactiveamerica.net). During a one-week period, facilities opened their doors for free to 150,000 visitors in an attempt to boost awareness of the debilitating effects of inactivity. As part of an expanded 2005 Get Active America! campaign, IHRSA plans to provide clubs with ideas for conducting health promotion events and education throughout the entire month of May. During the week of May 16, participating facilities will allow members to bring friends and guests into their clubs for free.
Other organizations have developed similar events, which are open to the involvement of any fitness facility. For example, America On the Move (americaonthemove.org), an initiative of the nonprofit Partnership to Promote Healthy Eating and Active Living, sponsors a national day of awareness to encourage people to walk 2,000 more steps and ingest 100 fewer calories on a daily basis. Dates for 2005 America On the Move events vary by state. Walk From Obesity (walkfromobesity.com) takes a different approach, promoting awareness with a nationwide fund-raiser sponsored by the American Society for Bariatric Surgery. It is designed to reduce the incidence of disability, death and discrimination of obese people by educating both the public and private sectors. This year's Walk From Obesity is slated for Sept. 18.
While those programs are worthy, facility operators are finding success at the one-on-one level, too. "Children either learn their habits at school or at home," says Andrea Arndt, associate director of health and fitness at the Clark County Family YMCA in Vancouver, Wash., which in September initiated a new fitness class geared toward 8- to 17-year-olds and homeschooled groups. "If the schools aren't doing much, that leaves the parents. And if the parents aren't educated about health and fitness, their children aren't going to get educated. We need to let families know that exercise is a way of life."
Indeed, while many fitness facilities claim that most of their programs are geared toward helping adults either maintain or achieve a healthy weight, parents need to be part of the kids' fitness equation, too. "You can't treat kids without treating their families. Otherwise, it's like sending the kids to fat camps. They go to camp, lose the weight and then go back home and gain it right back again," says Monica Pierson, a pediatrician and bariatrician who for three years operated a family medical practice, weight-loss management center and fitness facility under one roof in Lenexa, Kan. Extreme overhead expenses, however, forced her to close its doors in 2003. She now runs the Weight Management Medical Center in Overland Park and refers overweight kids and their parents to area YMCAs and health clubs. "When I first opened my facility, I looked at it more like a mission than a business venture. I didn't have financial backing. I used my retirement fund and other money I had. If we were doing it again right now, with all of the publicity about kids being obese and needing places to work out, it might have been a different story. But this was five years ago, and we were pioneering. It was just a little bit too soon."
The manner in which facilities present fitness to heavy children and their families -- two overweight parents are 70 percent more likely to have overweight children than other parents -- is as important as offering them fitness opportunities in the first place.
"My favorite excuse is, `It's really difficult to get kids here,' " Eckhart says. "Well, yes. But you have to find the right carrot. You really have to plan ahead before you put something out there. Build bridges with the kids, their parents, their schools. People will come. They're dying to have activity. They just want it to be the right kind of activity in the right kind of environment."
The key is finding activities that "get the kids' heart rate up without them realizing they're exercising," Arndt says. To that end, the Clark County Family YMCA tosses games of tag and other fun and invigorating activities into its Kid Combo Class mix, along with more straightforward aerobics, stretching and resistance training. Instructors also make use of exercise balls and teach children relaxation techniques. One overweight 9-year-old boy in the class suffers from diabetes, and even though he hadn't lost significant weight after four months in the program, his mother says he feels better about himself and now has a positive attitude toward physical activity.
Stories like that justify the Y's decision to develop the Kid Combo Class, Arndt adds, even though the facility is taking a financial hit because of it. Early on, the program attracted small numbers, in part because of space constraints and scheduling conflicts, but also because the class will remain a non-funded activity until at least 2006.
"Right now, the class is held after school on Tuesdays from 4 to 5 p.m.," Arndt says. "That's basically the only time we can do it without cutting our adult classes. When we have low class attendance, it doesn't cover the cost of the instructor, but after seeing what it's worth to these kids and their families, we won't even consider cutting it. If I have to, I'll teach the class, because then there's no overhead involved."
Meanwhile, the FitTEEN program (entering its third year this summer) isn't netting the Fort Lauderdale, Fla.-based fitness center franchises Lady of America and Ladies Workout Express any profit at all. Instead, club operators all over the country invite girls between the ages of 13 and 19 to work out in their facilities for free between June and September. FitTEEN's main thrust is to combat childhood obesity, says company spokesman Scott Breault, but it also introduces the benefits of working out in health clubs at an early age. "Our goal here is simple," Breault says. "We want them to have a place to go to begin what we hope will be a long and successful relationship with the health and fitness industry that will make them healthy, energetic and productive adults."
As officials at Clark County YMCA, HealthQuest and Lady of America/Ladies Workout Express can attest, not only is it challenging to make time and space for special youth-oriented programs, it's also stressful generating initial interest in those programs.
"This is such a sensitive topic that it's kind of hard to market," Oostdyk says about FitQuest, which targets children ages 8 to 14 through area pediatricians and schools. "It's tough for a lot of parents to admit, `My kid needs some help.' A lot of them feel like it's their fault that their child is overweight."
Perhaps that hesitation to acknowledge the need for help is what doomed the Nekoosa (Wis.) Karate and Fitness Center's "Change Obesity to Healthy For Life" program. Targeting both children and their parents, facility owner Holly Kreuser envisioned a summer program that would create a support-group atmosphere by incorporating fitness and fellowship for one hour a night three times a week. "I thought that maybe, here in central Wisconsin, I could make a dent and prove that a program that instills healthy eating habits and shows that exercise doesn't have to be boring could work," Kreuser says, adding that she partnered with area schools, newspapers and a local pediatrics clinic to promote the program. "But I did not have a single person show up for that program."
Kreuser and her husband have since closed the Nekoosa Karate and Fitness Center (for reasons unrelated to the poor program turnout). But Kreuser hopes to give the concept another shot at the South Wood County YMCA in nearby Port Edwards, where she teaches a "Butts and Guts" group-exercise class and is involved in a program designed for people who struggle with weight control and motivation to exercise. "I was very disappointed, but I'm not going to close the door on the idea of obesity prevention," she says. "If I had an overweight kid and a doctor told me that I could prevent him from getting diabetes by making him exercise, I would want to do something about it."
Some fitness specialists believe that "something" should be activities such as swimming, floor exercises or aerobics, rather than strength and cardiovascular training. "I used to be a lot more specific about determining exactly what kids needed," says Pierson. "But now, instead of giving kids and families a lot of detailed instructions, I just give them ideas to get moving together. Nothing fancy. If I worked in a fitness facility, I would be making lists of activity ideas that I could give to parents. One of them is bound to click. They need to put a priority on doing anything to be active. It can be scrubbing the bathroom tile vigorously or taking a walk with the family or cranking up the music and dancing. Every kid can't succeed at strength training and conditioning. So instead of having kids feel like failures, find another focus for them."
As with most hot-button topics, there is plenty of disagreement about how much of America's attention obesity deserves. One of the loudest voices is the Washington, D.C.-based Center for Consumer Freedom, which last June published a 28-page document called "An Epidemic of Obesity Myths" that set out to explode the arguments that obesity kills 400,000 Americans a year (a figure that the CDC itself later rescinded, citing "mathematical errors"), that overeating is the primary cause of obesity and that obesity is even a disease.
That said, there is no doubt that America's kids are getting heavier -- and they need help. U.S. Surgeon General Richard Carmona last year warned of a "dangerous trend" in childhood obesity and stressed the need to "close the gap between what health professionals know and what parents understand about physical activity and healthy eating."
That gap has been narrowed in some school districts, where PEP grant money has allowed physical education programs to flourish with new fitness equipment, heart-rate monitors and teaching materials. The National Association for Sport & Physical Education also recently recognized a dozen U.S. schools for offering outstanding physical education programs, but there are many more worthy of merit.
The national Childhood Obesity Reduction Act, co-sponsored by Sen. Ron Wyden (D-Ore.) and Sen. Bill Frist (R-Tenn.) with support from Nike Inc. (and still pending as of this writing), would recognize schools that voluntarily implement methods to increase physical activity and promote healthy nutritional choices. The bill would also authorize $2.2 million to establish a Congressional Council to Combat Childhood Obesity, which would highlight successful school programs, develop model nutrition and exercise plans for schools and fund a comprehensive web site for parents and teachers to learn about successful exercise and nutrition programs. Eventually, plans call for the council to create a public-private foundation that will award grants to schools that develop model anti-obesity programs.
Meanwhile, Hearts N' Parks, a national community-based program supported by the National Recreation and Park Association and the National Heart, Lung, and Blood Institute (NHLBI), was developed to help reduce obesity and the risk of coronary heart disease by encouraging Americans of all ages to follow a heart-healthy eating plan and engage in regular physical activity.
"We can make an impact," Pierson says. "Look at smoking. The number of smokers has gradually been reduced because doing so became a focus. And obesity is now a focus. It's going to be hard to turn it around, because eating is one of the hardest things to control. But there is hope."