Fitness equipment manufacturers show renewed interest in interactive entertainment systems.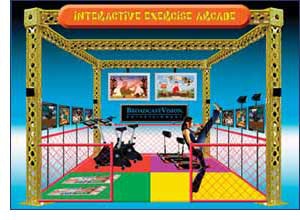 Now appearing at a fitness center near you: a wide-format LCD screen mounted atop or integrated into most any piece of cardio equipment. On these screens, via the facility's satellite or digital cable connections, patrons can watch their favorite TV sitcom or news program while they work out. They can also choose to bring with them one of their favorite discs to insert into the entertainment console's DVD/CD/MP3 player. Surf the Internet? Exercisers can do that too, thanks to entertainment systems that offer high-speed Web access. Then again, all of these entertainment options might be too distracting for some. In that case, patrons are encouraged to use the console's touch screen to customize and monitor their cardio workout, or choose from as many as two-dozen preloaded exercise programs.
This is today's interactive fitness center. Much has changed since the days when enjoying "exertainment" required cardio equipment users to exercise their neck muscles as much as anything else. Now, exercisers can tune into their chosen programming on high-resolution personal viewing screens, "as opposed to being stuck with four TVs mounted overhead showing four things you don't want to watch," says Life Fitness public relations manager Tracey Budz. "The technology is in its infancy. There's still so much we can do."
The personal exercise entertainment niche is indeed poised for expansion. According to Scott Cada, president of Chicago-based CardioVision, which in 2003 debuted its diverse line of standard and widescreen LCD screens and TVs for commercial fitness settings, "The marketplace could probably stand to have another player. There are enough fish for everybody."
There has been plenty of jockeying for market position among existing entertainment system providers as well as the fitness industry's primetime players - in particular, large equipment companies cognizant of exercise entertainment systems' increasing ability to impress current club patrons and lure potential members.
Life Fitness made its first foray into the entertainment market in 2003, introducing its two LCD touch-screen monitors at the Club Industry trade show in Chicago. One model can be mounted to Life Fitness cardio machines and the other is an integrated console featuring an FM radio tuner, a user language selection option, a Custom Workouts program and a secure channel for facility-provided video content.
Last January, Precor made a bold entrance into the entertainment niche with acquisitions of both ClubCom, which specializes in providing private television networks for fitness facilities, and Cardio Theater, one of the fitness industry's leading providers of video and audio systems.
Companies like Precor and Life Fitness are banking on fitness consumers who, when they shop for health clubs, consider not only a facility's complement of fitness equipment and menu of ancillary services, but also take into account a facility's investment into bridging the digital divide. At the same time, facility owners are looking for any means by which to distinguish their club from their competitors. "Our whole industry is getting more sophisticated," says Precor senior product manager Ben Elowitz. "If the guy down the street has the technology, you had better, too, or else you might see your sales start to dip."
Elowitz gives some credit to this growing awareness among fitness facility operators for encouraging companies like his to offer diverse, comprehensive product lines. To him, a manufacturer's ability to offer entertainment systems in addition to its existing fitness products is increasingly vital to retaining market share. "People aren't just buying a brand name, and they don't want to have relationships with 10 different vendors. They're looking for the complete package," says Elowitz.
Conversely, there are just as many fitness facility operators who would rather have the freedom to choose equipment from a variety of manufacturers, which works out just fine for companies like CardioVision, which specializes in creating custom brackets to attach its LCD screens to the cardio equipment of several different manufacturers. In fact, Cada says that CardioVision has actually benefited from Precor's recent acquisitions, and has forged partnerships with several of that company's competitors. "We've been doing a lot of stuff with companies like Nautilus, Woodway, True Fitness and Magnum," he says.
Four years removed from a major reorganization, Silicon Valley-based Netpulse has shifted its business strategy from one similar to CardioVision's and instead now teams with major health club chains, including CRUNCH, Gold's Gym and New York Health & Racquet Clubs. Netpulse president Bryan Arp says this strategy has made the company - which specializes in replacing cardio machines' existing consoles with 15-inch touch-screen consoles that accommodate high-speed Internet access and TV viewing - that much more marketable. "The problem before was that we were limited to equipment from only a few manufacturers," he says. "You don't like to do that in a sales environment. People would tell us, 'I'd like to buy 50 of your machines,' and then I'd have to tell them, 'I'm sorry. I can only sell you 26.' "
This spring, Netpulse will release two new consoles designed for compatibility with a much broader range of cardio products. The mountable screens will offer all of Netpulse's existing Internet-powered features - among them ClubNet, which allows facility operators to track equipment-usage patterns, and ClubWatch, which enables Netpulse engineers to remotely update a machine's programs and diagnose its software bugs.
While Arp says that his company's products have been in greater demand at high-end clubs, it's important to note that entertainment systems are no longer limited to the elite. "The technology is turning from something that only top-end properties could do to something that everyone can incorporate," says Elowitz.
That is, if a facility operator can afford to pay $1,000 per personal viewing screen and $300 for each DVD unit. "Everybody loves this stuff. But when they look at how much it costs, they usually say they can't do it all," says Cada. "Some facilities will kind of test the waters and put the screens on only a few pieces of equipment."
Other fitness facilities might want to take an entirely different approach to interactive entertainment. At least that's the hope of officials with BroadcastVision, which at several industry trade shows this past fall debuted the company's DXR Dance Exercise Revolution system. The system utilizes the popular dance game software known as DDR Dance Dance RevolutionT, a video arcade game that originated in Japan in 1998 and has since made its way to this side of the Pacific and onto Sony Playstation and Microsoft Xbox platforms. The DXR system includes a BroadcastVision 23- or 27-inch LCD screen mounted on a telescopic stand, a Sony Playstation 2 unit, a dance pad and a controller, and game software discs.
The DXR system is just one component of BroadcastVision's Interactive Exercise Arcade concept, which company officials envision as an area that could be integrated into existing fitness facilities and delineated by a colorful truss canopy. At any given time, as many as 16 people can participate in 20-minute interactive exercise circuits inside the arcade, working out on the DXR system and three other video games (such as a bike racing game and a virtual soccer game) to get a mix of upper- and lower-body cardio exercise, as well as some strength training.
The relative dearth of fitness equipment designed specifically for youths served as the primary impetus to develop the arcade, although Kevin Fee, director of marketing for BroadcastVision, says the equipment could - and should - be used by adults and youths alike. "When you consider the millions of adults and youths who, when presented with a conventional workout regimen, can't sustain enough interest to do it at least three times a week and consequently go back to being couch potatoes, this new mix of entertainment and exercise creates a new opportunity for them," says Fee. "These people can actually enjoy these new workouts, which have all the elements that keep them interested: fun, excitement and competition."
Those three words could also be used to describe the atmosphere surrounding the companies involved in providing entertainment systems for fitness facilities. What will be the next big idea? Cada suspects it will focus on wireless capabilities. "Say I have a fitness center that is 12 years old," he says. "I don't have cable TV out on my fitness floor, I don't have enough electrical outlets for all 45 pieces of equipment and you're telling me that to get cable boxes I need more electrical outlets for each machine. It's just too cost-prohibitive. Retrofitting is the biggest hindrance. If only there were an option out there where I didn't have to pull out all the wiring. There's definitely a market for something like that."