Fitness equipment manufacturers show renewed interest in interactive entertainment systems.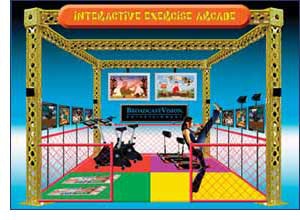 Now appearing at a fitness center near you: a wide-format LCD screen mounted atop or integrated into most any piece of cardio equipment. On these screens, via the facility's satellite or digital cable connections, patrons can watch their favorite TV sitcom or news program while they work out. They can also choose to bring with them one of their favorite discs to insert into the entertainment console's DVD/CD/MP3 player. Surf the Internet? Exercisers can do that too, thanks to entertainment systems that offer high-speed Web access. Then again, all of these entertainment options might be too distracting for some. In that case, patrons are encouraged to use the console's touch screen to customize and monitor their cardio workout, or choose from as many as two-dozen preloaded exercise programs.
This is today's interactive fitness center. Much has changed since the days when enjoying "exertainment" required cardio equipment users to exercise their neck muscles as much as anything else. Now, exercisers can tune into their chosen programming on high-resolution personal viewing screens, "as opposed to being stuck with four TVs mounted overhead showing four things you don't want to watch," says Life Fitness public relations manager Tracey Budz. "The technology is in its infancy. There's still so much we can do."
Log in to view the full article