The homeless in Kirkland, Wash., now have access to a local health club, thanks to a music director with a passion for health.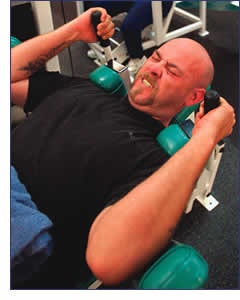 The Seattle area's tent cities provide temporary shelter for the homeless, moving (by statute) every 90 days, usually between church properties or city-owned vacant lots. Often, they're greeted by the protests of neighborhood groups fearing a spike in the crime rate, though none of these fears have been realized.
When tent-city residents came to the Kirkland (Wash.) Congregational Church this March, however, they were greeted by the usual neighborhood protests, along with something more -- the opportunity to enjoy free memberships to a local health club, thanks to a unique program put in place by Ele Nash, the church's music director.
Nash, an avowed fit-ness "believer," negotiated reduced temporary membership fees at a 24-Hour Fitness that's within walking distance of the church encampment, and then spent the winter calling on 40 area churches to help pay for it all. She encountered a fair amount of resistance from churches claiming their good works were limited to spiritual affairs, but managed to put together $2,800 (including $200 of her own money) to purchase memberships for 31 of the 63 tent-city residents who expressed an interest in working out.
As of May 17, four days before the tent city was set to move on to its next location, Nash had set up 26 men and women with club memberships. Camp life being what it is, with residents coming and going on irregular schedules, Nash says she had to "go to the camp, money in hand, and find whoever happened to be there that moment, and personally take them down to the club and register them." She also had to take away a few memberships when she found out they weren't being used. "It really made me angry," she says, "but the club was generous in allowing me to cancel memberships and substitute others who were interested."
Among the very interested was 31-year-old Jason Buckley, a diabetes sufferer who wasn't exactly being helped by living in a place (as the King County Journal put it) "where donated bakery treats are plentiful and daily exercise isn't a priority for those coping with poverty." In his first few months of regular exercise, Buckley had lost eight pounds and was getting his diabetes under control. He was also bulking up the muscles in a leg injured five years ago in a bar fight.
"Everybody has a different story and a different need," Nash says. "What it boils down to is self-discipline. Among other things, exercise is very good for combating depression and stress, and building good habits and job readiness. I pointed this out when I was approaching churches; the reason most people have homes is because they get up and go to work every morning, and that requires self-discipline."
With the tent city moving on to another church property in Kirkland, Nash in May found herself negotiating a similar deal for the tent city's homeless with a nearby Bally Total Fitness (it happens to be the club to which she belongs). She is also, as of this writing, trying to track down other funding sources, since she feels she's done all she can do with Seattle's east-side churches.
"I have no business doing this," Nash says. "I'm a church music director. But I have belonged to health clubs for years, and I believe very much in fitness; I like to joke that health is my hobby. So I was in a unique position to put the homeless and health clubs together, and it has made a difference in some people's lives."