A new fitness facility design guide will soon become standard operating procedure for all four branches.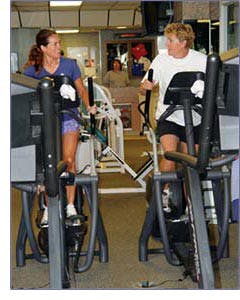 Military fitness facilityBy design, the four branches of the United States military are noticeably distinct in mission and function. But while defending the nation's lands, seas and skies requires the 1.5 million men and women in uniform to employ a diverse set of equipment, skills and tactics, providing for the fitness and well-being of those soldiers, sailors, airmen and marines does not. They're all human and thus just as susceptible as anyone else to the spare-tire waists that can result from inactivity.
It's no wonder, then, that operators of the military's fitness facilities -- the individuals charged with keeping service members active and in shape -- often find themselves in the same cramped boat. "Space is always an issue," says Kelly Powell, head of the U.S. Navy's Mission Essential Branch. "I don't know a programmer, whether in the military or not, who says, `Boy, I have enough space' -- be it activity and/or storage space."
That common plight is one of the reasons top fitness programmers and facility managers with the Army, Navy, Air Force and Marine Corps have spent the past nine months collaborating on the development of a standard guide that, starting next year, will govern fitness facility design and construction for all four branches. The new document is expected to combine each branch's existing design manual so that, with few exceptions, all newly built military fitness centers will boast similar features.
The fitness facility design guide is but one of more than 250 components of the Unified Facilities Criteria program. Initiated in May 2002, it is a massive undertaking of the Air Force Civil Engineer Support Agency, the Army Corps of Engineers and the Navy Facilities Engineering Command to standardize the planning, design, construction and maintenance of all Department of Defense facilities.
Being that the most recent edition of the design guide for Army fitness centers dates from 1976 (by comparison, the Navy's is approaching its 10th anniversary), Powell is optimistic that the new criteria will enable military fitness facilities that are built or renovated beginning next year to be on the same par as civilian fitness centers. "I think this is a sound document," he says. "It will enhance everything that we're going to do in the future."
The Navy Facilities Engineering Command, or NAVFAC, has spearheaded the development of the new fitness facility design guide. NAVFAC has hired a private contractor to gather input from all four branches and compile that data into an interactive spreadsheet that will be accessible online.
In addition to being directly involved in drafting the design guide document (although they did not create its accompanying spreadsheet), the top fitness programmers from each service branch were asked to survey operators of their branches' fitness centers and then report those findings to NAVFAC officials.
As mentioned, there was a near-unanimous call among fitness facility operators for the new design guide to make room for 21st-century fitness needs. Says Craig Chapman, facilities section head with Navy Installations Command, "Probably the greatest single issue is lack of space for cardio equipment," few pieces of which even existed when many Navy fitness centers were constructed. "Remember, fitness itself has not been with us that long," says Powell. "Although the military construction program has been in existence for a great number of years, it dealt directly with sports elements instead of fitness."
And according to Chapman, even those sports facilities could use an update. "We have gymnasium courts that came out of the 1950s, where you have 3 feet -- not 10 or 15 feet -- before you run out of bounds and into a wall," he says. "The problem is that the facilities are 50, 60 years old and have reached the end of their useful lives." The military's existing fitness center design standards appear even more outdated, given the fact that since 2000 each branch has instituted new fitness programs designed to better prepare service members for battle. For example, as part of the Air Force's Fit to Fight campaign, which was initiated in January 2004, all 750,000 airmen are now ordered to undergo a four-component annual test that includes a 1.5-mile timed run.
To train for that test, service members are encouraged to work out at Air Force fitness centers, some of which offer running tracks. Under the Air Force's current design guidelines, base officials and fitness facility operators were hard-pressed to choose that amenity without sacrificing room for other basic facility components. "With us changing from ergometer testing to the running program, we're now allowing bases to have tracks as a core feature instead of as an enhanced feature," says Margaret Treland, program manager of Air Force Fitness & Sports.
Much like their predecessors, application of the new design guide's space allocations will depend on the size of the population served at each military installation. Classifications range from "extra small" (up to 500 active-duty personnel) to "super large" (more than 50,000). Should existing space allocations provide any insight, if a "small" fitness facility (500 to 3,000 active-duty personnel) is allowed 900 square feet for a multipurpose room, a "medium" fitness center (3,001 to 7,000 active-duty personnel) will be allowed 1,200 square feet, or 33 percent more space, for that use.
As might be expected, creating a unified design document required each of the four branches to make some compromises. Yet NAVFAC did allow for individual "service exceptions," which deal with facility features, functional spaces or activities unique to the fitness programs of each branch.
Another exception involved the Air Force. Having run out of project time and funding, the NAVFAC contractor was unable to incorporate into the interactive spreadsheet data regarding the size categorization of Air Force installations. So although it is bound to other provisions of the new design guide, the Air Force will be allowed to continue using its fairly sophisticated facility space calculator already in place.
Military fitness programmers acknowledge that their superiors' endeavors to update antiquated design standards and make accommodations for current fitness needs is a step in the right direction. But they also realize that building bigger and better fitness facilities isn't too high on the priority list of a military force fighting a multi-front war abroad and assisting hurricane relief efforts at home.
In the meantime, Powell, Treland and their Army and Marine Corps colleagues can proudly say they've done their duty. (Representatives from Army Sports and Fitness and Marine Corps Community Services declined to respond to repeated inquiries.) The committee's final recommendations on the new design guide were made in September. The last remaining step is for the respective branches' chains of command to sign off on the document. Powell, for one, says he can afford to be patient. "In a perfect world, if we were able to wave the magic wand and have all these facilities appear, we would be in really good shape and our patrons would be exceedingly happy," he says. "But especially when you have things like the war and these natural disasters that have hit us, you have to step back, look at your priorities and say, `We can get by. We're OK.' And honestly, today our capacity is good. But it will be enhanced by these new standards."