Offering everything from salsa to striptease, the fitness industry catches a case of dance fever.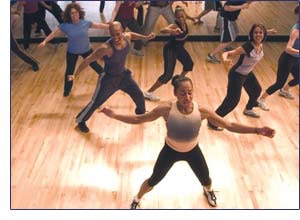 Dance is one of the fastest growing fitness trends in the country. From ballet to belly dance to salsa to striptease, the proliferation of styles and classes both on video and in studios is staggering. It's easy to see why, says Norris Tomlinson, national director of group fitness for Bally Total Fitness: "Dance introduces fitness to people who like to move."
And because the average would-be dance-class participant may feel too intimidated to enroll at a dance studio - although he or she may be open to trying it out in a casual way - health clubs and fitness centers have a tremendous opportunity to reach a whole new group of potential members.
Likely Candidates
People who attend dance classes at a fitness center generally aren't serious students of any particular form of dance. They just want a workout that's exciting and different. "People are getting away from the highly structured classes like Jazzercise® and aerobics. They just want to have fun," Tomlinson says. Though if a club offers the only African dance class within 60 miles, it may see some serious students sign up - in which case the class will likely take on a different dimension.
People take dance classes for different reasons: to learn dance techniques, strictly for exercise, to immerse themselves in another culture or as a spiritual or artistic endeavor. Because of the diversity of possible experiences, club owners should pay attention to what type of class they choose to offer - whether its focus is fitness, technique, or cultural or spiritual enrichment - so they can advertise appropriately. Some classes may have more than one of these elements, so instructors should be consulted as to what they emphasize. Advertising a class as spiritual if it actually focuses on cardiovascular fitness will actually leave students unsatisfied. If just a few participants tell their friends, "I didn't like the hip-hop class at Joe's Gym," that club will be cast in a negative light that could be hard for potential members to forget.
Picking a Style
Dance styles come and go almost as quickly as the latest fashions. "Not every dance form is right for every club," says Tomlinson. "You have to look at what's popular in the community. For example, in Miami, Latin dance is very popular." Ballet may be popular in New York City, but perhaps not in a quiet Midwestern town. Tomlinson suggests visiting local nightclubs and talking to patrons and DJs. What type of dance is exciting right now? Is there a trend just starting to take off? If so, ask where to find a teacher of that dance style and make sure you advertise your class at clubs where that style is popular.
You should also look at the dance school scene in your community. Are there five competing studios already established? If so, instead of assuming that dance won't work for you, find out if those businesses offer adult dance. Many studios cater only to children, ignoring a potential gold mine. Next, find out what types of ethnic dance they offer, if any. How popular are these classes? Are they strictly technique classes, or do people attend just to have a good time?
Innovative teachers are coming up with dance/fitness fusion classes - ones most common at health and fitness facilities - all the time. Bellyrobics (belly dance), Capoeira (combining Brazilian dance and martial arts) and Dance Trance (jazz, hip-hop and street dance) are three examples that take elements of a root dance and transform them into a fitness-based workout. Some fusion classes are trademarked, and just like with Jazzercise®, instructors must be certified to teach under that name. But that doesn't mean an enterprising instructor can't come up with his or her own fusion class. Even if your city is full of dance studios, fitness fusion classes like these can be significant revenue-generators.
Hiring a Teacher
Dance as a fitness tool has been around for decades, but because styles are constantly changing, hiring a teacher can be tricky. Large fitness chains like Bally Total Fitness expect their salaried group fitness instructors to be able to learn and teach new dance styles. But smaller clubs may find it more advantageous to hire outside contractors to teach dance classes.
Many professional dancers are fluent in more than one style and can easily teach others. Some clubs opt to hire such individuals to teach a variety of classes - a great option if a dancer has an outgoing personality and is skilled at breaking down complicated dance steps and giving non-dancers a positive experience.
Independent teachers rent space for an hour or two each week. You can either charge an hourly or monthly rate for the use of your facilities, or you can ask for a percentage of the teacher's monthly earnings. The hourly rate is steady and secure, so if the teacher has an off-month, you still get paid the same amount. The percentage rate option is riskier, but it also offers your club the potential to make much more money.
If a teacher consistently draws 20 students for a one-hour class, he or she will earn between $200 and $400 each class. (Teachers typically charge each student anywhere from $10 to $20 for enrollment in a class.) If you charge the teacher an hourly rate, you'll get between $20 and $30 of that total. But if you take a standard cut of 20 percent of his or her earnings for that class, you'll get between $40 and $80. Multiply those numbers by the number of classes you want to offer and come up with an equitable arrangement. If the instructor teaches several popular classes, he or she may ask for a monthly cap on a percentage agreement.
It's worthwhile to work with a popular teacher to come up with a mutually beneficial arrangement. While it may seem as if an independent teacher is making a killing on fees, remember that the person gets no health insurance, liability insurance or other benefits from you and must pay his or her own taxes.
Really, anyone who has spent time studying a style - whether for a month or 20 years - can call him or herself a teacher. But there's just as good a chance that a novice instructor is a better teacher than a teacher with 20 years of experience, or vice versa. That said, club owners should consider the quality of a dancer's past experience and hold an audition class to decide if that person is a good fit.
Certifications are great, but most dance forms have no teaching certifications available. A national group fitness certification is useful, though many dance teachers are part-time hobbyists and lack the funds to study for and pass these exams. At the very least, an instructor should have CPR and basic first-aid certification. Liability insurance is a must as well, notes Tomlinson. Employees are covered under the club's policy, but independent contractors are responsible for carrying their own insurance. Make sure you ask, because many dancers might not even think to carry insurance when they start teaching.
Spreading the Word
One perk of hiring outside teachers is that they will often bring students with them. They alone are responsible for the success or failure of their class, so they will do most of the marketing for you. Such relationships can yield unexpected benefits, such as when dance-class students who otherwise may never have thought about joining your club decide to do so after spending week upon week in your facility. "I attracted an entirely new population through the instructor," says Robert Sherman, owner of Bethesda, Md.'s F.I.T. Inc., which offers Latin/African/Caribbean fusion dance classes. "Students were exposed to my entire schedule and now supplement their week of exercise with other classes on my roster."
Tomlinson adds that since dance classes tend to attract a younger crowd, primarily females ages 18 to 30, marketing efforts outside the club are most successful on college campuses and at other collegiate hangouts - where the next generation of club patrons are waiting for something new to sweep them off their feet. "Dance fitness is what's going to carry us through the next years," says Tomlinson. "It puts the fun back into exercise."