"Scoring big with consumers, heart rate monitors have rapidly become a fitness industry staple."


Society is increasingly fascinated with information - and more so with the speed at which that information can be obtained or recalled. Today information technology has allowed for the completion of mundane tasks - from paying bills to organizing music collections - by lifting a few fingers and not much else.

Yet, information technology has also changed the way people exercise. Physical activity itself is still necessary to trim one's waistline. But fitness equipment users these days needn't bother with manually taking their pulse when all they have to do is reach out and touch the equipment's metal contact plates to instantaneously receive feedback on the vigor of their exercise routine.

Indeed, heart rate monitors - which generally are divided into two categories, contact (those built into exercise equipment) and external (worn by the exerciser) - have proven to be reliable tools by which exercisers can better regulate their activity. "Heart rate monitoring allows the individual to exercise at the appropriate intensity," says Cedric Bryant, chief exercise physiologist and vice president of educational services for the American Council on Exercise. "If you're too aggressive, over time your body will suffer the adverse effects of overexertion. Heart rate monitors give good discernible feedback that lets you know if you need to tone it down a bit."

Zone Coverage
Heart rate monitors (HRMs) are capable of generating feedback that exercisers and fitness facility operators alike may find overwhelming at first. Take, for example, Polar USA's line of HRMs currently on the market that are designed for use in school physical education programs. Aside from recording an exerciser's heart rate zone, heart rate level, time in zone, recovery time and laps jogged or walked, the monitors come with software that enables users to create individual and class reports, turning heart rate data into usable information for students, teachers and districts. Teachers can rank students in a class using different criteria - such as the amount of time each student spends exercising in his or her target heart rate zone - and evaluate class data to identify districtwide fitness trends.

There are also HRMs that do much more than focus on the heart. Some monitors help users count calories and the percentage of fat burned during their workout, while others predict an exerciser's capacity for aerobic activity through VO2max readings.

Many HRMs also offer functions that allow exercisers to customize their workouts and store and recall data recorded during those workouts for future comparison.

In Touch with Reality
These days, exercisers would be hard-pressed to find their favorite cardio machine - whether it's a stepper, climber, treadmill, bike or elliptical trainer - lacking a built-in contact heart rate monitor.

The technology that makes these systems work is actually quite simple. Through metal plates, contact HRMs digitally measure the electrical frequency of an exerciser's heart, or the number of beats per minute at which his or her heart is functioning. Within 10 seconds of touching the hand sensors, the exerciser's heart rate is shown in beats per minute on a cardio machine's console. Manufacturers of contact HRMs claim the systems' readings are accurate enough to be compared with those produced by electrocardiogram monitors.

According to Bryant, advances in contact HRM efficiency have largely been pioneered by Polar USA, whose heart rate technology has been incorporated into equipment produced by more than 250 commercial manufacturers of cardio equipment. However, machines from leading manufacturers like Life Fitness, Precor and Star Trac are generally outfitted with a proprietary hand-sensor monitoring system, while incorporating as a secondary feature Polar's heart rate telemetry system. Such systems require users to wear a chest strap transmitter that wirelessly sends heart rate data to the equipment's console board.

Chest-worn transmitter belts are often made of elastic fabric and generally consist of two parts - an electrode strap that picks up the electrical heart signals through the chest cavity and a center connector clip. Transmitters send heart rate information either to a wrist-worn monitoring watch or to a cardio machine's console.

According to Bryant, external HRMs are more efficient than contact monitors. "There is a lot of information out there to support their reliability," he says. "The companies that make them have really perfected the belts' algorithms and have filtered out most of the extraneous noise."

This "noise" is actually the result of motion artifacts, which, simply put, are trace electrical signals that can interfere significantly with accurate heart rate monitoring and, by some accounts, can produce readings that are off by as many as 20 to 30 beats per minute. Motion artifacts are generally created when exercising on cardio equipment that encourages a lot of upper-body movement, such as treadmills and models of elliptical trainers featuring movable arm handles. For that reason, Bryant says that heart rate transmitter readings taken while using such equipment tend to be less reliable. "You'll notice on treadmills, a sign will encourage you to check your heart rate before you begin running or during breaks," he says. "This is primarily for safety reasons, but also because of motion artifacts."

Tech Support
For heart-conscious exercisers who'd rather not deal with chest straps, one option comes in the form of the Lifestyle watch from MIO. The wrist-worn device detects an exerciser's heart rate through sensors on its back and front. To read their heart rate, exercisers must ensure that the watch is firmly fastened against their skin and place their index and middle finger on the sensors on the watch's face. Once they depress their fingers, exercisers' heart rates will be displayed within seconds. Users must release and repeat to get successive readings, as the Lifestyle watch does not display a continuous reading.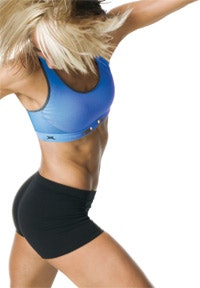 Manufacturers of another HRM currently on the market are hoping consumers will appreciate the fact that their product offers some extra support, in addition to strap-free performance. In advance of the holiday season, Textronics, a developer of high-technology fabrics and textile systems, released its first consumer product made specifically for women - a heartbeat-sensing sports bra called NuMetrex.

Electronic sensing technology is actually integrated into the sports bra's fabric. Designed to work with a Polar transmitter that snaps directly into a special compartment in the bra, NuMetrex eliminates the need for a separate chest strap. The bra's sensors pick up the wearer's heartbeat and relay it to the transmitter located in the front of the bra, which captures that information and sends it to the exerciser's HRM watch. In addition, the transmitter can communicate with cardio equipment featuring integrated monitoring devices.

Bryant, for his part, has a feeling the manufacturers behind the NuMetrex are onto something. Not only does the heartbeat-sensing bra have the potential to reduce signal interference resulting from excessive movement of an exerciser's breasts, it may also offer exercisers more convenience and comfort. "It might be well received by women," says Bryant. "They tend to not be fans of the conventional chest straps."

Apparently, neither are men - or at least that's the belief of NuMetrex's manufacturers. Textronics is currently developing a T-shirt with a built-in heart rate monitor, as well as an enhanced system that will provide more exercise feedback.

Tom Martin, a Virginia Polytechnic Institute and State University assistant professor of electrical and computer engineering and co-director of the university's e-textiles lab, has worked in the "smart fabrics" field for 15 years. In January, Martin told The News Journal of Delaware that as companies make more products combining fitness fashion with information technology, he expects consumer demand for such gadgetry to expand. "If you can make it look like a normal piece of clothing," he said, "people will wear it."