Satellite radio provides more music options to fitness facility operators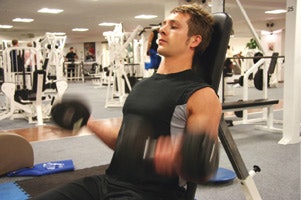 Slowly but surely, health clubs around the country are discovering why almost 10 million people subscribe to satellite-radio service: The commercial-free programming on dozens of channels is designed to fit nearly every mood and personal preference.
Indeed, operators of facilities as diverse as the new 24-hour Powerflex Gym in Albuquerque, N.M., and the small-scale Island Fitness facility in Surfside, Fla., are using satellite radio to create exciting atmospheres and influence member behaviors for less than $30 a month.
"Music is so important to retail establishments - and when I say retail establishments, I include health clubs, because they are stores for people to go work out," says John Hay, director of business development for Antex Electronics, a Torrance, Calif.-based manufacturer of commercial audio equipment, which began shipping satellite radio receivers in 2004. "I think there is a great opportunity for satellite radio in commercial spaces, not only in workout areas, but in gymnasiums, lobbies and other areas of a facility."
"Health club operators may choose a specific channel, like one of our pop or dance music channels, to play in the workout space, or they may choose equipment that allows them to play different channels in different spaces," says David Butler, director of corporate affairs for XM Satellite Radio, one of the two major satellite radio companies currently targeting the commercial market. Traditionally, music entertainment in health clubs has been provided by commercial radio or more costly but interruption-free services like Digital Music Xperience (DMX) and Muzak.
With satellite radio, the options, while not endless, are significantly greater than in the past. "We look at this as an opportunity to promote a lifestyle that's constantly changing," says Mark Furey, director of commercial accounts for Sirius Satellite Radio. Among the facilities Furey is currently working with is a new fitness center slated to open soon in Dallas with several zones of music - such as relaxing and revitalizing smooth jazz known as "chill" music in spa and lounge areas, and perhaps classic rock or dance tunes in high-activity areas - to distinguish spaces within the facility.
That's easy enough to do. Sirius offers 125 channels, including 65 with a variety of music choices and 55 packed with sports, news and talk. Similarly, XM boasts 160 channels, 69 of them offering music. Corporate monthly subscriptions to either of them (which include all rights to publicly air commercial music) begin at less than $30, with a one-time activation fee that costs less than the monthly charge. Additional fees are assessed for optional hardware and service extras.
"The satellite radio business today is driven by the automobile," Hay says. "As that progresses, there will be a natural pull into homes and businesses."
As with any new technology, satellite radio is not perfect. It will never match the audio quality of DMX or Muzak, Hay says, and Sirius and XM are engaged in a bitter battle for market control that observers note is adversely affecting the companies' bottom lines. Nevertheless, Hay predicts that DMX and Muzak will shift their client base toward high-end resorts and hotels, elegant restaurants and other businesses that demand interruption-free music, while satellite radio will appeal to a greater variety of commercial operations because of its low price points and vast programming breadth.
Furey even hints that a handful of major cardiovascular fitness equipment manufacturers are developing technology that will integrate satellite radio into machine circuitry, similar to the way commercial radio and television systems are now networked into equipment. (Manufacturers remain mum on the subject.)
Beyond satellite radio, other music options for fitness facility operators include PlayNetwork, a music management system that creates custom play lists on CD-ROM, and ExerciseRadio.com, a free Internet radio station that broadcasts four channels of fitness music categorized by beats per minute. The music can be streamed via the iTunes, RealPlayer and WinAmp media formats, and is slotted into four basic workout modes: cardio, strength training, boxing/kickboxing and yoga.
"You have to ask yourself how big of a role you want music to play in your overall atmosphere," Furey says. "Do you want it to be background music, or do you want it to alter people's state of reality? Every time someone walks into a facility to work out, they are choosing that over shopping or going out to eat. And I think the fitness industry can create a better atmosphere than what's out there in the retail and hospitality worlds. It can create a unique experience that people are going to remember."