Four steps to maximize a group-exercise program's potential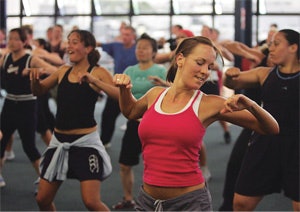 The success of a group fitness program evolves through trial and error. Trends come and go, but overall program effectiveness hinges on a facility manager's ability to gauge those trends, build classes around specific clientele needs and match instructors with activities.

"You must give new people and classes plenty of promotion, and maybe six months to achieve success," says Phillip Mills, founder and chairman of Les Mills International, a New Zealand-based company that changed the way fitness classes are taught by developing popular activities like BODYPUMPr and RPMr. He contends many facilities are missing out on the full benefits of group programming because of inadequate management.

Sometimes, all it takes is a simple restructuring of class timetables or a new sound system to turn things around. Other changes, including a staff-wide shift in mind-set, require a more delicate touch. Here are four suggestions from Mills to help maximize a group exercise program's potential.

1. Develop a scorecard. Keep track of the number of attendees in each class and use that data to rank instructors and determine popularity differences among instructors, classes and time slots. "It's a simple thing that many managers just don't do," Mills says. "Most use a less-objective approach that might favor an instructor for his or her long service with the club ahead of the ability to pull in and hold participants."

2. Recruit world-class instructors. Subscribe to the theory that one fantastic instructor can, over time, bring in hundreds of new members. Then look beyond the traditional employment pool to find those people. Visit performing-arts schools, theater and dance companies, and high school physical-education departments. Convince all instructors that their value to the facility is based on more than wages. Establish clear career paths for them, offer to pick up all or part of the tab to attend conventions and workshops focused on instruction, communication and theater skills, and create a workplace network for them. "Encouraging a strong social culture is important, so people can bond and regard themselves as playing on a fun team," Mills says. "Build a powerful sense of mission to become the top group fitness club in the area by, say, doubling group fitness participation over the next three years."

3. Create the best workout environment possible. A more aesthetically appealing workout space could increase the number of participants and quality of instructors your program attracts. Develop "a grand vision," Mills says, and implement it over several years. For example, update the sound system first, then install a new stage or introduce a different interior design scheme. "Prioritize these projects," he adds. "But remember: You need an experiential environment for an experiential activity."

4. Appoint a group fitness manager. A group fitness manager is a key hire and plays a pivotal role in a successful group program. In many facilities, the role of a group fitness manager falls to an overall fitness director, but that's not enough, Mills says. "Focus makes genius," he concludes. "If a club wants to have a leading group fitness program, then it needs to apply appropriate human resources to the challenge."