Fitness centers find high-end homes in apartment complexes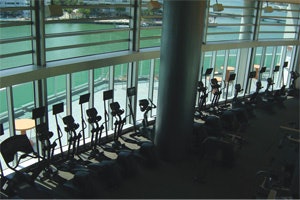 The sun sets into Biscayne Bay, signaling the end to Thursday night's group cycling class at Miami's Flamingo South Beach athletic club. As the last few of two-dozen, sweaty participants in a just-finished class trickle out of the door, their instructor gathers her things and joins them. Still pumped from their workout, the talkative group passes the club's front desk. But instead of making their way to the club's locker room, they turn toward a nearby elevator bay. The elevator's doors open and each person presses a different button - one man is heading to the 12th floor, the instructor, the 6th - anxious to shower in the comfort of his or her own apartment.
Welcome to the 21st century apartment high-rise complex, where fitness centers have evolved far past basic boxes outfitted with several treadmills and ceiling-mounted TV sets. Those fitness centers were rarely known for serving residents' fitness needs. Their full-service successors, on the other hand, are emerging (and succeeding) with complete menus of services, programs and amenities - from personal training to Pilates classes to deep-tissue massages.
Frank Guengerich, executive vice president of WTS International, a health club consultancy in Silver Springs, Md., that manages fitness centers in 10 apartment complexes and 40 condominium buildings, says fully programmed gyms are increasingly being seen as the rule, not the exception. "Multifamily complexes that are really trying to delineate themselves are starting to realize that they need to do more than just have a square box with a bunch of equipment stuck in it," he says. "Sophisticated developers who are always looking for an edge have recognized that for a while now."
Guengerich says that many of those cutting-edge developers are building full-service apartment fitness centers at high-end properties, such as the Flamingo South Beach. Managed by WTS, the Flamingo's 14,000-square-foot athletic club features spectacular water views in every direction, separate strength-training and cardio fitness areas, a group exercise studio, a basketball court and a juice bar. Operating the facility, which is open from 6 a.m. to 11 p.m. weekdays, is a full staff that includes a general manager and a fitness instructor. "It's like a health club," says Guengerich. "It's like anything you'd find out there in the market."
One significant difference between apartment fitness centers and other health clubs is that staff members can be lured and retained by incentives to live onsite. At Flamingo South Beach's athletic club, full-time employees receive a 20 percent price break on their rent. According to a recent report by The Washington Post, the resident kickboxing instructor at Georgian Towers in Silver Spring, Md., is paid by the apartment community's management company for the two weekly classes she teaches. In addition, the instructor, a certified trainer who also works at a health club, has a captive market for her part-time personal training business.
Plenty of deals exist for club members, as well. Residents of Flamingo South Beach - whose athletic club is open to the public - are offered discounted membership fees priced at a third of the market rate. That said, Guengerich believes that many apartment residents don't mind paying a modest premium to use quality onsite fitness centers. "We're finding that if you build a really nice facility and program it well, people will pay," he says. "It's a lot more convenient for them, and they can work out with their friends and neighbors. It's really successful."