Free of the amenities of a large rec center, campus fitness satellites allow students to get fit on their own terms.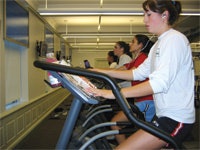 Every March, Brown University's office of residential life holds its much-anticipated housing lottery, by which it assigns rooms to the 80 percent of students who live in university-owned buildings. But unlike a state-sponsored money lottery - which costs players a dollar or so in return for the chance to be big winners - the chosen ones in Brown's housing lottery can actually feel more like losers. That's because in the opinion of many of the university's 5,900 undergraduates, receiving a rooming assignment at the school's Graduate Center Towers is like receiving a prison sentence - albeit a relatively short one.

Recently panned by one student newspaper as a "fortress of solitude" - in large part because of its austere brick-and-concrete exterior, awkwardly claustrophobic corridors and isolated location on the campus' southern fringe - the Grad Center's four six-story dormitories, inhabited by undergrads for more than three decades, are among Brown's least preferable living spaces.

Yet there are two redeeming qualities to the Grad Center: one, it is among the few housing complexes on campus to offer coed suite living for up to seven people. And two, it's home to the Bear's Lair Fitness Center.

Housed on a lower level of the Grad Center's central fifth tower, Tower E, the Bear's Lair Fitness Center's 2,500 square feet were carved out from a former dining hall, creating an area that accommodates about 30 pieces of cardio and selectorized strength equipment, as well as a limited number of free weights (to reduce users' injury risk, the unsupervised facility features no barbells). It is operated as a satellite of the Olney-Margolies Athletic Center, which pulls double duty as both the campus's recreation center and its main varsity athletics facility.

When officials with Brown's Department of Physical Education and Campus Recreation created the Bear's Lair three-and-a-half years ago, they hoped the satellite facility would help alleviate some of the strain experienced at the OMAC during peak hours. That it did, but with OMAC staff members and users still feeling the space crunch, in September 2004 the university funded the construction of two more satellite fitness centers, each about 2,000 square feet in size.

"It wasn't the fact that there were too many people," says Brown assistant athletic director Matthew Tsimikas, recalling the overcrowded days at the OMAC, prior to the opening of the Bear's Lair and its sister sites at Emery Hall and Keeney Quad. "We just had a lack of dedicated space for cardiovascular fitness and strength and conditioning for the general student population."

And while Brown could still use more recreation space - a new 65,000- to 75,000-square-foot facility is currently in the planning stages - the school's satellite fitness centers are doing a more than adequate job as understudies, says Tsimikas. "They are helping satisfy a need for that ever-growing population of individuals who are just looking to get a 20- to 30-minute workout on a treadmill or do a quick circuit."

If it weren't for the convenience they offer students, Brown's satellite centers wouldn't be as successful as they are.

Shortly after the Emery and Keeney fitness centers opened, students complained about the operating hours, which were 7 a.m. to 10 p.m. on Monday through Thursday. On Fridays, the gyms closed at 8 p.m. and on the weekends they were only open from 11 a.m. to 5 p.m.

Within two months, the policy was changed. On weekdays, operating hours were extended one hour later and 10 hours were added to the weekend schedule. That concession seemed to appease users - sort of. "Until they're open 24/7, students won't be fully satisfied," says Tsimikas, noting that Brown's four fitness centers are available a combined 415 hours a week.

Yet students have no complaints about the satellite centers' accessibility. The OMAC is located on the far east side of Brown's 143-acre campus. By contrast, the satellite centers' placement on the campus's residential west side - all three facilities are located in dorms - ensures that all but a handful of on-campus residents are just a short walk from at least one of the facilities. It's a simple yet significant point. "Location, location, location," says Tsimikas, when asked to name the top three issues for campuses contemplating satellite facilities.

But then backtracking slightly, Tsimikas recalls the unexpected challenges he faced, despite having secured ideal locations for Brown's satellite centers. "Concentrate on designing a philosophy of why your university is building satellite fitness centers in the first place," is his advice. "We created them to help Band-Aid a problem."

And while Brown officials were more than willing to render that aid on the Emery and Keeney projects, financially they were only capable of doing so to a certain point - the $800,000 mark, to be precise. Says Tsimikas, "Anybody embarking on a satellite fitness center should really think about getting some university commitment regarding resources you'll have for staffing, equipment replacement and everything else to make sure that these facilities get up and running."

University of Nevada Campus Recreation received such a commitment not from the school's chancellor or president, but from its dean of residential life. For 10 years now, the Campus Recreation and Residential Life departments have co-operated a satellite fitness center located in one of Nevada's seven dorms. "With us, it was born of the idea that our fitness center was small and this would allow us to serve more people," says Steve Pomi, Nevada's director of campus recreation and wellness. "And Res Life wanted to create more of a wellness environment in the dorms and give students some healthy alternatives that would be close by. Res Life had the space, so it has worked out very well."

Rec departments unable to secure the resources or establish the necessary partnerships to build new or renovate existing spaces into satellite fitness centers might consider creating satellite fitness programs. Using this paradigm, rec staffers offer fitness classes at various times and locations throughout campus (imagine holding a lunch-hour power yoga class on a quadrangle lawn), but only as needed, depending on the changing whims of student and faculty participants. Such has been the talk among officials at one midsize university in the Northeast, according to its associate athletic director for campus recreation, who requested anonymity because of the sensitivity of ongoing discussions there regarding campus master planning.

His fear is that implementation of a permanent satellite fitness center like those at Brown and Nevada would diminish long-term demand for programs housed at the campus' main recreation center. "Here, we're very fortunate that our recreation center is centrally located. If it weren't, then it might make sense to rethink things," he says. "But if you build something like a large rec center that might be viewed as a showcase, smaller facilities elsewhere could fragment some of what you're doing. And a lot of what you do with your menu of campus recreation offerings is hope that when somebody comes in to work out, something else catches their eye so that they then take part in a group fitness program or get involved in intramural basketball. Hopefully, you're drawing people in."

Something else that campus recreation administrators mustn't forget is the nature of satellite fitness centers. They're called satellites for a reason, ideally because they're located some measurable distance from the school's main rec facility.

The University of Nevada's White Pine Satellite Fitness Center, for example, is roughly seven-tenths of a mile - or a 12- to 15-minute walk - from its parent facility, the Lombardi Recreation Center.

Because of that distance, it takes a team effort to maintain the satellite center, which is located on the first floor of the university's White Pine dorm. Residential Life employees manning the dorm's front desk are also responsible for controlling access to the fitness room, which itself is not staffed with dedicated personnel. Only students who have paid the semester recreation fee, allowing them to use the main Lombardi facility, can work out at White Pine, which receives anywhere from 40 to 70 users a day. "They have to have an ID to get in, but they actually check in with the Res Life staff," says Pomi.

From their position at the dorm's front desk, Residential Life employees are also relied upon to help keep an eye on the satellite center, which features eight pieces of cardio equipment, a multistation selectorized machine and a full set of free weights, as well as two small locker rooms with shower facilities. "Our student staff members will go down there, clean the machines, check everything out and document it all - usually once, sometimes twice a day," says Pomi. When one of White Pine's treadmills or steppers breaks down, a maintenance company is called, sparing Pomi and his staff members the trouble of hauling the broken-down machines back to the Lombardi Center for repairs. "If something happens, the Res Life staff will call us and take the appropriate steps," he says. "We always have somebody watching it."

Such measures are critical to mitigating the cost of operating a satellite center, which can be a challenge. "They're expensive," says Tsimikas. "Think about it: You have 30 pieces of cardio equipment in there that cost $4,000 to $5,000 apiece and you're supposed to replace this equipment every two years? Do the math. That's a big budget to which the university has committed. That's why you need to have a philosophy and a purpose. If that hasn't been discussed, don't even get started, because these satellites are areas where you're really extending yourself."

While on paper, a satellite fitness center may not be the most cost-efficient venture undertaken by a campus recreation department, the intangible benefits can be many.

At Brown, for example, a growing student body continues to drive the need for a larger physical plant - from dormitories to research laboratories to recreation facilities. Two hundred million dollars of an ongoing $1.4 billion academic enrichment campaign is earmarked for nine major building projects throughout Brown's campus - among them the $30 million Jonathan M. Nelson Fitness Center. But while several other projects are well under way, the Nelson Center remains on hold as university officials and architects finalize decisions on funding, design and logistics. (Preliminary plans call for construction of the new facility on the site of a current parking lot, linking it to the OMAC.)

Despite the holdup, Tsimikas remains optimistic; he believes he'll witness the Nelson Center's grand opening three years from now. In the meantime, though, it's a good thing that Tsimikas and the Brown student body have available to them three satellite fitness centers to help shorten wait times for treadmills at the OMAC. "They're not fully satisfying students' needs," he admits. "But the satellite locations were put forth to help satisfy students until we get the new center."

That said, there's no reason to expect that the satellite fitness centers will close or be made available for faculty and staff use once the Nelson Center opens. Tsimikas' mission is to ensure that the recreation and fitness needs of his primary users - the students - are well met. And if that means leaving the satellite locations as they are, then so be it. "From time to time, we will review our policies," says Tsimikas, referring to the satellite centers. "Although I think they're pretty much here to stay."
Log in to view the full article