Reviews of TD Sports Performance DVD Series; MapMyRun.com; and PE4life: Developing and Promoting Quality Physical Education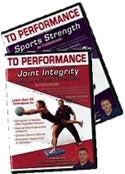 Score a TD
Fitness-facility operator and personal trainer Todd Durkin, whose clients include the 2006 National Football League's Most Valuable Player LaDainian Tomlinson, shares his strategies in the seven-disc TD Sports Performance DVD Series (Todd Durkin Enterprises, $34.95 each). Designed for athletes and their trainers, titles in this series include "Dynamic Warm Up," "Flexibility for Performance," "Explosive Power," "Speed, Agility & Quickness," "Sports Strength," "Joint Integrity" and "Core Conditioning." Available separately or as a complete package, each video features several easy-to-follow drills and techniques designed for athletes of all ages and using such simple and inexpensive equipment as medicine balls, resistance cords and dumbbells.




Runner's World
You know the feeling: You're stuck at a tournament or conference with unexpected free time in an unfamiliar locale. MapMyRun.com, a web site that does exactly what it says, can help you spend that downtime wisely. To map a run, users enter a starting street address and zip code. Once a map of that area appears, mouse clicks will help navigate a chosen route while calculating that route's total distance. Routes can be saved, shared and updated, and files are compatible with personal GPS units. Additionally, a workout calculator keeps track of pace, mileage per hour and total calories burned. A companion site, MapMyRace.com, helps race organizers promote events designed on MapMyRun.com.
www.mapmyrun.com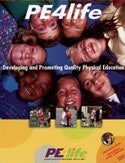 PE4life Support
Despite near-fatal financial cuts in physical education programs, organizations of all sizes (and with any size budget) can create an action plan to improve active programming with PE4life: Developing and Promoting Quality Physical Education (Human Kinetics, softcover, $39). The book, written with the cooperation of the nonprofit PE4life organization, offers seven steps that include developing a strategy, pinpointing funding opportunities and overcoming roadblocks, and it offers examples of successful programs and ready-to-use assessments, lesson plans, worksheets, handouts and slide presentations. A bonus DVD provides additional training resources and elaborates on the seven-step action plan with host Phil Lawler, a veteran physical education instructor and cofounder of the PE4life Academy in Naperville, Ill.