A new state-of-the-art rehab center aims to make injured soldiers whole again.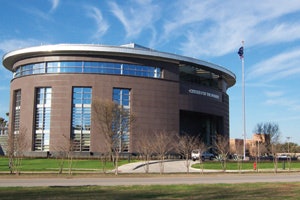 Because the U.S. military's primary business is preparing for and waging war, rehabilitation of casualties has traditionally been a Department of Veterans Affairs function. However, with the opening of a rehabilitation center for amputees at Washington, D.C.'s Walter Reed Medical Center in 2003, the Army signaled a clear intention to put more weight behind the Walter Reed slogan ("We Provide Warrior Care") - and the shift in oversight is now even more pronounced. In February, Brooke Army Medical Center in San Antonio, which has been treating amputees, limb salvage patients and burn victims since 2005, debuted its new $50 million Center for the Intrepid. The Navy is also getting into the act by opening the country's third major amputee center, at Naval Station Balboa in San Diego, while Walter Reed is in the process of building a new, larger center.
All this activity on behalf of amputees and burn victims underscores the current war's high number of combat injuries (expressed as a percentage of combat deaths), largely a result of improved acute care in the field. The other change from past campaigns, of course, is the insurgents' predilection for roadside bombs instead of bullets. As this was written, more than 550 soldiers had lost limbs in Iraq and Afghanistan.
Retired Col. Rebecca Hooper, program manager for the Center for the Intrepid, says that in spite of the sparkling new digs, her program hasn't changed all that much.
"We're not doing anything new in terms of treating amputees, we're just augmenting their care right now," Hooper says. "We've raised the bar, if you will. The advanced rehab that can occur in this center - this synergy of medical staff, therapy staff, prosthetic staff, behavioral medicine staff and case management staff all in one place - probably doesn't occur anywhere else."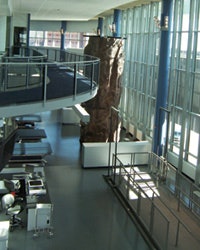 Staffing isn't the only thing the Center for the Intrepid has in abundance. The 65,000-square-foot, four-story building boasts a full complement of fitness equipment, a two-story climbing wall tower, a running track and a pool outfitted with a FlowRider wave machine. "If you were to come in, you'd think it looked like a fitness center," Hooper says.
You might think that, at least, until you took a closer look. The building's Military Performance Lab (MPL) allows for the analysis of human motion, with particular emphasis on amputee gait. A separate Motion and Gait Analysis Lab utilizes a variety of tools - treadmills, force plates located in the floor, parallel bars, 24 infrared-light cameras and electromyography equipment - to give clinicians a fuller picture of a patient's movement ability.
But the building's crown jewel is its custom-made CAREN (Computer-Assisted Rehabilitation Environment) system, a simulator dome outfitted with a moving floor and a 300-degree screen upon which a variety of virtual realities (boat ride, rollercoaster, video game, sidewalk with obstacles) are projected. Developed by Dutch researchers in conjunction with Motek, an Amsterdam-based company, the CAREN helps patients relearn mediolateral weight shifting and control of their center of gravity, so they can regain their balance and coordination while walking with a prosthetic limb. As Hooper explains, "Strength training will make you stronger, but if you don't have balance control and agility, it won't help you." Virtual reality elsewhere allows patients to simulate driving a car or to resume their firearms training. (Ten percent of the center's patients will remain on active duty in spite of their injuries.)
Patients are reportedly wowed by the center's state-of-the-art equipment and airy, rec center-style atmosphere; as a 28-year-old victim of a grenade attack told the Associated Press, "It doesn't look like a hospital. It's a place where I can see myself getting up and being motivated instead of walking hospital hallways with doctors." However, says Hooper, "Although it sort of looks like it, nothing in the building is just for fun."
Hard work is in evidence on the cardio equipment, Smith machines and mats, where patients do core-strengthening exercises using medicine balls and other simple equipment. "If you have to use a prosthetic device, and you don't have a strong core, it's like having this big boom without the strong derrick to hold it out there," Hooper says. And so activities on the rotating climber, climbing tower and FlowRider focus on gaining agility and strength rather than straight recreation - for example, a therapist might ask a patient to stay on the rotating climber for five minutes using only certain-colored handholds, as a way to work on aspects of motor planning.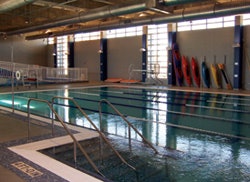 To be sure, many patients will approach their therapy as training for recreational pursuits; for example, the BAMC was planning on sending a team to take part in the annual 26.2-mile Bataan Memorial Death March at White Sands Missile Range in New Mexico on March 25. But the larger preoccupation remains learning to live with severe injuries or prostheses - and relearning life skills that most people take for granted.
Simple exercise, as Hooper notes, goes beyond strength or cardiovascular training. "Amputees shouldn't gain or lose more than five pounds because their prostheses won't fit as well," she says. "Conditioning has to be a part of their lives, so by offering some pretty unusual activities like the FlowRider, the climbing wall and all the fitness equipment that is not part and parcel of a PT clinic, by and large our patients can keep the weight off and stay in shape."
And, Hooper adds, the earlier the center's patients get the message, the better. "Some of these guys are 18," she says. "They're going to be amputees for a very long time."