Technical and aesthetic innovations have lifted the free-weight area to new levels of user-friendliness and operational efficiency.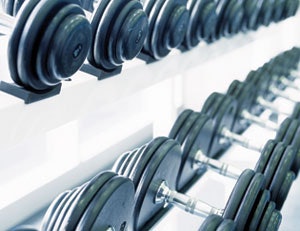 Thirty years ago, the release of a film documenting the run-up to 1975's Mr. Olympia contest sparked widespread fascination with free-weight training. But much of the equipment that made Arnold Schwarzenegger an international bodybuilding champion and mega action-movie star - pockmarked, even rusty, dumbbells and 45-pound Olympic plates - might seem archaic by today's standards. The documentary was called Pumping Iron for a reason.
"There are a lot of old guys like me who still like that stuff," says one 40-year veteran of free-weight manufacturing. "We like the distinct sound that the iron makes when the plates hit together. We feel comfortable in that environment."
But that environment has changed. Today, most plates meet each other along the Olympic bar not with a resonating clang but with a barely audible thud - muffled by a coating of rubber or urethane. The bar itself is likely to be cradled by a bench featuring urethane-faced uprights. The bench may exhibit oval-shaped bent tubing, contoured cushions and upholstery that - brace yourself, Lou Ferrigno - actually match the aesthetics of nearby selectorized strength-training machines. Look closer, and the club's logo that appears inlaid on the rubber flooring is repeated in every single urethane encased dumbbell stored neatly on - what else? - urethane-faced racks constructed of the same oval-shaped bent tubing.
Not that there's anything wrong with that. Even that old-school manufacturer sees industry-wide progress taking shape. "When we started, everything was really pretty crude. There wasn't any aesthetics," he says. "Now, everybody has good aesthetics and better quality."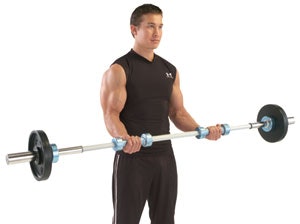 Attention to aesthetics and quality among today's leading equipment makers has no doubt contributed to a sustained appreciation for free-weight training among end users. According to the Sporting Goods Manufacturers Association's 2006 Tracking the Fitness Movement report, exercising with free weights was the preferred training method in the United States in 2005 - the 11th straight year that free weights out-muscled the competition - with 48.7 million Americans employing barbells, dumbbells or hand weights (or any combination thereof) in their workouts at least once during the year. That's more than double the number from 20 years ago (there were 22.6 million one-time free-weight users in 1987). More frequent use of free weights is also on the rise, according to SGMA. In 2005, 17.4 million individuals exercised with free weights 100 or more times during the year, up from 7.6 million in 1990.
SGMA's numbers represent a combination of home and commercial use, but similar trends are emerging from within the health club industry. According to the International Health, Racquet & Sportsclub Association, which represents 7,000 clubs in 74 countries, free weights were used by 8.9 million people in commercial settings in 2005, making it the third most popular club activity (behind workouts using resistance machines and treadmills). That's nearly three times the number of club-based free-weight users witnessed 20 years ago (3.1 million in 1987). Not surprisingly, 95 percent of clubs sampled by IHRSA in 2004 offered free weights.
It also stands to reason, then, that dozens of manufacturing companies and distributors exist solely or in part to supply commercial free-weight areas. The Athletic Business online Buyers Guide lists no fewer than 73 companies that offer free-weight equipment, with individual enterprises often spanning several equipment categories. In this survival-of-the-fittest landscape, differentiation is crucial, and many manufacturers have tweaked our common conceptions of even the most basic equipment and components. Dumbbell handles, for example, can be found to feature flared shoulders and a tapered design in the interest of hand ergonomics, a gel-like coating for comfort, or urethane or rubber knurling for stability.
Rubber, urethane and neoprene coatings are also commonly used to protect dumbbell heads (not to mention floors and racks) from damage while providing a more unified, less industrial look to the facility at large. Urethane also allows for the permanent engraving of poundage figures on dumbbells and plates, along with multicolored team logos and club trademarks. "In certain markets, such as athletics and the military, there are morale-boosting advantages to having logos on the equipment," says the marketing director of a major equipment manufacturer. "For the health clubs and particularly the health club chains, it's a branding opportunity. They like to have their name front and center where their customers can identify with the brand and be reminded of wherever it is they're working out."
Rare, too, is the Olympic plate that lacks multiple hand-sized openings to promote ease of handling, with some even sporting rotating hand grips. "Even plates have been redeveloped for safety," says another company's marketing representative. "Plates now have better gripping features, are more protective of equipment and create less noise."
Innovative free-weight accessories abound. There are curl bars, triceps bars, hexagon-shaped bars that surround the user wishing to target his or her trapezius muscles, and bars with circular rotating handles that facilitate a variety of upper-body exercises. One manufacturer has overhauled the standard 45-pound Olympic bar to include hand grips that slide in and out equidistant from the bar's center, a dynamic that the product's inventor says "maximizes the amount of muscle fiber that's targeted during the exercise - whether it's a bench press, upright row, bent-over row or military press" - while at the same time relieving "all the pressure and strain on the elbows and shoulders."
Smith machines, too, have seen updates affecting both safety and functionality. One such machine features an Olympic bar attached to vertical guide rods affixed to horizontal tracks, allowing for the execution of more than 50 traditional free-weight exercises - including presses, curls, lunges, cleans and squats - without the need for a spotter. This rack, like at least one competitor's model, also features safety catches at the front and rear, with adjustable side gates that span both sets of catches, allowing for additional protection against injury in the event of muscle failure, regardless of the user's position within the equipment's footprint.
While these power racks are designed to facilitate a multitude of Olympic bar lifts, another manufacturing firm has carved a niche by developing specialized benches for the performance of singular dumbbell exercises - most recently, the dumbbell pullover and the dumbbell row. Each piece of equipment features strategically located cradles in which dumbbells are placed and then safely accessed once the user assumes the proper exercise position.
Less obvious to the casual observer, internal innovations have made free-weight equipment more durable, safer and easier to use. "The biggest free-weight-related nightmares that clubs have conveyed to us over the past three or four years involve failures - dumbbells loosening, breaking and coming apart," says the marketing representative of a manufacturer that employs a specially engineered nut to affix either individual weight plates or singular dumbbell heads to threaded handles. The nut - which changes shape from round to oval when torque is released, thus locking it in place regardless of its location along the handle threads - is a smaller version of nuts used to assemble mass transit rails and aircraft landing gear. Another company touts its proprietary fastening method that requires neither bolts nor welding - two methods that remain susceptible to failure under prolonged periods of extreme dumbbell abuse.
Needle bearings within the sleeves of Olympic bars now represent the state of the art, surpassing ball bearings and bushings in terms of their quick, precision rotational capabilities during the performance of Olympic lifts. Moreover, finer knurling of Olympic bar handles has eliminated the rasp effect that coarser grips may inflict on bare hands. As one manufacturer's rep sums it up, "Olympic bars have come a long way."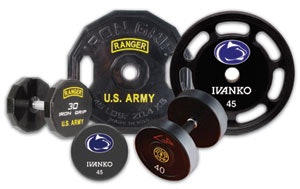 So has weight room flooring. Thirty years ago, black rubber mats represented the industry standard. Today, those outfitting free-weight areas can choose from a seemingly endless selection of speckled-color or solid-color flooring - in rolls, loose-laid mats and interlocking tiles of recycled or virgin rubber (even poured-in-place synthetic floors are available for weight room applications). Laid flooring may feature a textured surface to add aesthetics and slip-resistance, as well as undersides textured in the interest of fatigue reduction. Regardless of its particular variety, flooring in free-weight areas typically measures 3/8 to 5/8 of an inch thick, and is designed to be impact- and sound-absorbent.
But it's the eye-catching quality of today's inlays that have truly transformed the free-weight area from utilitarian to spectacular. The same water-jet cutting technology that makes loose-laid flooring virtually seamless in appearance is now enjoying widespread use in the creation of precisely detailed, multicolor logos of athletic programs and commercial health clubs. "There's a whole lot more that you can do aesthetically today," says a representative of one major flooring manufacturer. "You can mix and match different colors, you can go with one solid color throughout, or you can cut right through and introduce other colors for custom logos or instructional messages - 'Replace Weights Here' - that really stand out."
The integration of weight room flooring colors and logos with those found on actual weights has helped to soften the "hardcore" reputation of the free-weight area in some commercial environments. One equipment manufacturer has taken integration a step further by introducing free-weight benches and racks that mirror the company's latest circuit-training line. "We're seeing a lot more diversity in the types of people who are interested in free-weight training, especially with dumbbells," says a company marketing representative. "We wanted to create a product that not only could satisfy the needs of more performance-oriented free-weight users, but also have that non-intimidating, inviting look. A club is now able to create that integrated look between the single-station selectorized area and the free-weight area."
The movement toward homogeneity has its skeptics, however. As owner of World Gym's San Diego location, where free-weight equipment packs 17,000 square feet of space, Rick Stephenson prefers to pick and choose his pieces. "A company might have three or four really outstanding pieces, another company has two or three that are its best pieces, and we piece them together," Stephenson says. "We cater to a crowd that just wants functional equipment, nothing fancy. Some of our dumbbells are rubber-coated and some of them are just old-fashioned, hex-shaped cast iron."
While pumping iron, in the literal sense, remains the preferred choice of a dedicated group of longtime lifters - including the 50-year-old Stephenson, a former bodybuilding and power-lifting competitor - it's clear that product innovation will continue unabated. It's arguable that innovation is what drives new generations of fitness seekers to free weights in the first place. "The talk in the industry and among a lot of club owners is that things are coming full circle in terms of free-weight usage," says one equipment manufacturer who also owns a club. "I think club owners are really taking a good look at what they're offering as far as exercises using barbells and dumbbells. And that's going to open up more doors for what manufacturers are doing."