Outfitting fitness areas serving disabled populations is easier than you may think.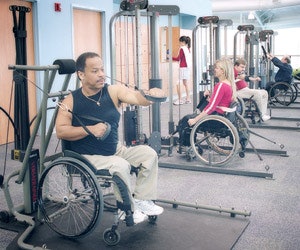 Members of the University of Wisconsin-Whitewater men's wheelchair basketball team flexed their proverbial muscle on the court March 24 when they defeated Edinboro University 70-57 to capture their fourth national title in five years. But there likely would be no championship hardware if not for the Warhawks' ability to pump some serious iron off the court.
Wheelchair basketball is a sport that requires both speed and strength, and UW-Whitewater's wheelchair student-athletes hone those skills in a 2,000-square-foot weight room designated for exclusive use by students with disabilities (in addition to the roughly two-dozen members of UW-Whitewater's wheelchair basketball teams, the facility is used recreationally by another 20 students). Among the pieces of equipment are several rowing machines and three upper-body rotary exercisers, one of which also features foot pedals. There are also free weights and a standard power rack from which the fixed bench has been removed to allow wheelchair users to easily pull into the rack and perform shoulder presses. A variety of other movable benches allow student-athletes to also do decline, incline and flat bench presses.
If the setup of the Warhawks' weight room sounds much like any other fitness facility, it's because it is - albeit with a few extra considerations. "The equipment we have in there is a little bit more spread out, a little bit more specialized," says Tracy Chynoweth, UW-Whitewater's coordinator of wheelchair athletics and recreation. "But really, a lot of it just requires us to use some ingenuity. We're taking old equipment and modifying it to accommodate our needs."
Patient input was largely responsible for giving the Fitness Center at Siskin Hospital for Physical Rehabilitation in Chattanooga, Tenn., a similar feel. The layout of the 30,000-square-foot facility, which opened in January, is intentionally spacious to accommodate wheelchair movement. Absent are common obstacles such as heavy, hard-to-open doors and doorway thresholds (floor-to-floor access within the two-story facility is handled by a system of ramps, in addition to stairs and elevators). Many pieces of fitness equipment feature wide, adjustable motorized seats and wheelchair tie-downs. All machines boast storage units attached to frames and designed to hold walking canes or water bottles. "These are just small things you wouldn't normally notice, things that don't make the equipment look that different," says Linda Lind, Siskin Hospital's chief operating officer. "But they certainly make the machines much more useful for people with disabilities."
According to the American Association for People with Disabilities, last year one in five people in the United States were documented as having physical or mental disabilities. And yet, because 56 percent of disabled individuals do not engage in any physical activity, they are almost three times as likely to be sedentary as able-bodied individuals.
Disabled individuals are not inactive by choice. Rather, in many cases that decision has been made for them by fitness providers that continue to focus almost exclusively on the able-bodied population. A November survey published in The American Journal of Public Health examined 16 for-profit and 19 nonprofit health clubs and found that all presented significant challenges for would-be disabled exercisers. In clear violation of the Americans with Disabilities Act of 1990, some had obstacles that prevented disabled members from reaching certain areas of the facility. Other facilities did not have equipment that was accessible to people with disabilities or staff members who were willing to help such members. "It's hard enough to live with any kind of disability - to get up, get dressed, go to work," the study's author, James Rimmer, director of the National Center on Physical Activity and Disability at the University of Illinois at Chicago, told The New York Times. "Why do we have to make recreation and fitness more difficult?"
To be certain, some progress has been made to make fitness facilities and equipment more accessible. Several manufacturers offer upper-body exercisers and rowing machines such as those in use at UW-Whitewater, and assisted-access lifts are now commonly installed at swimming pools everywhere. Last year, one leading fitness equipment manufacturer debuted a line of cardiovascular machines for the vision-impaired, with each unit featuring bright yellow pedals, straps and handgrips, as well as raised icons on control buttons. Another major company also is working to equip some of its machines with Braille instructions, brightly colored handles and adjustable seats. Meanwhile, some well-known health club chains - Crunch, New York Sports Club and 24 Hour Fitness among them - accommodate blind members by allowing facility access to guide dogs and aides.
More often than not, however, disabled individuals still find themselves combating the presumption that they don't want to work out - and that if they do, they'd rather exercise only with other disabled people. Nothing could be further from the truth, says Lind. "If you embrace the concept of rehab, you don't segregate people with disabilities," she says. "The goal is to help them re-enter the able-bodied world and deal as effectively as they can with whatever their limitations are."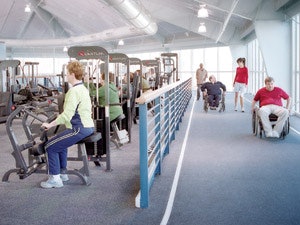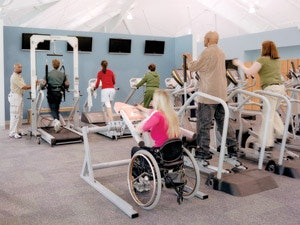 To that end, Siskin Hospital's fitness center offers an environment in which able-bodied and disabled people feel comfortable working out side by side. "In fact, we have a number of member couples in which one person is able-bodied and the spouse is not. They might work out on a different piece of equipment, but otherwise there's really no limitation," says Lind. "We have a husband and wife who come and work out, and she gets on an upper-body cardiovascular machine and he jumps on the treadmill next to her and they yak away and watch TV. It's very nice. We wanted this to be an all-inclusive facility, not one where a person with special needs felt that he or she is special in a negative way."
Even though machines for able-bodied and disabled exercisers are integrated throughout Siskin Hospital's fitness floor, the equipment is logically arranged. In most facilities, "a lot of equipment is typically divided by body parts," says Tod Cain, the fitness center's director of therapy services. "We have our equipment set up in groupings so that you can get different levels of a complete workout. And we have stationed equipment that is potentially more dangerous at the end of the line so that it's pretty easy for folks to know that if they have certain conditions, they may not want to go down to these other pieces unless they've been checked out by the staff first."
Understandably so, Siskin Hospital fitness center members are subjected to a few more preliminary examinations than, say, someone signing up for a health club membership. "We are pretty much like a regular fitness center, other than that we want to know if you have special needs, what those needs are and what you might need help with during your workout," says Lind. "If you have any cardiac or other medical-history issues, we also need to be aware of that as we're helping set up your program."
Because the majority of members are referred by the rehab hospital itself, many fitness programs are individually tailored. "When somebody has a stroke, you have to be careful about what body parts you're asking them to exercise because they typically have patterns of movement that they overuse," says Cain. "That's why you see stroke victims with their elbows bent, fingers curled, arms pulled in close to their body. Whenever you're setting up a fitness program for these types of patients, you need to work against those particular patterns early on. You may not want to work on elbow curls; you may want to start focusing on triceps. As they're recovering, you're trying to teach their brains as well as their muscles to work in ways that they typically haven't before."
That said, patience is the most indispensable virtue of Siskin Hospital fitness center staff members - and also, perhaps, the most easily cultivated. Boasting various academic and professional backgrounds, the staff is a diverse group of individuals - half of them with a fairly significant disability, the other half considered able-bodied. In addition to a full-time exercise physiologist and a physical therapist, on staff are individuals who simply have significant life experience in a wheelchair, one of whom is a nationally ranked wheelchair athlete and another who is a member of a dance troupe that has half able-bodied and half disabled members. He teaches dance and movement classes. "We have someone who has suffered a head injury and made an extremely good recovery," says Lind. "She has been through the whole therapy process herself and come out the other end as a functioning, active member of the community."
That all-inclusive approach is necessary for a facility such as Siskin's, simply because it aims to provide lifelong rehabilitation for recovering stroke victims, amputees and all types of other disabled individuals, as well as serve any able-bodied people who seek membership. The goal of the adapted athletics program at the University of Illinois, on the other hand, is much narrower. Illinois has men's and women's wheelchair basketball and track teams, all of which are national powerhouses. With a history dating back to 1948, its program is often cited as a model of sport-specific training for adapted athletics.
The university's wheelchair track athletes train for competition in the Paralympics and high-profile races such as the Boston Marathon. Although those events are obviously important, Mike Frogley, head coach of both wheelchair basketball teams, works to ensure that Illinois wheelchair athletes keep a paramount goal in mind. "We're not just having them lift for their sport, they're lifting for the rest of their lives," says Frogley, who is himself a former wheelchair basketball player. "If you ever take a look at people who've been in wheelchairs for a lot of years, you'll see their shoulders start to internally rotate and slouch a bit so that they look like the letter C. That's because, one, they're getting old, and two, all those muscles in the front are becoming much stronger than the ones in the back, so they start to pull that joint. In the long term, the result is usually shoulder injuries that require surgery. We really want to prevent that with our athletes."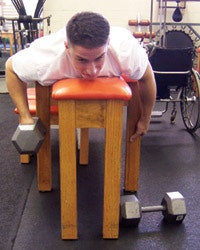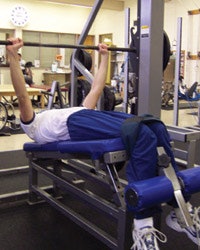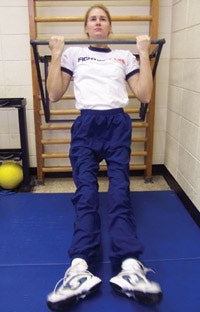 Frogley often designs training programs focused on creating muscle stability and balance. Much of the equipment in the 2,500-square-foot adapted athletics weight room consists of free weights and prone tables. "They look a lot like massage tables you'll see in physical therapy," he says. "But instead of having people look through the hole, we'll have them dangle their head out over the end so that they'll hold their head up. Because our kids are pushing themselves around all the time, they get a lot of work on the front. The prone tables allow us to really work on their upper and middle back muscles, and even their lower back muscles in some instances, and their posterior shoulder muscles."
Wheelchair athletes at Illinois utilize a full range of dumbbells, using one- and two-pound weights to exercise rotator cuff muscles. "That's our most critical joint," says Frogley. "And those muscles are very small. They don't need a lot of weight to provide resistance." Meanwhile, heavy weights of up to 100 pounds are used in bench presses. Traditional benches are inclined and declined so that lifters can use different sitting positions to mimic movements common to their specific sport, such as overhead rebounding or the downward push on wheelchair wheels. Various types of wheelchair frames also are employed to replicate sport-specific sitting positions. "If you're a track athlete, we'll have you in a scrunched-up position when you're lifting," says Frogley. "If you're a basketball player, we'll have you sit up high."
In addition to speed bags - mounted at wheelchair height, of course - Frogley uses some high-tech equipment to sharpen his athletes' reflexes. "We have two inertial trainers, which are designed to teach the muscles how to fire quickly and are used a lot in NFL strength and conditioning rooms," he says. "We use them because in basketball and even in track, we want to have really quick, explosive movements. Part of our success is determined by how quickly we can execute a movement and then execute the next movement. So we want to teach our muscles not to be strong, but to be quick and strong."
Such weight room innovations aside, Frogley admits there are a few items on his equipment wish list. For starters, his athletes, having maxed out on the 100-pound dumbbells, are looking to lift heavier weights. Plus, in order to better accommodate the lifting schedules of the 40 athletes in his adapted athletics program, Frogley would love to have more of just about everything he already has. "Our basketball team lifts from 1 to 5 p.m. Mondays, Wednesdays and Fridays. We obviously can't run them all through in a four-hour time span. When we do circuit training in January of each year, it's especially tough to get them all in," he says. "I've gone over and taken a look at our football team and seen their strength and conditioning lineup. They have a dozen Smith benches so they can have a dozen guys lifting at one time. We have one Smith bench. We have four prone tables. I would like to have enough equipment to run six to 10 people through at one time."
Highest on Frogley's list is a skating treadmill, which could train his athletes while allowing him to study the long-term effects of their workouts. "A lot of professional hockey teams have access to them, but they are the only treadmills I've seen wide enough to accommodate a basketball wheelchair," he says. "There's a huge area of untapped research looking at pushing mechanics and power generation, and sitting position as it relates to those two. That's my dream piece of equipment. And if it wouldn't be too much to ask, I'd love to have two."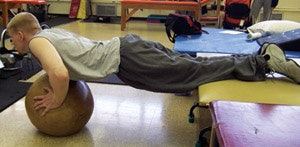 Frogley may get his wish, and soon. As Chicago makes its play to host the 2016 Summer Olympics, more attention is being paid to disabled populations and the amount of access they have to sports and fitness opportunities. "A key component of the city's bid is the Paralympics and there will be the sudden realization that the U.S. has some of the best and one of the largest populations of athletes with disabilities in the world," he says. "But what opportunities are we providing them to train?"
That question shouldn't be limited to elite wheelchair athletes. What opportunities will be afforded to amputees home from Iraq and Afghanistan (see "Life and Limbs," April, p. 124) as they attempt to return to their civilian lives? What accommodations will be made for the 75 million baby boomers who are far more active than their predecessors, and as they age into their 70s and 80s have the potential to stretch the fitness industry beyond its current capabilities? Finally, what of the millions of young people with disabilities?
Frogley wants fitness providers to address the latter question in particular, but not merely because of self-interest in securing a feeder system for his adapted athletics program. Rather, Frogley knows that it is possible to serve disabled individuals of all ages and abilities, if providers are ready and willing to make such accommodations. "We're starting to realize that kids in elementary, middle and high schools who have used wheelchairs - kids to whom for so long we've said, 'Oh, don't go to gym class, you can go to study hall' or 'You can be the manager on the basketball team' - can be involved in physical activity," he says. "We want them to have that kind of lifestyle, too. But we need to have equipment available for them. High schools and middle schools are going to need to have available to kids with disabilities accessible fitness equipment."