Outside conditions play a significant role in building engineers' efforts to maintain comfort in indoor athletic facilities.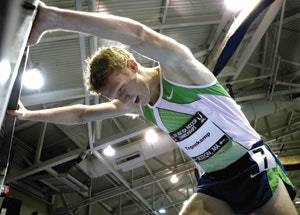 Achieving environmental balance on a macro scale is now seen by many people to be among humankind's greatest challenges of the 21st century. Meanwhile, climate-control equipment manufacturers are focused on the task of treading that fine line with the design of HVAC systems for the microclimates of indoor athletic, fitness and recreation facilities.
These microclimates are as equally affected by the outside weather as they are by the diverse activities taking place within. "The design for a field house will obviously be driven by a few different variables than exist in a weight room," says Jacob Burkholder, regional sales manager for Munters Commercial Dehumidification. "A field house, for most of the day, is going to be really low occupancy. But occasionally, there will be periods of extremely high occupancy. So you have to bring in more ventilation air to meet building codes and to keep the CO2 levels down. In the weight room, it's the opposite. You have a fairly fixed occupancy rate, and you know that there will be a certain number of people on the machines. But you will usually have a tighter space and less ventilation, less outside air coming in."
That said, fitness facility operators often believe that cranking up the air conditioner will make their patrons more comfortable. But in doing so, they're missing the point, says Burkholder. "For the most part, during the summer in an athletic facility, it's more important to control the humidity than the temperature. I mean, temperature is important, but if you can keep the temperature between 75 and 78 degrees and the humidity low, the body will perspire and cool itself much more efficiently than if the room were colder and more humid - kind of like a clammy hotel room. That's not pleasant."
The need to control humidity levels can differ significantly depending on the season. For Pat Reynolds, vice president of sales and marketing for PoolPak Inc., this point is best illustrated by the wintertime challenges of heating and controlling humidity within an air-supported fabric structure. "The only way to solve that problem is, first, to calculate how much heat is required in the design to heat that space on a winter day," he says. "Generally, that's going to be a lot - maybe five times what you would need if the facility just had a normal roof. Then you have to provide heat, and have the supply ducts blow the air up across the fabric - we call it washing - and keep the inside of that fabric warm, above the dew point of the room. Otherwise, the moisture in the room will condense on the fabric and you'll have rain inside."
In the summer, facilities located in northern climates generally benefit from mild weather and often can efficiently bring cool, dry air indoors. However, in areas such as the Gulf Coast and the southern Atlantic Coast, summer air will be moister and less temperate, requiring it to be treated before being brought inside. "With a remote air-cool condenser, we can take the heat out of the air," says Reynolds, noting that systems equipped with cooling tower water condensers can capture excess heat and use it for water heating. Energy also can be recovered using geothermal technology, which stores excess heat in an underground water loop.
Energy recovery has traditionally relied on energy efficiency - which mandates tight building envelopes and good vapor barriers. But in recent years, designers of a number of new facilities in the Pacific Northwest have found that energy efficiency also is possible through opening up their buildings, taking advantage of the region's dry, temperate air to integrate natural ventilation into their designs. "That's definitely free cooling - and we see a trend toward it," says Burkholder. "We're not seeing it a lot yet in the eastern two-thirds of the U.S. because of the climate. But I do think we'll see buildings have some sort of hybrid system with supplemental cooling and heating for those really hot or cold days, and for a third of the year, the system will have some dampers you could open to draw in fresh air and self-ventilate. By not having to move air in and out, it saves a lot of work on the fans."
HVAC manufacturers also are trying to reduce the technological burden they place on facility operators by stepping up efforts to simplify system controls. "Sometimes I think we overcomplicate these systems, when really we should be thinking about the owners' perspective," says Burkholder.
At times, this can be difficult for manufacturers who typically design their climate-control systems to achieve the highest possible energy efficiency, oftentimes well aware that facility operators - influenced by personal comfort preferences, as well as those of their patrons - will likely ignore recommended system settings. "The building's designed for a certain amount of fresh air, and the system is designed to operate a certain way," says Burkholder. "Although a lot of times, the day after it gets installed it never works that way again."
For his part, Reynolds relies on the notion that, at the end of the day, his clients just want a building system that works well and is easy for them to operate. "Our controls are set up so that once you put in your set points, when you go from heating to cooling your system automatically changes over - just like your home thermostat," he says. "When the season transitions, there's not a lot for the owner to do."