Exotic dancing has a chance to show off its staying power in several dedicated fitness centers.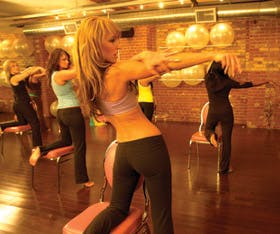 When comedian Chris Rock said that fathers' main job is to "keep their daughters off the pole," he was doubtless thinking only of strip clubs. But parenting is tougher these days, what with exotic dancing muscling its way into the offerings of mainstream fitness providers.
How mainstream? Well, several club chains on both coasts - Crunch Fitness' "Cardio Strip" is credited as a key catalyst - have for about five years offered classes with elements of pole dancing, chair dancing and lap dancing. And then there's Oprah, whose regular segments about women "empowering" themselves by performing a dance routine previously reserved for the raincoat crowd have driven its popularity beyond what could have been accomplished with traditional forms of marketing. When such classes start finding a spotlight at municipal rec centers, Ys and even public university rec programs, you know the definition of "wellness" is being contorted like never before.
And now, fitness studios in several cities are banking on exotic dancing amounting to more than a flashdance in the pan. From Flirty Girl Fitness in Toronto and Chicago to PoleLaTeaz (think Pilates) in Atlanta, these facilities may replace treadmills and ab benches with chairs and poles, but their proprietors insist the purpose is fitness, not cheap thrills.
"When we first started, we thought of this as a side gig, and then it just kept on growing and growing," says Angela Edwards, a registered nurse and co-owner of PoleLaTeaz. "Now we've taught more than 2,000 women pole dancing, and just the mental and physical benefits have been amazing. We have been amazed at how our bodies have metamorphosed over time."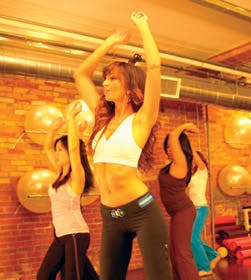 Pole dancing isn't the easiest program to plug into a traditional fitness center. Detachable poles need to be purchased, installed and reinstalled, and stored. A room safe from leering men is an absolute necessity. And, the potential for offending other paying customers is enormous. Exotic dance-oriented studios thus tend to be women-only spaces, while multiuse, dual-gender facilities keep their erotic-style offerings behind closed doors.
Peg Hamlett, fitness manager for University of Idaho Campus Recreation, says the realities of life in a public institution have led her to tone down the names of the classes she offers - from Cardio Strip to Hot Cardio Dance, for example. But, she says, the workout is essentially the same high/low floor aerobics progression that for years has been an industry staple.
"The fitness industry has mirrored club dance trends since before the era of the Jane Fonda tape," Hamlett says. "What's popular in the clubs with young people right now is what we're calling Urban Striptease. If I ran a class and called it High/Low Floor Aerobics, nobody would come. If I call it some funky name like Cardio Dance Party, people come because they think it's different."
Pole dancing really is different - to be sure, "a new and challenging mode of exercise, unlike any other class offered," as Fun Fit Studio in Long Beach, Calif., promises on its web site. But because it is a product of clubs - gentlemen's, not health - it is somewhat difficult to make the case for pole dancing as mere fitness.
Cedric Bryant, chief science officer for the American Council on Exercise, can (anecdotally, at least) support the notion of pole dancing as strength training. "Pole dancing really does have the capability of addressing different aspects of fitness," he says. "It's dependent upon the knowledge level and teaching abilities of the instructors, of course, but you can certainly use it to work on cardiovascular fitness, strength, balance and flexibility."
Edwards calls pole dancing "a workout for your mind," saying that much of its transformative power relates to the development of self-confidence, which she believes helps women achieve their fitness goals - such as losing weight.
"We focus a lot on self-esteem, and when women get comfortable in their own skin the weight will come off," she says. "A lot of women have a really bad body image. We try to teach them to be able to look in the mirror and accept their bodies the way they are."
Anyone who finds this counterintuitive in the context of a fitness center - where people dissatisfied with their bodies are told that they can change them completely - won't know quite what to make of Flirty Girl Fitness, a Toronto-based club that in June opened a Chicago franchise to much fanfare. Its tagline - "Are You Fit to Strip?" - suggests that the purpose is to be so toned that you can perform the Full Monty with absolute impunity, but a conversation with studio director Kristi Nicholl significantly tones down the naked ambition.
"Pole dancing is what gets people in the front door - because, you know, every woman wants to try it," Nicholl says. "But we offer all types of fitness classes - we have free weights, resistance bands, boxing equipment." The latter, as a quick check of the web site uncovers, is used in "Basic Boxing for Babes" ("There's nothing sexier than a girl who knows how to throw a proper punch."). And the high heels, which the web site describes as being "optional" in advanced pole-dancing classes? Nicholl says that while the club would never tell a member she couldn't wear them, "We would discourage it, because it really takes away from the fitness aspect of it. We also prefer not to have heels on our hardwood floors."
Flirty Girl is actually designed with a check-in desk that, after-hours, is the bar where food and beverages are served to women attending one of the many bachelorette parties held there. It's also the place where women who have completed the "Coyote Ugly" class - "The ultimate guilty pleasure! You've seen the movie and you've always wanted to be that girl!" - literally elevate their skills to do the "smokin' hot routine you can perform at your local watering hole." But while the web site includes party-girl exhortations from fitness instructors to their would-be protégés - "Let's become bar stars together. If it doesn't already, after a class or two your 'Milkshake' will 'bring all the boys to the yard.' " - Nicholl, again, is quick to rein in the bar talk.
"The studio is a safe environment for women, and everyone comes in workout clothes," she says. "That's a really important aspect of this. If people showed up in costumes and stilettos, it would give it a different purpose."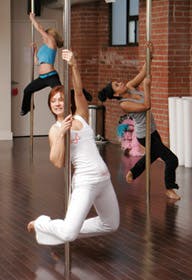 If she were able to offer pole dancing as part of Idaho Campus Rec, Hamlett insists she would. "I wouldn't let them take their clothes off," she says. "But it's great at building upper-body strength, and it keeps people interested because it's so hot right now. You can get the same workout doing weights, but that doesn't intrigue my students."
That, ACE's Bryant says, is the moral of this particular story. "I think it serves to highlight that people are looking for activity options that are a bit more fun, engaging and outside the box than the traditional approach," he says.
Beyond the benefits to women taking PoleLaTeaz classes, Edwards says she often gets thank-you e-mails from men who attribute a boost in their sex life to their partners' newfound confidence - something that has convinced her of pole dancing's staying power.
"When we started out we offered one class a week, now we have 25 to 30 classes a week," Edwards says. "Maybe there's some fantasy aspect of this - 'I'm a stripper for a day' - but I think that's okay if more women want to step into this other world. If that's what's going to make them lose pounds, don't knock it."