Evolving fitness programs are changing the way group exercise rooms are designed, but not their flexible nature.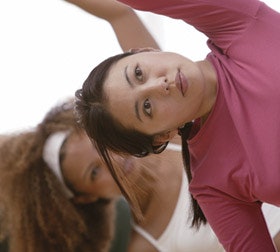 The word aerobics wasn't even invented until 1968, and it's already passé.
Oh, the cruel realities of the fitness industry, which in the four decades since U.S. Air Force Col. Kenneth Cooper coined the term has seen more than its fair share of fads - especially in the form of group exercise programs. All the while, operators of fitness facilities offering en masse exercise have had to bend, stretch and contort their spaces to allow for an ever-growing amount of equipment and programming options. Thus, when it comes to group exercise room design, flexibility remains as a good starting point.
"A really critical part of planning is to think of the group exercise room as a true multipurpose room," advises Laurie Betting, assistant vice president for wellness at the University of North Dakota, which last year opened a 106,000-square-foot wellness center. "Those of us who have a few years behind us can see that group exercise trends come and go."
Doni Visani, senior principal at the Denver-based architecture firm Ohlson Lavoie Collaborative, suggests no amount of foresight is too much when approaching the design of a group exercise room. "The changing nature of group exercise, or even how we think about fitness, requires that every room ultimately will have some unanticipated uses," he says. "The key is to be realistic about the possibility that something that's not totally appropriate for that room may occur there."
So there's still something to be said for the old-fashioned rectangular box that for years has been the norm in group exercise room design. Although now, in a highly competitive market, that box must be outfitted with high-tech and changeable sound and lighting systems; it must be flanked by ample storage space; it must be able to control temperature and humidity to varying levels, often on an hourly basis; and, not least, it must be versatile enough, both aesthetically and mechanically, to keep users comfortable, engaged and likely to return.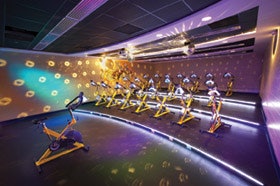 The multilevel design of the group cycling room at the University of North Dakota Student Wellness Center allows users to maintain personal space and sightlines to instructors.
Naturally, the trend to accommodate more types of group exercise has been to build more rooms - as evidenced by the prevalence of studio spaces dedicated to activities such as group cycling or yoga. Says Rudy Fabiano, president of Montclair, N.J.-based Fabiano Designs, "The race is on to make each studio totally unique and reflect the activity that is going on within it." But designing such rooms presents an interesting paradox: There is more freedom to cater the specific room to its anticipated uses, but it is also more challenging to make each of the rooms in the group exercise "wing" work together in terms of both exercise programming and the mechanics of the building.
Take sound control, a blaring example that is all the more important since it is common practice to give each group exercise room within a facility its own audio or audio/video rack and high-end speakers. ("You've got to have a killer sound system," notes Fabiano.)
Soon after opening the upscale Valhalla Health & Fitness Club in Reading, Pa., a year ago, operators realized that loud music from parts of the club that were host to higher-impact group exercise classes was infiltrating rooms that were intended to have a more serene environment for mind/body-oriented activities. "The solution was expensive," says Valhalla's general manager, Pete Coldren, who adds that operators couldn't expand the club's footprint due to strict township zoning regulations. "We had to have the builder come back to put some high-density, sound-absorbing material within the existing walls."
It was a lesson learned, Coldren says. "What we're going to do at the next club is build a transition room between the mind/body room and the cycling studio that we can use for storage but that will also serve as a sound buffer."
Betting says research is the key to determining ample sound-control solutions. Her wellness center's large, multipurpose group exercise room can be split into two spaces through the use of a sliding dividing wall. "One of the things we did on the front end was make sure we had a divider that acted as a true sound barrier," she says. "We went to a facility that had the same divider, and we started blasting music on one side."
For controlling sound between rooms, Visani suggests some relatively economical design elements, such as floor-to-ceiling walls with chipboard on each side. (He notes that chipboard with built-in sound-mitigating properties is available.) The most effective soundproofing element, he says, is a solid mass - such as a thick concrete wall - between each room, though he notes that such solutions may not be plausible depending on a project's budget. "There is a point where you can absolutely guarantee that there is going to be no noise between rooms, but that gets increasingly costly," Visani says.
Equally important in the design of a suite of group exercise rooms is the flow and quality of air, which, like sound, can vary greatly even minute to minute, depending on exercise types and class sizes. Says Visani, "The very basic issue is that you have different classes coming in at different times of the day, and the exercisers are putting out different heat and moisture loads - and the HVAC system has to deal with it."
Group cycling rooms are notoriously problematic in terms of airflow. Thus, a critical consideration in determining how much floor space to allot within the room is how many bikers riding simultaneously the HVAC system can keep comfortable while not over cooling lower-impact rooms such as a Pilates studio. Given group cycling's popularity, owners may be tempted to squeeze more bikes into a space that's not built to handle the latent heat emitted by bikers.
Betting, for one, limits the capacity of her group cycling room to 21 bikes, regardless of demand. 'The ventilation alone has to accommodate all those bodies at work," she says. "You start doing the math, and you weigh how many bikes you can accommodate with what's going to be best for your users' comfort."
Because they can evaporate water from the surface of skin, thereby making people feel cooler, fans - whether portable or built into the ceiling or walls - are popular tools for user comfort in group cycling rooms.
Fabiano notes one design trend that takes a more natural approach to promoting both airflow and room "mood" changes in group cycling environments. "Make it indoor/outdoor," he says, adding that the strategy is highly dependent on climate. "In southern California, you can have a room with a garage-style door that opens up, and essentially gives you an indoor/outdoor room."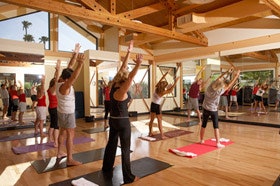 Windows mounted near ceilings in a group exercise room can infuse it with daylight while preventing harsh reflections.
Mood and ambience are among the terms that often apply more to studio-style group exercise spaces than to larger multipurpose rooms. For quieter, calming environments used for yoga or Pilates, the selection of materials is vital in the creation of a desired mood. For example, flooring options may include darker wood suspended over a softer resilient subfloor, or more nontraditional solutions such as bamboo or cork.
Any number of interior design elements can allow a room to aesthetically mesh with the activities within. At Valhalla, designers created a mind/body studio by incorporating earth tones in the paint and furniture, accented by dimming lights suspended in sconces. Even the drywall was considered in the design. "We did some pretty funky things with the drywall compound to add texture to the walls," Coldren explains.
Control of light - both natural and artificial - can affect users' experiences as much as airflow and sound. Most group spaces now require dimmable lighting - often capable of emitting multiple color combinations - that can be easily manipulated by an instructor, depending on the requirements of the workout. For example, a high-impact portion of a workout may necessitate dynamic, bright lighting while the instructor may switch to a softer blue light during warm-up and cool-down periods.
Group cycling rooms tend to feature elaborate controlled lighting systems that often work in tandem with video projection and music systems. Says Betting, "We've got strobe lights, haze generators, pin lights, black lights, rope lighting - it's a club." Coldren says he actually sought out a designer of dance club lighting to design Valhalla's group cycling room. "He did that style of lighting all along the ceiling," he says. "It creates a high-volume, high-energy setting."
While the aesthetic components of a group cycling room tend to garner most of the regard from users, it is the more workaday aspects of the room that can make or break its success. A common problem is the proximity of bikers to their neighbors - particularly, the proximity of one's head to another's rear end during motions such as hill climbing. Another issue is the difficulty of people in back rows to see the instructor, and vice versa. Those problems were eliminated at the UND Wellness Center, Betting says, because of the room's tiered design, which puts the instructor on the bottom of four levels, facing ascending rows of bikers. "It allows our users to engage with the instructor who is at the front of the room," she says.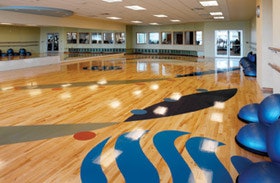 While colorful floor markings can liven up a large group exercise room's design, they can also help instructors guide class members throughout a space.
While group cycling rooms often are windowless to allow for maximum control and effect of sound, lighting and projection systems, old-fashioned daylight is still desired in most other group exercise environments. But lighting a group exercise room can prove tricky, especially if an owner wants to build in some element of privacy to protect potentially self-conscious exercisers. Visani says his firm regularly uses glazing or fritted glass to provide a visual obstacle between onlookers and exercisers, while retaining some translucence. "If you do that, you can keep the sense that there is some activity going on," he says. "You still want people to notice and say, 'Hey there's a class in there. Maybe I should join.' "
The physical relation of group exercise rooms to one another is an important design consideration. Visani points out a simple solution that keeps an open feel and clear sightlines to and from group exercise rooms without making self-conscious exercisers feel as though they're on display. "What is immediately adjacent to that group exercise room is important," he says. "There could be bikes or treadmills that are placed in a way so that the people on them are looking right at you. But if you build that adjacent room so that the equipment can be turned around, it doesn't feel that way as much."
Views from within a room are also crucial in shaping the room's ambience. In most group exercise applications, exercisers appreciate as much of a view of the natural world as possible. "Especially in North Dakota," says Betting, adding that her second-floor main group exercise room has windows facing a stand of trees, and interior windows that overlook a running track and first-floor gymnasium before reaching another set of exterior windows that also face trees.
Fabiano is currently working on a roughly 70,000-square-foot facility in a southern state that takes a fresh view of the group exercise environment. "Because the building is so large, we've tried to put an open-air courtyard right in the middle, which would allow natural light to flow through the core of the building," he says. "At the same time, it gives you 3,000 square feet that can make for a great outdoor activity space." Fabiano says more designers and club owners are embracing this type of thinking when designing group exercise environments. "It's a great expansion of your spatial limits," he says. "We're starting to understand that you can move the gym, and especially the group fitness component, outside of your physical walls. If you have a field outside, make use of it. It doesn't get any greener than that." If nothing else, adds Fabiano, "From a marketing point of view, the ability to offer workouts outside and have the fresh air is great."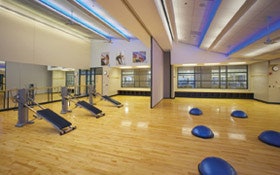 The sound- absorbing characteristics of a sliding divider will help determine whether it truly creates two unique spaces.
Regardless of a group exercise room's location, there is always the need for storage. "Ten percent of the room size should be dedicated for storage," says Fabiano. "That is the general standard we use." But Fabiano points out that different rooms have specific storage requirements, depending on the activities within. A large multipurpose group exercise room, for example, is going to require space for a wide array of essential equipment such as steps, balls, barbells and mats. A group cycling room, however, may only need storage for some spare parts and cleaning supplies.
Many designers now favor door-free storage spaces with wide openings to minimize foot-traffic congestion. Visani describes a storage "alcove," which acts as a kind of one-way street. Exercisers enter at one point, locate the equipment they need for the class along one of the walls to their left or right, and then exit at another point.
Cubbies, not unlike those found in elementary school classrooms, are also now a staple of group exercise rooms, especially in campus or municipal recreation settings, where fewer users may be prone to take advantage of locker rooms and may need space for personal belongings such as keys, extra shoes or water bottles. At UND, cubbies in the main group exercise room are built below a wall-wide bench that allows users to change shoes and store them in one place.
Coldren warns that with the renewed popularity of group exercise classes - each requiring specific, and often sizable, equipment - designing ample storage space is critical to a club's long-term success. "What's happening is that all these gym-goers have over the years been introduced to so many different styles of group exercise classes that all require different equipment," he says. "So if you have a decent club, and you're expecting 25 people in your group exercise classes, you have to have all kinds of barbell equipment, 25 different steps, 25 Bosu trainers, 25 stability trainers, 25 mats, and so on. If you can't keep all these on hand, you're not going to be able to get members."
While not necessarily a seductive element of group exercise room design, storage nonetheless highlights the need for fitness facility operators to research and understand the anticipated uses of the room. Equipment stacked up against walls in a group room, for example, may subtly deter users from coming back. "Sure, you can have all the equipment, but you're not giving the customer the environment he or she is looking for in a specific type of class," says Coldren. "You can have the greatest instructors ever, but if the environment is not fitting and people can't relate to it, it ruins everything."
Fabiano cautions that group exercise room design provides only a foundation for success. "Good architects and designers can help their clients understand where to put things, how big to make them, and how to respond aesthetically to certain clientele," he says. "But in terms of actually making use of the rooms, that's up to the owner."