A university professor and cancer survivor opens a fitness studio for people fighting the disease.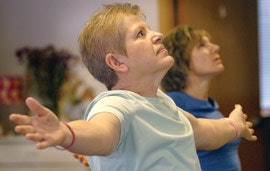 Tenured university professors typically stay university professors. They usually don't, for example, suddenly decide to spend their semester of research leave becoming the owner of a fitness studio. But a breast cancer diagnosis has a remarkable way of altering a person's life path, and Wendy Rahn's path has, without a doubt, been altered.
The 46-year-old University of Minnesota political science professor underwent a bilateral mastectomy in November 2006 and, spurred by research that showed that women who exercised after being diagnosed with breast or colon cancer cut their chance of dying from the disease by as much as one-half, began a regular workout regimen at the Balance for Life Fitness Center in Shoreview. The experience was more than personally gratifying; surprised by how much better she felt, Rahn became determined to get the message of fitness out to other cancer sufferers. In 2007, she founded Survivors' Training (survivorstraining.org), a nonprofit organization dedicated to promoting "regular physical activity as an essential therapy for those diagnosed with cancer." Next, concerned about the lack of workout options for this particular demographic, Rahn approached Julie Gronquist, the owner of Balance for Life, to ask whether either of the club's two facilities might be able to house a cancer-survivor wellness program. Gronquist upped the ante a little: She was planning to close her White Bear Lake location, and so she offered Rahn the opportunity to sublet the space and become a fitness center operator herself.
Log in to view the full article