Skyrocketing costs of raw materials and fuel are putting tremendous upward pressure on the pricing of strength equipment.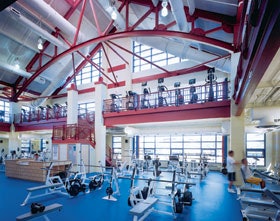 When fitness facility owners tuned in to the opening ceremonies of the 2008 Summer Olympics in Beijing, few probably realized the connection between the oft-noted improvements to China's infrastructure and the cost of their fitness equipment. But a straight line could be drawn between the grandeur and whimsy of the Bird's Nest (also known as China's National Stadium) and the barbells, dumbbells and selectorized equipment on fitness floors all over the United States.
In the past year, the raw materials that make up the bulk of strength equipment - steel, iron and composites of the two - have seen a global price spike unlike any in a generation. Exact figures are hard to come by, given the more than 3,500 different grades of steel-based materials available for use, but consider this: The price of hot-rolled sheet steel, a benchmark feedstock in various industrial applications, rose from an average of $400 per metric ton in 2007 to $1,154 per metric ton in June of this year. Add to that the cost of energy used in the manufacture and shipping of steel components from overseas, and you have all the ingredients for a surge in the price of strength equipment.
Log in to view the full article