Passion is no substitute for business acumen when launching a successful indoor sports center.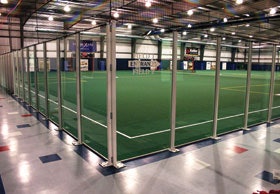 Too often the successes and failures of owners and operators of indoor sports facilities are tied to abstract concepts such as drive, determination and resiliency. But those are only minor ingredients, say industry experts; what the recipe for success really demands are keen skills in the game of business.

"I've seen so many good people who thought they had a handle on their business get their personal savings wiped out," laments Norm Nowell, part of the minority of entrepreneurs who have managed to find prolonged success opening and operating one or more sports centers. Yet even that success is relatively modest within the private sector. "This is not the kind of business that will ever be the next Google," he says. "You're not going to make a whole lot of money."

So, given the notions that many new sports centers are destined for failure and that those that aren't are only marginally profitable, what is it that drives new indoor sports center projects? Typically, it's a passion for community sports combined with the recognition - or, at least, the perception - of a glaring demand in a local marketplace.
---

 
250+ Exhibitors & 190 Educational Sessions | abshow.com.
---

Nowell, along with his associate Mike Gallups, founded American Sports Centers, one of the largest indoor sports centers in the country, in Anaheim, Calif., only after they recognized a need for indoor facilities while coaching their sons' youth teams. "We had gone to a youth tournament at what used to be called International University down in San Diego where they had a facility with six basketball courts," recalls Nowell. "We thought to ourselves, 'We could really improve on this model.' "

ASC opened its doors in 2004 with 22 volleyball courts, 16 basketball courts and nine indoor soccer fields. But Nowell and Gallups credit the facility's sustained success to the research, fundraising and other time- and knowledge-intensive work that took place over several years between the plan's conception and the building's grand opening.

"You cannot do enough homework before opening," says Gallups. "You need to know the area you're going into, where the existing facilities are, who the existing court or field users are in that community and what their price points are."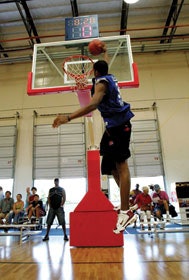 Find the price point. Find the price point. Find the price point.

Norm Gill can't say it enough. It's critical, he says, to the realization that popularity does not directly translate to profitability. "Many times, there is no doubt that there is a need in a community or that there would be a high rate of facility usage in a community," says Gill, who has owned and operated numerous indoor facilities and is a partner at the consultancy Pinnacle Indoor Sports. "The question is, is there enough traffic on an annual basis - not just November through March - and at the right price point to make this a good business opportunity?"

The answer can be difficult for many entrepreneurs to accept. Take, for example, a youth basketball coach who recognizes a deficiency of indoor sports facilities in a community, and knows with a fair amount of certainty that user groups in that community would gladly welcome some shiny new indoor courts. "There's always a sense that more gym time is needed," acknowledges Gill. "But if in that community the majority of the basketball is taking place at a YMCA or at local recreation centers or down at Saint Aloysius Church, then the price for basketball has already been established at a point that is very low."

Gill stresses to those entrepreneurs interested in building indoor sports centers that they are not in the business of sports, but rather that of facility utilization, where time itself is the most important commodity - more so even than tangible offerings such as field space, quality playing surfaces, locker facilities or game officials. "We have a finite inventory in our business," he says. "And if you don't sell that time for the right amount of money, and you don't 'turn it and burn it' between games, you could be charging $21 for something that cost you $24 to produce."

But before you charge patrons, you must first get them through your doors. And while feasibility studies and other market analyses will most certainly help inform decisions surrounding a new for-profit venture, Gallups says he and Nowell were less concerned with macro-level data than they were with cultivating relationships with a handful of local youth sports groups prior to opening. "I would guess that about 10 customers make up nearly 100 percent of the used court time in our facility," says Gallups. "It was identifying those 10 accounts that made the opening of the facility feasible. It wasn't so much about knowing the demographics of the area; it was about identifying those specific promoters, tournament organizers and club directors."

In fact, ASC's success from the outset hinged on securing two key clients - the southern California affiliate of USA Volleyball and a junior basketball association - whom Nowell refers to as "anchor tenants." "It's kind of like building a shopping center," says Nowell, who had 25 years worth of experience in real estate development before undertaking the ASC venture. "Because we had those anchor tenants, we were able to get various club teams in those sports to make their headquarters here, as well."

Gallups says that since the majority of the court time was essentially scheduled prior to the development of the facility, he and Nowell entered ASC's first year confident that the busier times could more than compensate for the slower times. And, since surviving that first year, Gallups has noted an encouraging trend. "Almost without exception, the people who have been here since year one or two have continued to build on the size of their tournament, their clinic, their camp or their league," he says. "We have one basketball league that started here with 25 or 30 teams four years ago; now they have 100. You want to become partners with these groups, because anything that you can do that benefits them ultimately benefits you, as well."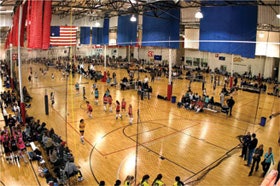 While the entrepreneurs at ASC found success, Gill warns others to take preliminary showings of support from local sports organizations with a grain of salt. "When you first go out into the community and ask the obvious people for their support, there's no doubt they're going to tell you what you want to hear," he says. "They will next tell you how to run and operate your facility to best suit their needs - whether it's installing or not installing dasher boards or whether you should be more competitive or recreational. They'll tell you what your priorities should be."

The real problem comes when those same groups don't deliver on their own promises, often by balking at prices that may have seemed reasonable to them in casual conversations. Gallups has also found that user groups that are new to a facility will tend to overestimate how much field or court time they actually need, so he suggests accounting for that shortfall in your operational plans prior to opening.

Likewise, many potential investors in a new indoor sports center may recoil once the conversation is no longer theoretical and they're asked to cut an actual check. "When we started, a lot of people raised their hands and said, 'Yes, we'd like to be a partner in this,' " says Nowell. "We had set certain parameters - we had $100,000 minimum shares - and when it came time to call them back and ask for that money, we heard, 'Oh, geez, my mother-in-law is sick' or 'We just bought a new house.' It's just tough to raise money that way."

Nowell believes obtaining capital for a new indoor sports center is indeed the most challenging part of the venture, especially given today's economic climate. Years before the recent collapse of the U.S. banking industry and Congress's subsequent bailout measures, Nowell was told the following when he first approached his bank about ASC: " 'We'd love to finance that. So, as soon as you have two years of operations, come back and we'll set you up with a line of credit,' " says Nowell. "It's as simple as that. And in today's market, it would be impossible."

Naturally, there are other ways to gain access to capital, and Gill often promotes a financing model in which real estate investment groups cover the costs related to the physical plant. Land aside, says Gill, approximately 90 percent of the capital needed to launch an indoor sports center is for the building itself. The model leaves the operator of the center - who essentially leases the space from the investment group at a fixed rate - on the hook for the remaining 10 percent or so of the startup costs, as well as the lease payments.

The ability of the operator notwithstanding, Gill says the model is attractive to investors because it provides steady returns, and the large, industrial-style buildings most commonly used to house indoor sports centers can be stable real estate commodities, regardless of their tenant types. "Think of it as you're building a 60,000-square-foot office/warehouse," says Gill. "It's not like you're building a waterpark or a putt-putt course; although you play sports in it, if that doesn't work, there are 100 other potential uses for that facility."

However, the opposite - that any old warehouse can be converted into a profitable indoor sports center - isn't necessarily true. Nowell provides a laundry list of indoor sports facility requirements, such as ample parking, high ceilings, large footprints for expansive fields and courts, access to major transportation corridors and proximity to youth entertainment amenities. "I probably know every large industrial building in Orange County, and only two of them met my basic requirements," Nowell says of planning ASC. "And only one of those met all my desired criteria."

Gallups notes a cruel paradox that also limits options for sports center development. While high-ceilinged industrial buildings are most conducive to sports programming, patrons have high standards for any for-profit facility's aesthetics. "People expect more," he says. "They expect you to be a cut above those industrial kinds of facilities, or even the local schools."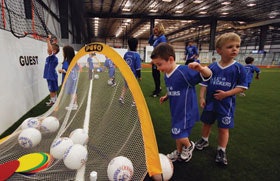 Sure, developing an indoor sports center is in large part a real estate enterprise, but making a success of one still requires passion for sports that initially drives many entrepreneurs into the industry. "Usually, these people have a love for the sports and they put a lot of long hours into their labor of love," says Gallups. "There are easier ways to make a million dollars than by running a sports center."

But let that passion cloud your business judgment, Gallups and others warn, and you won't even sniff $1 million. "The passion is important, but it can also get you into trouble," says Gill. "A friend told me that the reason most restaurants fail is because the people that open them serve the kind of food that they like. That's a great analogy for our business, because a lot of people will try to put forth a product that they think is the best based on their passion and their background, rather than trying to have a broad understanding of what real opportunities exist."

Nowell likewise suggests that zeal and energy are, unfortunately, no substitute for business acumen. "Passion is one thing, but unless you have some good business experience, your chances of success are pretty minimal," he says. "There are a lot of people who want to get into this business, and a lot of them should not."