To engage exercisers of all types, some strategy is required in the use of video-based entertainment.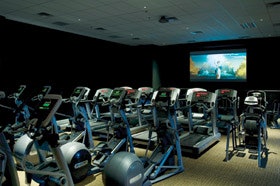 EXTENDED RUN
Video requiring some brainpower - such as movies - can help exercisers disassociate from the physical discomfort caused during their workout.
L
ike cardio exercise itself, the trend in club-based video entertainment options has been - and continues to be - the more, the better. What's less clear is what tangible effect that trend is having on actual exercisers. Though providing the latest in video entertainment systems may help get patrons through the doors of a health club or rec center, many experts think more consideration should be given to what happens once they're inside.
"There hasn't been a lot of research that's been done directly on video entertainment's effects on cardio, but there are some inferences that can be made," says Cedric Bryant, chief science officer of the American Council on Exercise.
For starters, experts tend to agree that the most common way in which exercisers use video - whether in the form of television programs, movies, music videos or virtual environments - is as a tool to trudge through what can be monotonous cardio routines. "Cardio can be very mundane for certain people," says Butch Comstock, the assistant manager at the Camp Hill, Pa., Gold's Gym, one of more than 50 of the company's locations throughout the country that now features a "cardio cinema," a theater-like environment in which seats essentially are replaced by cardio equipment. "They watch a movie, and they don't worry as much about how many more miles they have left or how much time is on the clock."
Adds Bryant, "Entertainment can serve as a distraction - and, in many cases, a positive distraction - from the exercise, in that it allows the exerciser to shift his or her focus from the discomfort associated with the activity and really focus on and attend to the stimuli being provided by the entertainment medium."
There may be some social factors at play, too. An exerciser may seek a private video-watching experience not only to disassociate from the actual workout, but also the surrounding exercisers.
"There are not a lot of people who enjoy sweating and exhausting themselves via exercise in front of strangers," says Jesse Pittsley, coordinator of the Exercise Science Program at Winston-Salem State University. "Exercise and fitness are frequently private pursuits. People work out at an indoor fitness facility because it's not feasible to own and store quality equipment in their homes."
There's no shame in the practice of distracting exercisers with video, says Costas Karageorghis, who leads a research program at Brunel University in West London, England, that for 15 years has focused on the impact of music on sport and exercise performance. But positive distraction through video begins to fail when a cardio exerciser reaches 75 percent of the maximum heart rate - the peak end of a generic target heart rate. Says Karageorghis, "The capacity to attend to external stimuli is very limited during exercise, especially in high-intensity exercise."
That physiological phenomenon is just one of many that suggest the people in charge of purchasing and programming video entertainment systems for cardio areas should be mindful of how different types of exercisers can actually use video to enhance their workout experience.
Consider commercial interruptions, which, by their very nature, says Karageorghis, disrupt a kind of "flow that entails an optimal state of focus that is associated with total absorption in an activity."
Consider also the type of video programs being offered and how they may affect exercisers' moods. One group of patrons may desire video to inspire them to press harder, says Karageorghis, adding that they will be more responsive to high-intensity offerings such as music videos or sports highlights. However, the group of exercisers that looks to video as pure distraction may prefer programs with a more "cognitive bent," says Karageorghis, such as soap operas or sitcoms. In addition, exercisers may think they want to watch the news while they work out - but be warned. "Studies have shown the negative effects of news broadcasts on mood dimensions such as happiness," Karageorghis says. "For this reason, news broadcasts are best avoided for most people, as they induce anxiety, fear and a vicarious sense of distress." Those emotional states, he adds, can lead to negative perceptions of the physical sensations that are simultaneously occurring during the workout, creating a negative overall experience for the exerciser.
If possible, video programming should also depend on the cardio goals of club patrons. For example, competitive athletes in a training mindset may not seek distraction. Karageorghis describes those types as having an "associative attentional style," meaning they want to focus on their bodily sensations as they relate to technique and performance.
The distractive nature of video can perhaps go too far even with more casual exercisers. "There has been research that suggests that in some cases it can have a negative impact on the intensity or quality of the workout," says Bryant. "The distraction can be such that it takes away from the focus and attention that's required to stay within a desired training-intensity range and really focus on proper form or technique. There must be some happy medium one must reach in terms of how much positive distraction there is before it crosses that line."
There is also the potential for danger when an exerciser is too immersed in video, especially if the monitors are not placed directly in front of them. "You may be drawn to that screen while jogging," says Pittsley, who adds that the phenomenon is "similar to a person allowing their car to drift in the direction they are looking while driving." This is possible, adds Karageorghis, "as the alignment of the body tends to follow that of the head."
While the ways in which video is used within cardio settings may be imperfect in most clubs and rec centers, Bryant says the trend is, on the whole, a good thing. "At the end of the day, what you're trying to do as a health and fitness professional is get individuals to acquire a new positive habit - regular participation in exercise," he says. "If movie and video watching is going to help facilitate more regular participation - even if it might cause some reduction in the level of intensity - then in the long term it's going to be a positive thing for that person's health and well-being."