New York City offers free fitness classes to some historically underserved populations.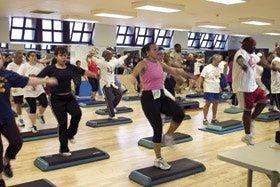 Nancy Barthold didn't fully realize the significance of her city's Shape Up New York program until she started making phone calls to some of its regular participants. An assistant commissioner for recreation and programming for the New York City Department of Parks and Recreation, Barthold was searching for testimonials to put on a department web page.

"I spent some time on the phone speaking with people about how the Shape Up classes have affected their lives," says Barthold. "These are mostly poor people with health issues, and many of them had to take a lot of medications. But I heard story after story of people who no longer have to take their diabetes medication, or who have started walking regularly and have lost 'x' number of pounds."

While not specifically addressing diabetes, Shape Up New York is designed to reach some of the most out-of-shape and unhealthy populations in the five boroughs. What it's done in five years is help countless formerly unfit New Yorkers make a practice of regular exercise. And how has the program managed that level of success? It doesn't hurt that it's offered for free.

In an effort to diminish health-related inequalities across New York by adding resources and programs in high-risk neighborhoods in the South Bronx, Harlem and north and central Brooklyn, the city's department of public health established District Public Health Offices.

"Because the department of public health is in the business of disease prevention and medication, and not exercise, the DPHOs partnered with us," says Barthold. "We administer the exercise portion of their program - we run it, we hire the staff - and they pay for everything."

Specifically, what the recreation department offers at its community centers, as well as some schools and even some housing projects, are hourlong group exercise classes taught by trained instructors. The availability of equipment such as weights or resistance balls is limited both by the budget and by the fact that the average class involves approximately 30 participants (some classes have seen upwards of 50 exercisers).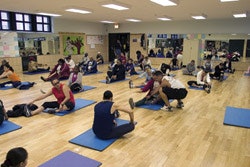 "We had to buy some stereos, and we do have some other accessories, but our instructors can certainly do without," says Barthold. "We have gotten some donated equipment; we take what we can get."

The department has tweaked the programming schedule to offer a range of classes throughout the target neighborhoods. And, to help follow the health department's mission, most of the classes remain entry-level. But Barthold has found that among those new exercisers beginning to see the benefits of a regular exercise regimen, many become willing to pay membership fees to the city's rec centers to find new programs.

"We've found so many success stories of people who joined for free and who have been sticking with exercise for years now," says Barthold. "You find a very dedicated group of people."

Barthold is hopeful that the program's success will continue to be valued by the powers that be. "Right now, our budget is being cut, as is the department of public health's, but the program seems to be holding its own," she says. "Most of the people who find this program are brand new to fitness. That was the original goal, and I think that's why the city has sustained it."